The most diverse House of Representatives in American history was sworn in on Thursday. The new Congress (including the Senate) is religiously diverse as well as diverse with regard to gender. Out of 534 members (one contest has yet to be decided), there are 34 Jews, 10 Mormons, 3 Hindus, 3 Muslims, and 2 Unitarian Universalists.
Some 88% of the representatives, however, are Christian, whereas only 71% of US adults are, so Christians are way over-represented. But so are some of the branches of Christianity. There are 163 Catholics, some 30% of Congress but only 21 percent of US adults are Catholic. There are five Eastern Orthodox even though that branch of Christianity comprises a little over one percent of Americans. In the new Congress, Baptists are actually under-represented, with 72 members, 13.5% of Congress, whereas they are 15% of US adults. The generational gap on religion between the legislators and the youth is even greater. Some 30% of Millennials list "none" under their religion, while only 8 members of Congress dared list no religion.
There are three Native Americans, two of them women. Sharice Davids and Deb Haaland are the first Native American women to serve in Congress. There are 8 Asian-Americans.
There are 102 women in the House and 23 in the Senate, the largest number of women to serve in a Congress in history. (They still don't have Scandinavian levels of representation, though).
The 116th Congress did not contain the first Muslims. Keith Ellison [D-MN] served 2006-2018 and Andre Carson (D-IN) is still there, having served since 2008.
But it contained the first two Muslim women, Ilhan Omar (D-MN) and Rashida Tlaib (D-MI), the one representing Minneapolis and the other a district of Detroit. A little over one percent of Americans are Muslim, some 3.5 million, so actually a proportional representation in the House would be about 4. There are 3, which is almost proportional. That's actually a major accomplishment for a small minority!
Enjoying Informed Comment? Please support independent journalism!
Personal checks should be made out to Juan Cole and sent to me at:
Juan Cole
P. O. Box 4218,
Ann Arbor, MI 48104-2548
USA
(Remember, make the checks out to "Juan Cole" or they can't be cashed)
The new Muslim Congresswomen, moreover, are not just anybody. Ilhan Omar is a refugee from Somalia, whose family first lived in a camp in Kenya for four years when she was a child and then came as a refugee to Minnesota.
Ilhan Omar's father wrote at Instagram, replying to his daughter's earlier message in which she spoke of going from child refugee to member of Congress. First he quoted her, then replied:
[Ilhan had written:] Twenty three years ago, my family and I arrived at an airport in Washington DC. We were newly arrived refugees in this country, from a refugee camp in Kenya. I had heard about the promise of America, prosperity for all and hope for a better tomorrow.
I could never have dreamed that twenty three years later I would return to the same airport with my daughter Ilhan by my side, the day before she is to be sworn in as the first Somali-American elected to the United States Congress."
You, of course, can imagine how emotional this is and why I am incredibly proud of her.
It's an honor to have her represent me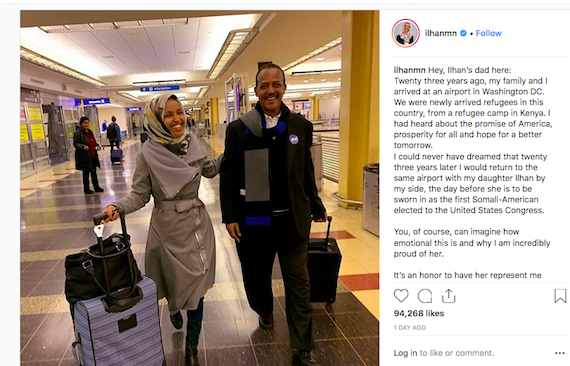 You'd have to be really hard hearted not to tear up a bit at that poignant sentiment.
Rashida Tlaib is from a Palestinian refugee family displaced from their home in Palestine. Her father worked a Ford assembly line. She made headlines in December by announcing she would wear her traditional Palestinian garb at her swearing-in, starting a Twitter and Instagram hashtag. She is the first Palestinian-American woman to serve in Congress. She is the only native speaker of Arabic in Congress.
This really happened. I am U.S. Congresswoman. Not bad for a girl from southwest Detroit who didn't speak English, daughter of Palestinian immigrants.
#13thDistrictStrong: You helped change Congress forever. Now, let's get to work to change our neighborhoods. #rootedincommunity pic.twitter.com/Xz511eIcyg

— Rashida Tlaib (@RashidaTlaib) January 4, 2019
I saw her interviewed in an Aljazeera story on the new Congress, and she said in Arabic that she is bewildered by Trump and doesn't accept him as her president. So, she is a typical American.
On her first day in office, Tlaib in an op-ed called for impeaching Trump.
Less formally, she spoke at Moveon.org and said, "we're gonna go in and impeach the motherfucker." The Right wing in the US, which is increasingly indistinguishable from the Far Right, is outraged at this language but somehow manages to be copacetic with Trump's obscenities and racism.