By Rachel Waldholz | –
( Clean Energy Wire) – The European elections delivered major gains for Green parties in several countries, as voters signalled a strong desire for more aggressive action on climate change. In Germany, the Green surge was especially strong. The party doubled its support, coming in second to Chancellor Angela Merkel's conservative coalition. The Green win has since pushed Germany's governing parties to put greater focus on combatting climate change. But the election campaign also contained signs of a potential backlash, as some right-wing populist parties, including Germany's Alternative für Deutschland (AfD), seized on opposition to climate action as a key part of their platform.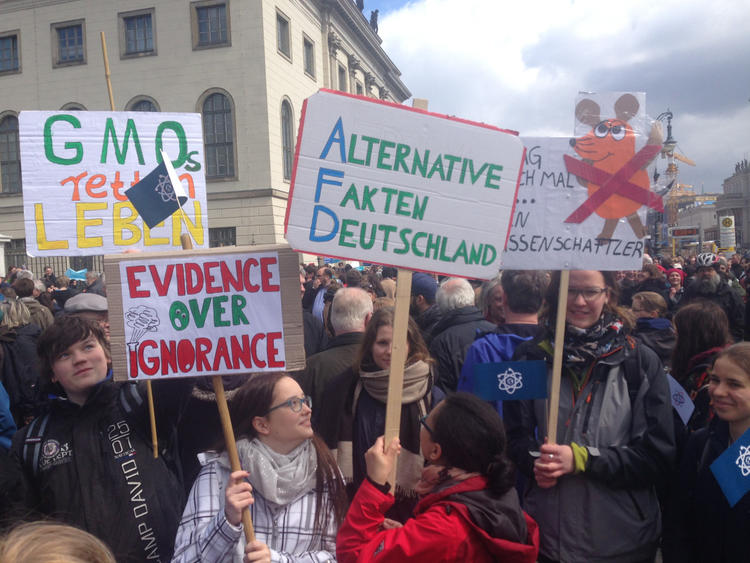 Climate protesters hold up sign "(A)lternative (f)acts (G)ermany", mocking the far-right populist party Alternative for Germany (AfD). Source: Sarahmirk/wikicommons 2019.
While analysts say it is unclear whether the strategy paid off, they see the issue of climate change ripe for political polarisation, especially as countries adopt more ambitious policies that increasingly affect citizens' daily lives. One big test could be upcoming state elections in the former East Germany.
It was the Monday after the European Parliament elections, and commentators across the continent were still buzzing about one of the weekend's surprises: a bigger-than-expected "green wave" that delivered gains to Green parties from France to Finland. Nowhere was this trend more visible than in Germany, where the Greens surged into second place behind Chancellor Angela Merkel's centre-right coalition, and ahead of her governing partners, the centre-left Social Democrats (SPD).
The result was widely interpreted as a demand for more aggressive climate action, prompting Merkel herself to pledge "better answers." Her party, the Christian Democratic Union (CDU), has since said it will focus more on environmental and climate policy, and SPD politicians often seize the opportunity to point to the party's agenda on the issue, including environment minister Svenja Schulze's Climate Action Law draft.
But Alexander Gauland, a leader of Germany's far-right Alternative für Deutschland (AfD), was having none of it.
Speaking to reporters the day after voting ended, Gauland dismissed the country's governing parties as, essentially, old news, and declared that the Greens were now his party's "main adversaries" – doubling down on his party's opposition to major climate policies.
"The Greens are the ones ruining Germany," Gauland said. "The Greens want to ban the combustion engine, want to end coal mining. That's why we have to fight against the Greens. That is the main goal."
Climate policy a "red carpet" for populist parties
It's a striking clash between two of Germany's rising political coalitions — and, analysts say, an example of what may be ahead for climate politics in Europe.
"I would say, the next years will be more turbulent [for climate policy] than any time before, both in terms of more radical solutions and opposition to them," said Stella Schaller, an analyst with the Berlin-based think tank adelphi, who recently co-authored a report on right-wing populist parties and climate policy.
Green parties made major gains across Western and Northern Europe in last month's elections, picking up seats in some of the bloc's biggest countries – including France, the UK and Germany – as well as in smaller countries like Ireland, Finland and Luxembourg. The Greens now look to be the European parliament's fourth-largest bloc, and voters in many countries ranked climate change as one of their top issues.
Climate is becoming a new line of conflict in European societies, when other topics such as migration lose their political explosiveness.
Stella Schaller, analyst at Berlin-based think tank adelphi
But analysts warn that even amidst the green surge, there were signs of a potential backlash, as some right-wing populist parties, until now focussed on limiting immigration or criticising the European Union, have begun to seize on climate change as a key issue. Parties like Germany's AfD, Finland's nationalist Finns Party and the Dutch Forum for Democracy (FvD) have made opposition to climate action a key part of their platforms, framing climate policy as an elite agenda that threatens national sovereignty and local economies.
"Climate is becoming a new line of conflict in European societies, when other topics such as migration lose their political explosiveness," Schaller said. As parties search for issues to fill that gap, climate change is like a "red carpet", she said.
Schaller and others stress that the continent's right-wing, populist parties are far from uniform in their views on climate change. But, they say, climate policy is particularly ripe for political polarisation: It demands trust in scientific institutions, international coordination and multilateral action — all of which have become targets of the continent's populist parties.
"[The] far right was never a single-issue movement," Cas Mudde, a political scientist at the University of Georgia who studies populism, told Politico Europe this spring. "Immigration and integration is the bread and butter … They can't sustain themselves over decades as the anti-climate change party. But they have been very clever in integrating it into their populist frame."
Germany's AfD: An outlier or a frontrunner?
The clearest example so far is Germany, where the AfD made climate change a key part of its campaign in the European elections.
"The EU Parliament is prepared to destroy hundreds of thousands of jobs for an ideological construct called climate rescue," Gauland declared at the party's campaign launch in April. The party's campaign posters called on voters to "save diesel" and party members have criticised Greta Thunberg, the teenage Swedish climate activist. The campaign built on the party's existing positions – leading members have for some time cast doubt on human involvement in climate change, and it has opposed most EU climate policies, including the ratification of the Paris Climate Agreement.
Alternative für Deutschland (AfD) campaign posters for the 2019 European elections: "Save the diesel!" and "Annoy Greens? Vote Blue!". Source: AfD 2019.
It's not clear how well this approach has worked. The AfD did not do as well as some had predicted in the European elections: at 11 percent, it took in about half as many votes as the Greens, and fell short of its own vote share in 2017 national elections. But the party came in first in the East German states of Brandenburg and Saxony, home to the coal-mining region of Lusatia, and a close second in Thuringia. The party also posted a surprising win among workers in the south-western state of Baden-Wuerttemberg, home to major auto and auto-parts manufacturers, prompting public broadcaster SWR to write: "The AfD is apparently the 'labour party'. Thirty-one percent of workers voted for it, only 12 percent for the SPD."
Analysts cautioned that it's unclear how much opposition to climate action drove support for the AfD.
"Almost all voters who vote for AfD don't vote for them because they are anti-climate ambition…but because of other issues," said Oldag Caspar, with the environmental group Germanwatch. "And maybe even it's the other way around – if the AfD were less radical anti-climate ambition than they are, they might have won more people for themselves." At least some members agree: after the election, the party's Berlin youth wing issued a call for the AfD to reverse course on climate change.
Almost all voters who vote for AfD don't vote for them because they are anti-climate ambition, but because of other issues.
Oldag Caspar, Germanwatch
But AfD's leaders, at least, seem to see it as a winning issue. One major test of this strategy will be upcoming state elections in the former East Germany. Brandenburg and Saxony will vote in September, Thuringia in October.
There, the AfD is presenting itself as an "advocate of the eastern German population", Alexander Häusler, a sociologist who studies right-wing extremism and populism at the University of Applied Sciences in Dusseldorf, told Deutsche Welle. The party opposes the plan to phase out coal power entirely, insisting it will destroy the region's economy and cost people their jobs. And it has helped block the expansion of wind farms in the region, arguing that wind turbines pose an environmental threat to bats, birds and insects, and are a nuisance for local communities.
Climate policies have essentially become part of a much larger divide, Häusler told Deutsche Welle, wrapped up with issues like migration and economic inequality.
"The Greens and the AfD are waging a cultural battle," he said. "On the one hand, there are those who support an open, pluralistic, minority-protecting, cosmopolitan society. And on the right, a defensive, protective stance."
This, in turn, is impacting national policy in Germany, making some politicians loathe to champion climate policies that could jeopardize their support in the region.
The AfD isn't alone. This spring, the nationalist Finns Party made climate change a central theme of national elections in Finland, campaigning against "climate hysteria", and nearly tied the winning party for votes. (The party gained votes but still came in only fourth in European elections, while the Green Party surged to second place).
In the Netherlands, the relatively new Forum for Democracy (FvD) party won the most votes in provincial elections this spring in part by campaigning against aggressive climate action – though they fell short of expectations in the European elections.
Populist parties far from unanimous on climate change
Schaller's study found wide differences among the continent's populist parties. The majority of the continent's right-wing populist or Eurosceptic parties remain disengaged on climate policy, or have inconsistent or ambiguous views, the study found. Parties are responding to different national political contexts, and some embrace a kind of "green patriotism" or "eco-nationalism". France's Rassemblement National (formerly the National Front), for instance, which took first place in the European elections, has fiercely opposed national climate action and voted against climate policies in the European Parliament; but the party supports phasing out fossil fuels and expanding renewables to create jobs in France and to reduce dependence on outside countries. The Italian Lega also topped the polls in the elections for European parliament; the party supports an energy transition, but abstained from ratification of the Paris Agreement and voted against most climate policies in the European Parliament. Meanwhile, Hungary's governing Fidesz party was the first to ratify the Paris Climate Agreement and has supported most EU-wide climate policies.
Complete denial of climate science remains a fringe position in Europe, and climate policy itself is nowhere near as "ideologically entrenched" in the EU as it has become, for instance, in the US, the adelphi report found.
Schaller said that could change. "The topic has a lot of potential to polarise," she said. "And that is because climate change – or tackling the climate crisis – requires deep structural transformation. And it raises questions about redistribution. And on the other hand, it requires behavioural change. And this is just a constellation that's easy to exploit."
Climate policy gets personal
One issue is simply the success of climate policy to date, said Annika Hedberg, with the European Policy Centre, a Brussels-based think tank. Many European countries have dealt with the low-hanging fruit of climate policy, and must now confront harder choices with bigger impacts on the daily lives of ordinary citizens.
"We're starting to see it's influencing our daily lives," Hedberg said. "And suddenly people start to feel, 'Oh, this is actually getting too close'."
Germany, for example, after making major progress on targets like the deployment of renewables, is now grappling with more difficult transformations, like phasing out coal power entirely, and reducing emissions in the country's economically and culturally significant transport sector. A proposal to impose a speed-limit on the German autobahn provoked an immediate backlash. In France, a fuel tax promoted as a climate policy sparked the Yellow Vest protests.
This creates an opening for parties who argue that climate policy will come at the expense of jobs, higher energy prices, or changes to beloved local landscapes, Hedberg said.
I continue to fear that this battle on politicising climate action is only starting now.
Annika Hedberg, Brussels-based think tank European Policy Centre
"They really are exploiting the fact that people are beginning to feel the consequences of climate policies," she said. "Many people do not want to change their behaviours, they do not want to change their lives. And as long as people are fearing change and are fearing the sacrifices they will have to make, the populists will have very fruitful ground to build on."
Ultimately, Hedberg said, climate policies do have winners and losers, and those who support climate action must be honest about that.
"If we are serious about the transition to 2050, it will come with costs," Hedberg said. "It will come with a whole transformation of our economy and society… And there is a need to carefully think, how do we keep people on board?"
Whether that means shielding low-income populations from the impact of new taxes or ensuring access to new forms of transportation or technology, she said, one thing is clear: climate policies that don't take social impacts into account risk provoking a major backlash.
"I continue to fear that this battle on politicising climate action is only starting now," Hedberg said.
Used with permission. Via Clean Energy Wire ">Clean Energy Wire