(Informed Comment) – An "After-Action" Report on the Kurds' Vital Role in The Defeat of ISIS and Death of "God's Shadow on Earth":
On October 26th US Delta Forces, acting on intelligence provided to them by their trusted Kurdish allies, launched a dangerous, long-distance heliborne raid from Iraq, across a region in northern Syria that had recently been thrown into chaos by the US withdrawal, against the compound where ISIS leader Abu Bakr al Baghdadi was in hiding in the far western province of Idlib. As the formation flew across a land that its troops had controlled just two weeks before, the Pentagon reported that it sustained ground fire. Considering that adversarial Russian forces, who had attacked American troops in Syria prior to this on several occasions (including in the 2018 Battle of Kasham), had moved into fill much of the vacuum created by the hasty mid-October US retreat from the region, it is fortunate that the slow moving American Chinook helicopters were not targeted by advanced S-400 anti-aircraft systems Putin had deployed to the theater. Had they been targeted by this sophisticated weaponry, the operation could have ended in a military and a political fiasco similar to the debacle Jimmy Carter confronted when a failed Delta Forces heliborne rescue mission to free the Iranian hostages in 1980 ended with gloating Iranian television images of burnt US aircraft in the desert. Only the blame would have more squarely fallen on Trump for turning over the strategic territory, that was previously under firm US control, to America's Russian-backed Syrian Arab Army adversaries who have certainly not forgotten our shootdown of one of their planes.
While news outlets reported that the formation of slow-flying transport helicopters flew "70 miles" from the Iraqi Kurdistan capital of Erbil to the target in western Syria, a simple search of "distance calculator" reveals that Baghdadi's compound in Barisha was actually an extraordinary 470 miles (757 kilometers) from the US launch base (if it was indeed Erbil). This would mean that, having recently abandoned their airfields and forward operating bases located in Syria near Idlib province where the ISIS leader was killed, the pilots flying the clumsy US transport helicopters—that members of my US Army I.O. team in Afghanistan referred to as "flying school buses"—would likely have probably had to engage in dangerous in-air refueling over hostile territory in addition to receiving "sporadic gunfire" (although there have been rumors that the helicopters may have leap-frogged off a Syrian helipad and that their flight commenced at Al Assad airbase in western Iraq). When one recalls previous catastrophic shootdowns of the vulnerable Chinooks, including one in Afghanistan where all 38 members of the flight crew and Navy SEAL special forces on board were killed in August 2011, the added risk Trump's withdrawal decision exposed our airborne troops to becomes obvious. To put this daring raid across a vast, war-torn land that had been made hostile just two weeks earlier by Trump's decision to abandon America's bases to the Syrian, Russian, Iranian, Hezbollah alliance and invading Turkish forces, the raid on Bin Laden's compound was by contrast less than half the distance 205 miles (330 kilometers).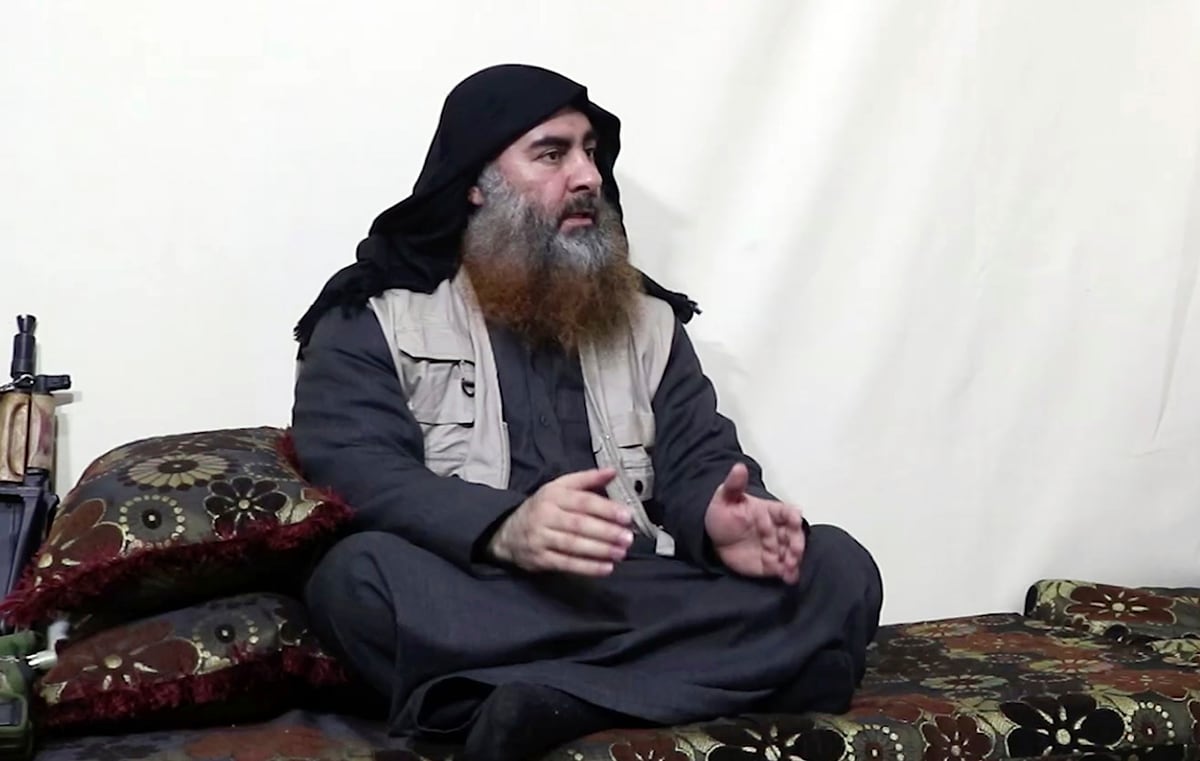 Abu Bakr al-Baghdadi h/t Military Times.
Ironically, the raid that killed al Baghdadi was based on five pillars of counter-terrorism in the region that Trump is seemingly intent on dismantling. These were, 1. the field operations of CIA professionals who have been undermined in ominous terms as a nefarious "deep state" by Trump. Their operations and local spy networks have also been disrupted by Trump's greenlighting of a Turkish invasion of the area in northern Syria that the US formerly controlled. 2. In-theater American troops who have been disengaged from the battle on regrouping ISIS in the Syrian half of the caliphate by Trump's withdrawal order. 3. Frontline counter-ISIS military/counter-terrorism bases and intelligence gathering outposts that were abandoned to the Russians after Trump's withdrawal order. 4. Our abandoned, intelligence-gathering Kurdish allies who have their hand on the pulse of their land and now feel betrayed. 5. And the diplomatic corps which has been so crucial in establishing ties with the Kurds. It is this very State Department, that has been "hollowed out" by the president who has a "unique contempt" for their diplomatic mission (prompting a concerned former Secretary of Defense General Jim Mattis to comment "If you don't fund the State Department fully, then I need to buy more ammunition ultimately.")
Embed from Getty Images
Last ISIS-Held Village In Syria Falls to US-Backed Forces
BAGHOUZ, SYRIA – MARCH 23: Syrian Democratic Forces (SDF) fighters pose for a photo with the American flag on stage after a SDF victory ceremony announcing the defeat of ISIL in Baghouz was held at Omer Oil Field on March 23, 2019 in Baghouz, Syria. The Kurdish-led and American-backed Syrian Defense Forces (SDF) declared on Saturday the "100% territorial defeat" of the so-called Islamic State, also known as ISIS or ISIL. The group once controlled vast areas across Syria and Iraq and a population of up to 12 million, an aspired "caliphate" that drew tens of thousands of foreign nationals to join its ranks. (Photo by Chris McGrath/Getty Images)
While Trump supporters will doubtless engage in all manner of contorted verbal acrobatics to try rationalizing the president's irrational directives undermining all five pillars that came together to lead to Baghdadi's death, one does not need to be a military strategist to understand that the president's withdrawal order defies sound military logic, counter-terrorism strategy and commonsense.
But despite Trump's decision to abandon America's anti-ISIS intel-gathering outposts/helipads, withdraw frontline US counter-terrorism troops and intelligence operatives (who he knew were engaged in a delicate, ongoing operation to trace and kill Baghdadi) and needlessly antagonize the very Kurdish allies, who were at the moment of their betrayal tracking the terrorist leader's movements, the Kurdish-directed Delta Forces overcame the newly-created logistic/force-security obstacles and successfully "neutralized" their HVT (High Value Target). Despite all Trump's self-congratulatory gloating in the success of the mission, the real heroes of the fraught operation were the US Delta Forces known as "The Unit," the pilots of the 160th Special Operations Aviation Regiment known as the "Night Stalkers," and the Kurdish Asayish intelligence known as "The Security."
The Kurds' role in providing the invaluable intel needed to locate and kill the messianic ISIS leader Caliph al Baghdadi, seen as "God's Shadow on Earth" by his diehard followers, was absolutely crucial by all accounts (except for Trump's). Without their local assistance, Baghdadi would not have been discovered hiding in, of all suspect places, a Turkish controlled "safe zone" near the Turkish border. The Washington Post was to report that it was Kurds who recruited a source that led the CIA to al Baghdadi writing "The disaffected ISIS member had become an informant for Kurdish forces working with the Americans, the official said. And he provided critical information on Baghdadi's whereabouts." The New York Times was to further report on their vital role;
"American officials said the Kurds continued to provide information to the C.I.A. on Mr. al-Baghdadi's location even after Mr. Trump's decision to withdraw the American troops left the Syrian Kurds to confront a Turkish offensive alone. The Syrian and Iraqi Kurds, one official said, provided more intelligence for the raid than any single country. (emphasis mine)"
NBC news ran an article with the headline "Kurdish Informant Provided Key Intel Which Led to the Killing of ISIS Leader al Baghdadi" which reported on the Kurds' recruitment of one of the ISIS leader's security advisors:
"His [Kurdish military leader Mazloum Abadi] intelligence service had a source deep in al-Baghdadi's inner circle who described a room-by-room layout of the terror leader's compound on the Turkish border, including the number of guards, floor plan and tunnels."
English speaking Kurdish commander and senior advisor Can Polat, who gained widespread trust among American troops whom he joined in combat against ISIS, summed up the key role of the Kurds by providing unprecedented granularity of detail of the hunt for the notorious ISIS leader whose death Trump proudly claimed in a lengthy 48 minute speech:
"Through our own sources, we managed to confirm that Al Baghdadi had moved from Al Dashisha area in Deir Al Zor to Idlib. Since 15 May, we have been working together with the CIA to track Al Baghdadi and monitor him closely. One of our sources was able to reach the house where Al Baghdadi was hiding. Al Baghdadi changed his places of residence very often. He was about to move to a new place in Jerablus. Our own source, who had been able to reach Al Baghdadi, brought Al Baghdadi's underwear to conduct a DNA test and make sure (100%) that the person in question was Al Baghdadi himself."

More than a month ago, the decision was made to eliminate Al Baghdadi. However, the US withdrawal and the Turkish invasion prompted us to stop our special operations, including the pursuit of Al Baghdadi. The Turkish invasion caused a delay in the operation. (emphasis mine)."
Polat would later emphasize "all intelligence and access to Al Baghdadi as well as the identification of his place, were the result of our own work. Our intelligence source was involved in sending coordinates, directing the airdrop, participating in and making the operation a success until the last minute." The Kurdish leader Mustefa Bali similarly explained the role of the Kurdish led SDF (Syrian Democratic Forces) in the raid in a tweet stating "Successful and effective operation by our forces is yet another proof of SDF's anti-terror capability. We continue to work with our partners in the global @coalition in the fight against ISIS terrorism." SDF Commander General Mazloum Abdi claimed there had been five months of "joint intel cooperation on the ground and accurate monitoring" which pinned down Baghdadi's precise location. A State Department Official would subsequently confirm that Abdi's statements were true "He, his people, and his intelligence sources, played a key role in all of this…It's a very, very important role. Nobody should underestimate how key the SDF was in all of this."
Trump Refuses to Share the Glory with the Kurds (Who are Widely Praised by US Generals)
But if the Kurds were expecting any thanks from Trump for their widely acknowledged, crucial role in the greatest counter-terrorism success since the killing of Osama Bin Laden, a success that the president will certainly exploit for himself on the campaign trail, they were to be sorely disappointed. In his remarkable 48 minute detailed discussion of the raid, Trump went to great lengths to first profusely thank, of all people, the Russians for being "very cooperative, very good" (the Russians subsequently refuted the president's claim stating they had "no reliable information" about the raid in advance). He then shocked many observers and hardened the Kurds' views of America by thanking Turkey, the very nation whose jihadist proxy invasion of the Kurds' lands following Trump's sanctioning of their assault seriously disrupted the CIA and Kurds' al Baghdadi operation. In a surreal disconnect from the real negative impact Turkey had on the joint Kurdish-American anti-ISIS operation that killed a terrorist hiding in Turkish-controlled territory in Syria, Trump called the Turks "terrific."
Trump's bizarre shout-out to the Turks, who have deployed "thousands" of fanatical former ISIS fighters in their proxy force that invaded Kurdish lands after Trump gave them the green light on October 6th, must have been beyond galling for the Kurds. Especially since The Military Times reported that "A sustained counterterrorism campaign to knock out ISIS sleeper cells is in jeopardy of ending as Turkish warplanes reportedly destroyed a coalition-trained SDF commando camp tasked with taking out ISIS leaders and financiers." The Turks' jihadists, who were dispatched to northern Syria to fight America's anti-ISIS Kurdish fighters, were described by one disgusted US Green Beret who was given the task of training them as "either working in terrorist organizations or sympathetic to them."
It was only as an afterthought that Trump afterwards, in much less glowing terms, acknowledged, almost in passing, "I also want to thank the Syrian Kurds for certain support they were able to give us." Later in his long speech, when asked by a reporter to flesh out details on the "certain support" that the president grudgingly acknowledged the Kurds played, an obviously uncomfortable Trump was reticent and reluctantly admitted only that "they gave us some information, that turned out to be helpful." But then he went out of the way to stress that the Kurds played "not a military role at all." When he was asked whether the United States had relied upon "foreign intel," Trump was deliberately misleading on the Kurds' role and said it had not. "So, we had our own intel," the president dismissively noted. "We got very little help. We didn't need very much help."
Trump's clear reluctance to give the Kurds the credit that they so richly deserve for their success in finding the world's most wanted man (no doubt driven by his desire to undermine an ally who he betrayed) compares drastically to the Pentagon's long history of effusive praise for its key "boots on the ground" allies. On one occasion, as the Kurdish-led Syrian Democratic Forces (SDF) fought through blinding sand storms that prevented vital Coalition "overwatch" air support and faced an unprecedentedly savage blitz of ISIS VBIEDs (Vehicle Borne Improvised Explosive Devices), a grateful US Army Colonel reported "The SDF is engaged in a difficult battle & fighting bravely to protect and free their people from ISIS. We salute the martyred SDF heroes as the intense fight against evil continues." On another occasion, after the SDF broke through fanatically defended ISIS positions sustaining horrific loses, a Pentagon source reported
Our SDF partners are still making daily progress and sacrifices, and together we are still finding, targeting and killing ISIS terrorists intent on keeping their extremist hold on the region. We cannot take our focus off our mission, and we must not lose our momentum in taking these terrorists off the battlefield and preventing them from resurfacing somewhere else.
A March 2017 Pentagon report also spoke in glowing terms of the SDF's bravery after they played a key role in a dangerous heliborne raid on ISIS as follows:
During the period of darkness, March 21-22, the Syrian Democratic Forces, with their Syrian Arab Coalition fighters, launched a multi-pronged offensive behind enemy lines to liberate the Tabqah Dam in Syria from ISIS. The offensive was led by the dedicated multi-ethnic Syrian Democratic Forces and supported by the Coalition. A key element of the Coalition's strategy against ISIS is to work by, with, and through committed and capable local partner forces fighting to liberate their own people and lands.
The Coalition supported this offensive with air movement and logistical support, precision airstrikes, Apache helicopters in close air support, Marine artillery, and special operations advice and assistance to SDF leadership.
"It takes a special breed of warrior to pull off an airborne operation or air assault behind enemy lines," said Col. Joe Scrocca "There is nothing easy about this – it takes audacity and courage. And the SDF has that in spades." [emphasis mine]
Map of Kurdish-led Syrian Democratic Forces (SDF) operations to defeat ISIS, Turkish invasions of their lands, and Russian-American "de-confliction" zones of influence.
The widely respected US Envoy to the Anti-ISIS Coalition Brett McGurk, who spent years liaising with the Kurds summed up the military's view of the Syrian Democratic Forces saying "The S.D.F. is the best unconventional partner force we've ever had, anywhere." Sadly, this was a sentiment that the US president who had praised the Kurds before betraying them set about systematically trying to demolish to legitimize his betrayal of them.
Trump Engages in a Disinformation Against the Kurds Designed to Demean Their Valor, Motives and Contributions and Legitimize His Betrayal
Having decided to militarily betray the Pentagon's Kurdish battlefield allies that were so effusively praised by the military, Trump's subsequent dismissals of their undeniable courage, vital contribution to the war effort, and crucial role in finding the world's most wanted man come off as churlish. Never more so than when the president disparaged the Kurdish men and women volunteer fighters, who were the first ones to repulse the seemingly unstoppable ISIS onslaught in the costly defense of the town of Kobane, as mere mercenaries tweeting "The Kurds fought with us, but were paid massive amounts of money and equipment to do so." Trump then went even further and disowned the Syrian Kurds and acted as if the US did not have a role in driving them into confrontation with the Turks by pushing them to attack Manbij (ISIS's main terrorism export launch pad which lay beyond their lands in neighboring Arab lands where the Turks forbade them to advance). He did so when he falsely tweeted "They have been fighting Turkey for decades (sic). I held off this fight for almost 3 years, but it is time for us to get out of these ridiculous Endless Wars, many of them tribal, and bring our soldiers home."
The two million "tribal" Kurds of Syria have most certainly not been fighting Turkey for "decades" in "endless wars" and in fact they did not gain weapons until the collapse of Syria in 2011. And far from fighting for "1,000 years" as Trump falsely claimed (Kurds actually fought for Turks in the Ottoman Empire up until its collapse in the 1920s), the Syrian Kurds only fought the Turks when they invaded their lands in 2018 in Erdogan's cynically mis-named Operation Olive Branch. Far from crossing Turkey's heavily guarded border to invade Turkey and fight in the expanses of Anatolia with NATO's second largest army via their predominantly light infantry weapons, the Syrian Kurds used their arms to defend themselves. They defended their homes, families, and homeland from the onslaught of an ISIS jihadist army bent on wiping them out as "secular Jews and pigs" and Turks who defined their own forces as "Islam's last army" fighting a "jihad." And in an upending of US foreign policy that sent shivers through Israel which has been fighting Syrian aggression, Trump abdicated all US influence and responsibility to allies like the Kurds and Israel in the region stating "That has nothing to do with us. What does that have to do with the United States of America if they're fighting over Syria's land?"
Embed from Getty Images
Syrian Kurds gather around a US armoured vehicle during a demonstration against Turkish threats next to a US-led international coalition base on the outskirts of Ras al-Ain town in Syria's Hasakeh province near the Turkish border on October 6, 2019. – Ankara had reiterated on October 5 an oft-repeated threat to launch an "air and ground" operation in Syria against a Kurdish militia it deems a terrorist group. (Photo by Delil SOULEIMAN / AFP) (Photo by DELIL SOULEIMAN/AFP via Getty Images).
If Trump's callous "its not our fight" re-rendering of "endless tribal wars" history and washing of his hands of the Turks' invasion of the Kurds was not enough, the president then demeaned the Kurds' valor stating "You know, when we send 30 F-18s in front of them, they fight much better than they do when we don't." But, in a transparent effort to legitimize his illegitimate decision to betray the Syrian Kurds, Trump went even further and tried to delegitimize America's greatest terrorist-hunting ground force. He did so by painting them as worse than the ISIS fighters who enslaved and raped thousands of Yazidi women and girls as a sick act of worship, butchered Christians by crucifying them, massacred Arab tribes that resisted them, and beheaded Americans on film. ISIS also dispatched suicide bombers to slaughter "Christian infidels" in Paris, Brussels and Barcelona, murdered Shiites on an industrial scale, established terror affiliates across the globe, inspired mass murder in America, and created a harsh shariah law prison camp that horribly repressed 12 million people.
But all of these jihadist horrors were overlooked by Trump in his effort to conflate the Syrian Kurds with PKK Kurdish guerilla insurgents fighting President Erdogan's troops for greater autonomy in their ancestral lands in eastern Turkey. In what was the most ignoble shameful statement in the whole sordid episode, Trump disingenuously made the preposterous statement that "The PKK which is a part of the Kurds, as you know, is probably worse at terrorism in many ways and more of a terror threat than ISIS." To further undermine the Pentagon's Kurdish allies, Trump then made the reality-bending accusation that the Syrian Kurds were selling oil to Iran. Trump's preposterous statement and flat out lie "I didn't like the fact that [the Kurds] are selling the small oil that they have to Iran, and we asked them not to do it," overlooks an obvious fact. The Iranians, who produce four million barrels of oil a day, are one of the world's greatest oil exporters and have never needed to import Syria's small amount of oil of 50,000 barrels of oil. A local oil expert joined in the global chorus of voices rejecting Trump's easily disproved accusation and patiently explained that, not only did the primitive, recently bombed local oil facilities not have enough oil to meet local demands, "There is no border between the Syrian Kurdish region with Iran, and the oil produced in their areas is not enough to satisfy local needs, and the war destroyed a large part of the oil fields."
Trump then doubled down on his defense of bipartisan-condemned decision to abandon the Kurds to the Turks by launching a campaign designed to further belittle the allies he had just discarded. The president cynically besmirched the Kurds saying "they are no angels" and "they did not fight for us in [the 1944 amphibious invasion] Normandy." But, in a region dominated by genocidal dictators, Shiite ayatollahs, sectarian death squads, Turkish backed war-criminal jihadists, Al Qaeda's local branch, ISIS terrorists, misogynists, Islamist slaughterers of Christians and Yazidis, Takfiri fanatics, rampaging Russian forces, murderous Assad regime Shabab "Ghost" militias, Wahhabi mullahs, Hezbollah fighters, and Turkish ultra-nationalists, by contrast the pro-women's rights Syrian Kurds —who saved the ancient "pagan" Yazidis from ISIS genocide and protected endangered Christian minorities—are veritable angels. Ironically, in light of Trump's snide rip on the Kurds "not being angels," among the Kurds was a famous female fighter known as the Angel of Kobane, one of the many women from the YPJ (Women's Protection Unit) who fought bravely and died in the thousands against the jihadist-misogynists who hated these liberated women and all they stood for. And, while the Kurds may not have fought their way across Nazi occupied Europe to attack the Panzer tank divisions and Luftwaffe air force of the Third Reich's mighty Wehrmacht on the beaches and cliffs of Normandy, they did actually fight on our behalf in World War II. Ten Kurdish companies fought in joint American British Allied operations in Greece as part of the British Assyrian Parachute Company.
Such hateful, counter-factual comments and outright lies by the Commander in Chief horrified and dismayed the US soldiers who fought alongside their courageous Kurdish allies and stunned the Kurds who had previously believed the president was there friend and supporter. As recently as September 2018 Trump claimed "we don't' forget" the Kurds' real sacrifices and stated to a Kurdish reporter:
"We do get along great with the Kurds. We're trying to help them a lot. Don't forget, that's their territory. We have to help them. I want to help them. They fought with us. They died with us. They died. We lost tens of thousands of Kurds, died fighting ISIS. They died for us and with us. And for themselves. They died for themselves. They're great people. And we have not forgotten. We don't forget."
But, having betrayed the very "worse than ISIS"-Kurds who the president had previously acknowledged "died for us" and described as "great people, great fighters, and great great people," Trump reversed himself and purposefully did forget. In light of all his patently self-serving efforts to undermine the undeniable courage of the Kurds, impugn their motives, describe them as being "worse than ISIS" and construct a "fake news" narrative of them selling oil to Iran, the president was not surprisingly loath to share the glory of the killing of Baghdadi with them. His obvious attempt to retroactively diminish their role in the al Baghdadi operation was widely reported through such headlines as Business Insider's "Trump downplayed central role Kurds played in Baghdadi raid after abandoning them in Syria" and the Washington Post's "Trump minimizes Kurds' role in Baghdadi raid, adding insult to injury."
Trump's clear reluctance to thank America's frontline allies who sacrificed 11,000 of their sons and daughters defeating the ISIS terror scourge (thus enabling him to brag "I captured ISIS") stands in clear contrast to previous presidents' effusive praise of frontline local allies in the war on terror. Recall, for example, President George W. Bush's invitation to a previously-obscure anti-Taliban Afghan-Pashtun rebel leader named Hamid Karzai to come to the Capitol where he received a standing ovation by Congress. The Kurds' military leader Mazloum Abadi, who is widely respected by the US troops who entrusted their security to his fighters, has been invited by both parties to come speak to Congress (even as the Turkish president demanded his arrest). But it is highly doubtful the president will allow him this honor due to the Turkish president's bullying, especially in light of Trump's history of unwillingness to stand up to autocrats like Putin (vis a vis the intelligence community's unanimous findings of Russian interference in the 2016 election) and the Saudi leader Mohammad Bin Salman, after his ordering of the butchering and dismemberment of a US resident Jamal Kashoggi in Istanbul (see Trump's remarkable statement defending the Saudi leader and absolving him here).
Trump's embrace of the autocratic Turkish president and efforts to airbrush the hard fighting SDF from his self-aggrandizing narrative of "his" war on ISIS is seen as a betrayal by the Kurds. As will be shown, the depth and impact of this betrayal, however, run far deeper than mere rhetorical efforts that are clearly meant to minimize their bravery, sacrifices in lives of thousands of their people, and crucial role in victories that he has repeatedly claimed for himself.
"No Friends but the Mountains." A History of Being Used and Betrayed by Washington.
The abandoned Kurds, who understandably felt betrayed after sending their sons and daughters to fight for America in the Arab-dominated Syrian Desert far from their north Syrian Kurdish homeland known as Rojava, which aptly in light of Trump's sellout translates to the "Land of the Setting Sun," threw vegetables at the retreating American convoys flying the Stars and Stripe. Not since ignominious images of Huey helicopters evacuating fleeing American personnel from the roof of the Viet Cong-besieged embassy in Hanoi have such humiliating images captured an American retreat. Only on this occasion, America's precipitous flight was caused not by an attacking force from the constellation of adversaries America had been jostling with in Syria, such as the genocidal Russians and Syrian Arab Army or Turkish "frenemies," but by Trump's capitulation to a much weaker power's demands.
Embed from Getty Images
HOLE, SYRIA – NOVEMBER 10: Kurdish female troops from the Syrian Democratic Forces stand in a forward operating base overlooking the frontline on November 10, 2015 near the ISIL-held town of Hole in the autonomous region of Rojava, Syria. The forces, primarily Kurdish, are attacking ISIL extremists in the area near the Iraqi border and calling in airstrikes from U.S.-led coalition warplanes. The autonomous region of Rojava in northern Syria has become a bulwark against the Islamic State. The Rojava armed forces, with the aid of U.S. airstrikes and weapons, are retaking territory which had earlier been captured much by ISIL from the Syrian regime. (Photo by John Moore/Getty Images).
President Trump's shockwave-inducing "impulsive" and "precipitous" (in staunch Trump supporter Senator Lindsay Graham Republican and Senate Republican Majority Leader Mitch McConnell's words) to cave in to Turkish leader Recep Tayyip Erdogan's demands to be allowed to attack our allies has been cast as a Turkish victory over Trump and America in the Turkish media. Trump's decision to order the remaining "light footprint" force of just 1,000 US troops to abandon their bases in northern Syria, where they were punching far above their small weight by leveraging the Syrian Kurds as proxy warriors in Operation Roundup, clearly blindsided not just the Kurds, but the US generals and special forces in the field. For years these generals had stood up to Turkish threats and had even worn the patches of the local Syrian Kurdish YPG (Peoples Protection Brigades) out of solidarity with their local allies.
Trump's whimsical decision also dismayed and infuriated the 80 member global Anti-ISIS Coalition, pro-Trump Republicans, Israel, NATO, and the stunned Kurds who served as the tip of the (now abandoned) spear in the remarkably successful air and proxy war to destroy the Islamic State in Syria begun by Obama in August 2014. Trump's epic betrayal of the Syrian Kurds and green-lighting of a brutal Turkish invasion of their fragile pro-women's rights, pro-minority democracy in northeastern Syria—that was built on lands they liberated at such horrific cost in lives from the ISIS terror state—was an unforced error and unmitigated humanitarian disaster that has already cost hundreds of civilians and hundreds of pro-American, anti-ISIS Kurdish fighters' lives. It is also a stark warning to other overseas allies (including Israel which fears that its base-building Iranian Revolutionary Guard enemies will fill the US vacuum in Syria and the Brits whose foreign secretary said his government was not warned of Trump's rash decision) that the mercurial Americans cannot be trusted to steadfastly honor their alliances or stand up to dictators like the Turkish president. Sadly, it is not the first time the Americans have leveraged the Kurds to achieve their goals and then paved the way for tyrants to massacre them.
The 35 million repressed Kurds whose ancestral lands have been carved up between Iran, Iraq, Syria and Turkey were denied a homeland by the British, French and American victors after World War I. They have a saying that aptly captures their tragic history of betrayal by great powers "We have no friends but the mountains." Sadly the Kurds, who had created a new saying "No friends but the Americans," after Obama began to support their fight in 2014, have no foreign friends except for the Israelis (who feel a strong affinity for this race that has been so active in fighting the jihadists that threaten Israel). But they have been consistent and loyal friends to America. After fighting alongside America against the Nazis in World War II, the Kurdish support for the US continued in the following decades. In 1972, the Nixon administration encouraged the Kurds of northern Iraq to rise up against Baghdad at the request of the US-backed Shah of Iran. But when the Shah made peace with Baghdad, the Kurds (who acted in good faith and launched an insurrection) were betrayed by Washington and left to be slaughtered by Iraqi troops. Using language that mirrors the anguished pleas of the Kurds today, the Kurdish leader Mustafa Barzani wrote at the time;
"Our movement and people are being destroyed in an unbelievable way, with silence from everyone. We feel, Your Excellency, that the United States has a moral and political responsibility towards our people, who have committed themselves to your country's policy."
As the abandoned Kurds were massacred and tens of thousands fled rampaging Iraqi troops, another Kurdish leader wrote letter in dismay which read "There is confusion and dismay among our people and forces. Our people's fate in unprecedented danger. Complete destruction hanging over our head. No explanation for all of this." Nixon's National Security Advisor Henry Kissinger cynically told an aid "Promise them anything, give them what they get, and fuck them if they can't take a joke," The Kurds again rose up and fought bravely against Saddam Hussein in 1991 at the request of the Bush Senior administration during the Gulf War. But the Kurds' faith in the Americans was once again misplaced and they faced yet another US green lit massacre. As the Kurds acted on Bush's request that they overthrow Hussein "the Bush administration stood still as Hussein struck back viciously. The White House went so far as to publicly state that it would not intervene militarily, effectively giving Hussein a green light." But the Kurds continued to stand by the Americans, despite these two previous betrayals that cost them devastating loss of lives. They later fought alongside US forces again in 2003's Operation Iraqi Freedom and played a major role in diverting Hussein's troops away from the US thrust on Baghdad coming from the south to fight their Peshemerga (Those who do not Fear Death) forces in the north. Most recently, at the behest of Obama and later Trump, the Kurds plunged deep into the Arab-inhabited Syrian desert, far from their northern homeland, and spearheaded the destruction of the ISIS global terror threat (a five year rollback launched by Obama in 2014 that Trump has repeatedly claimed for himself in such self congratulatory and wildly misleading statements as "I captured ISIS. [General] Mattis said it would take two years. I captured them in one month.")
But it was not Trump the Vietnam draft dodger who fought through the windswept Syrian desert and rubbleized, IED-laced alleys of ISIS's capital, the "heart of darkness" known as Raqqa, to kill thousands of jihadists and capture the 12,000 diehard ISIS fighters currently held in internment camps in northeastern Syria, it was the fearless Kurds. On this latest occasion, the hard-fighting Kurds of the Syrian Democratic Forces agreed to the Pentagon's request that they leave their homeland, cross the Euphrates River to the west of their lands (which the Turks described as a do not cross "Red Line") and capture ISIS's main base for launching terror attacks abroad, the Arab city of Manbij. They also fought far from their lands to the south, in the vastness of the Arab-inhabited Syrian desert, at the Pentagon's behest to defeat the global terror scourge of ISIS that has inspired jihadi slaughter in the heartlands of America in venues ranging from Orlando to San Bernardino to Manhattan. The Kurds fought far from home and died for much more than just their land (as Trump erroneously proclaimed in an effort to impugn their motives as the tip of the spear in the Coalition's anti-ISIS campaign), they fought beyond Rojava to rid the world of the scourge of terrorists who carried out slaughter of young girls at an Ariana Grande concert in Manchester, drove a semi-truck through a crowd in Nice France, and slaughtered co-workers at a clinic in San Bernardino, California (just after these same co-workers held a baby shower for one of the terrorists).
Embed from Getty Images
Kurdish female fighters of the Syrian Democratic Forces (SDF) gather during a celebration at the iconic Al-Naim square in Raqa on October 19, 2017, after retaking the city from Islamic State (IS) group fighters. The SDF fighters flushed jihadist holdouts from Raqa's main hospital and municipal stadium, wrapping up a more than four-month offensive against what used to be the inner sanctum of IS's self-proclaimed "caliphate". / AFP PHOTO / BULENT KILIC (Photo credit should read BULENT KILIC/AFP via Getty Images)
In return for the sacrifice of thousands of their sons and daughters, whose bodies fill martyrs cemeteries found in most villages in the region (the Kurds lost more than double America's losses in the 2003-11 Iraq War), the long repressed two million Kurdish people of northern Syria and their newly empowered local Yazidi, Armenian and Syriac Christian allies desperately hoped for economic, military and diplomatic support from Trump. They hoped for the sort of consistent, reliable support Trump's "best friend" (in Trump's words) Vladimir Putin steadfastly gives to its allies in the region. They certainly felt they had earned protection from the Turks who had threatened that the Kurds would be "buried," and they hoped for a seat at future peace talks to decide the future of Syria as well as political assistance from their democracy-exporting American superpower allies.
All Trump needed to do was maintain America's micro force equivalent of a few platoons in the region until the petering Syrian War ended (only Idlib Province remained unconquered by the victorious Syrian government in their zone) so that the Pentagon and Washington could leverage their control over one third of Syria in the Middle Eastern "Game of Thrones" to achieve results beneficial to American interests. Staunch hawk and pro-Israeli National Security Advisor John Bolton, for example, planned to use America's bases and de facto protectorate as a quid pro quo to get Iran to dismantle its bases (which threaten Israel) in Syria. The US could also leverage its forces on the ground, that controlled the lands northeast of the Euphrates River as part of a 'de-confliction' agreement with Russia, to make sure their loyal Kurdish allies received autonomy and safeguards for their fragile multi-ethnic grassroots democracy. The mere presence of US troops could have easily protected this fragile realm that had liberated women and Christian minorities from a Turkish invasion in the new Syria being constructed in upcoming peace talks. Protecting the Kurds by holding the line would grant America another democratic ally in the region, like Israel, that could be relied upon to assist the Pentagon in the future. Staying in Syria until the upcoming peace talks would not mean a so-called "Forever War" that Trump misleadingly described as Americans staying "in the Middle East for the next 1,000 years with thousands of soldiers fighting other people's wars." It meant just 1,000, not thousands plural as Trump falsely claimed, and it meant them staying in theater only for a year or two until the final outcome of the almost-finished war was decided.
Instead of wisely and patiently leveraging our control over most of Syria's oil, dams and richest agricultural lands, Trump stunned the Pentagon—which has expressed a deep appreciation for the Kurds as frontline allies who it has repeatedly defended from previous Turkish threats—by unilaterally acquiescing to Islamist Turkish leader Recep Tayyip Erdogan's bullying demands for a US withdrawal. On October 6th Trump abruptly ordered US troops, who had been doing join patrols with the Turks on the border to appease Erdogan, by symbolically preventing (non-existent) Syrian Kurdish terrorism or incursions against Turkey, to be hastily evacuated. This evacuation gave the Turkish president the green light from the powerful Americans that he needed in order to launch a blitz into the Kurdish lands with tanks, artillery and aerial bombardments of civilian-packed cities on October 9th. Astoundingly, Trump, the author of the bestselling Art of the Deal, got nothing in return for his decision to evacuate our prized positions in Syria and (in his own words) "let Iran do what they want" in the country.
Not surprisingly, Trump's decision defeats the purpose of his pulling out of the Obama nuclear Iran nuclear deal, which was torn up by Trump ostensibly to punish Iran for expanding its nefarious influence in places like Syria. His abrupt withdrawal decision, which was condemned by Israeli leader Benjamin Netanyahu in a rare rebuke of the president, was defined as a betrayal in Israel. The Boston Globe reported in an article "Israelis see Trump's Syria pullout as a 'betrayal' that could unravel the region"
The abrupt withdrawal of US troops from northeastern Syria and subsequent Turkish attacks on Kurdish fighters have badly rattled Israel's national security experts, who decried President Trump's action as a betrayal of loyal allies and evidence that Israel's most vital supporter is a fickle friend at best. Israeli officials reportedly had no warning of the withdrawal, which the White House announced Sunday after a call between Trump and President Recep Tayyip Erdogan of Turkey.
An Israeli daily had a commentary which read "Trump abandons allies without blinking and Israel is liable to be next. The entire balance of power in the Middle East is built on a very delicate web of supports, pressures, understandings, and agreements — and Trump is unraveling that web." Yaakov Margi, a member of the Israeli Knesset, or parliament condemned the slaughter of Kurds unleashed by Trump saying "The world was silent during the Holocaust and was silent when the Armenian people were massacred [by the Turks] and did not recognize it. It is silent today to the slaughter of the Kurdish people by a tyrant [Erdogan] who is never satiated.''
But it not only Israel, whose support has been a cornerstone of Republican politics for decades, that criticism of Trump's abandoning of allies "without blinking" has been vociferous, but in a remarkable break from a party that has been in his thrall, somnolent Republicans have finally mustered the spine to lambast Trump on the issue of the betrayal of the Kurds.
Republican Criticism of Trump's Great Abdication of the Middle East and Concomitant Rise of Russian, Turkish, Iranian Power
On October 6th the Kurds' fears of another US betrayal came to fruition and the "complete chaos" many dreaded would come should the US depart finally descended on this relatively peaceful region that had had a modicum of stability and a Kurdish-led democratic civil society. The fragile peace and multi-ethnic harmony that prevailed in the autonomous North Syrian Democratic Federation compared drastically to the chaos, mass slaughter, and rubbleizing of cities by brutal Syrian and Russian indiscriminate aerial bombardments reigning in the rest of Syria conquered by Assad's genocidal regime at the cost of hundreds of thousands of civilian lives. On that fateful day in October, the proud history of Pentagon resolve against Turkish threats, bullying, and saber-rattling was jettisoned when Trump impulsively gave into the Turkish president' demands (and by extension those of the Russian, Syrian and Iranian governments) that US forces immediately withdraw from the strategic region that US troops had almost unchallenged control over. Trump ordered US troops to unceremoniously abandon the very bases in that Major General Jamie Jarrad had earlier claimed he was "proud of" when he defied the Turkish president and threatened to defend them. Jarrad knew all too well that Turkish President Recep Tayyip Erdogan was demanding that America abandon its bases so the Turks could invade and destroy the Kurds' hard-won, multi-ethnic federation in the relatively peaceful lands they run through democratically elected local councils made up equally of men and women and long repressed Christian minorities.
President Erdogan has made no secret of his plans (described by a US State Department official as "possibly the craziest idea I have ever heard") to ethnically cleanse the historically Kurdish-inhabited, fertile region and settle it with millions of more Islamically conservative Arab refugees from other parts of Syria currently living in Turkey. He had already done just that in 2018 when he brutally invaded the Kurdish westernmost province of Afrin driving out tens of thousands of Kurds and replacing them with Arabs to punish the Kurds for (naively as it turns out) agreeing to join a 30,000 member US-backed border force. On that occasion, the Trump administration failed to stand up for the Kurds who diverted their lightly armed forces from the unfinished campaign to defeat ISIS to embattled Afrin in a failed attempt try to defend their people from the much more powerful Turkish forces (after a six month "operational pause" the defeated Kurds returned from Afrin to dutifully finish the bloody campaign to defeat thousands of ISIS holdouts in the Arab-dominated Syrian Desert). Among the local Kurds killed in Afrin by the invading Turks was a 27 year old female fighter named Barani Kobane whose body was filmed by Turkish-backed fighters as they kicked her exposed and mutilated breasts. Fox News would report on this internationally condemned act of savagery by Turkish-backed forces that were ostensibly fighting terrorists.
"She's beautiful, man," declares one fighter as one purports to take a selfie with the defiled body. In Arabic, others declare "God is Great," while some call the downed soldier a "female pig." One even digs his dirty boot into her chest, and another puts the muzzle of his rifle at her head. "I was checking Facebook and I came across the video and was in shock; it was so awful that I had no words," Ahmed [the slain girl's brother], 31, told Fox News. "I didn't know who the girl was…and then a commentator wrote it was Barin Kobani." Barin Kobani, Ahmed's beloved sister. In desperation, he called around hoping it was someone else with the same name. But within hours, SDF officials confirmed Ahmed's worst nightmare. In agony, he delivered the news to the family. Over the course of the next week, more videos and images emerged – showing Barin's remains in different locations and with different jubilant fighters, indicating she may have been paraded as a dead trophy through the streets.
While the fate of Kurds like Barin may not have bothered the conscience of average Americans, US Christians fear for the fate of small Christian minorities that lived in peace with the Kurds now that Turkey has launched its latest ethnic cleansing invasion. Evangelical Christians who tend to vote Republican worry about the fate of small Assyrian and Armenian Christian minorities whom the Kurds protected from jihadists. Franklin Graham, a close Trump ally and son of widely respected evangelical leader Reverend Billy Graham tweeted:
"TODAY I ask that you join me in praying for the lives affected by the White House decision to pull U.S. troops out of northern Syria. Both Democrat & Republican leaders are deeply concerned bc this would be, in essence, abandoning our closest allies there — the Kurdish people. Also pray for the Christians who the Kurds have been protecting. They could be annihilated. Would you pray w/me that Pres. @realDonaldTrump will reconsider? Thousands of lives hang in the balance."
Televangelist Pat Robertson blasted Turkish President Recep Tayyip Erdogan as a dictator and a thug and said he was "absolutely appalled that the United States is going to betray those democratic forces in northern Syria, that we are possibly going to allow the Turkish to come in against the Kurds." He also attacked the American "president, who allowed Kashoggi [a US resident Washington Post journalist who was butchered and dismembered in Istanbul at the orders of the Saudi leader] to be cut in pieces without any repercussions whatsoever, is now allowing the Christians and the Kurds to be massacred by the Turks." In moralistic terms that many American Christians understand, Trump's shameless, unapologetic betrayal of the men and women (a remarkable 40% of the Kurds' anti-ISIS force is made up of women) of the Kurdish-led, Armenian, Assyrian Christian, Arab, Yazidi, Syrian Democratic Forces is, as Republican Senator Lindsay Graham aptly stated, a dark "stain on the honor" of America (former Republican presidential candidate Mitt Romney went even further and called it "a bloodstain in the annals of American history"). Former vice president Dick Cheney's daughter Liz Cheney said "President Trump's decision to withdraw U.S. forces from northern Syria is having sickening and predictable consequences" and she vowed that lawmakers "must and will act to limit the catastrophic impact of this decision.
But Trump's decision is equally indefensible in strategic terms that are more important to pro-military Republican hawks. His unforced retreat decision ceded all of the Pentagon's remarkable control of a commodity that Trump appreciates more than allies, or bases, influence or other resources, namely the east Syrian oil fields (the US and its Kurdish allies had gained control of Syria's largest oil field the vast Omar field). After seemingly being made aware of the surrender of these reserves, Trump reversed himself and ordered hundreds of soldiers in Bradley fighting vehicles to cross into Syria from Iraq. Their new "re-invasion" mission was to blatantly seize these fields in what was a blindingly obvious dismantling of his own ending "stupid endless wars" rhetoric. Trump inherited a light footprint operation of just 500 highly effective ground troops from Obama when he assumed office. But his late October 2019 decision to deploy hundreds troops from mechanized units to seize oil fields in eastern Syria not only demolished his isolationist base-placating rationale for haphazardly ending US involvement in "endless wars in the sand," but raised the number of US forces in the region to 900 (i.e. 400 more than had been there under Obama).
But despite this naked (and illegal by international laws) resource grab, at a time when Trump has bragged about "bringing our troops home," the president surrendered much of Syria's most fertile land, its largest hydro-electric dams, vital allies, and string of US bases in the one third of Syria US troops had gained control of (at a fraction of the price tag of Bush's 1.7 trillion dollar Iraq "big war" which cost almost 4,500 US soldiers their lives). These strategic assets, that had been gained with just 2 (two) American deaths when Trump initially announced his withdrawal decision in December 2018, were surrendered to America's adversaries, the Russian-Hezbollah-Iran-Assad alliance without a shot fired. And they were surrendered without getting anything in return. The only conceivable benefit that Trump (but not the American people, the Pentagon, the CIA, State Department or America's Coalition allies) could have gotten out of his "folding" of a "winning hand" was some sort of deal related to his Trump hotels in Turkey (the president has acknowledged "I have a little conflict of interest 'cause I have a major, major building in Istanbul.")
Most alarmingly for Republicans, Trump's withdrawal decision that was announced (how else?) by tweet was also a greenlight for far-from-beaten ISIS, which the Pentagon and UN estimate still have 30,000 fighters whose dedication and commitment to the fight compares drastically to Trump's impulse-driven fickleness and lack of follow-through tenacity. ISIS prisoners were filmed breaking out of Turkish-bombarded Kurdish prisoner of war camps as the outgunned Kurds desperately shifted fighters north to defend their lands from invading Turkish jihadist proxy fighters. If any of the escaping ISIS killers succeed in carrying out terror mayhem in Europe (as Trump actually predicted they would when he said "they are going to be escaping to Europe") or here in America, Republicans know they can thank Trump for giving them a "get out of jail free" card to carry out their jihadi mass casualty terrorism slaughter of what they call "Crucifixers." The blood of slain Americans and European "Christian infidels" will be on the hands of a president who has brought chaos to lands once protected by local Kurdish forces who had worked to guard an estimated 12,000 ISIS fighters and an astounding 70,000 more ISIS supporters held in ad hoc prisoner of war camps. This is a point Republican Senator and staunch Trump supporter Lindsay Graham made when he said Trump "will have American blood on his hands if he abandons Kurds because ISIS will come back, and if any American is killed anywhere because a resurgent ISIS, it will fall on the Trump administration like it did Obama."
But most worryingly for Republican who believe in overseas alliances with partners like NATO (which Trump has discussed withdrawing from), the president's unilateral decision was not made with any measured consultation with the British and French who were fighting in Syria alongside the Americans or with the State Department, National Security Council, Pentagon. His decision was a gift to the aggressive Turkish leader who has been widely criticized for Republicans for, among other things, his vow to carve out a "safe zone" in his country's cynically misnamed "Operation Peace Spring" October invasion (similar to the "safe zone" Erdogan controls in western Syria that is home to Al Qaeda's Syrian affiliate Hayat Tahrir al Sham where Caliph al Baghdadi was also discovered hiding). This is the very leader who has been excoriated by Republicans like Homeland Security Committee Chairman Senator Michael McCaul who said "We let Turkey into NATO to protect them from the Soviet Union. And now our NATO ally is buying Russian equipment, Russian military equipment and, through its invasion into Syria, threatening our allies."
Trump, who has shamelessly used rhetoric to throw the Kurds under the proverbial bus (or Turkish tank) has, by contrast, said of Turkey's Islamist repeat ethnic cleanser president "He's a friend of mine… he's a hell of a leader, and he's a tough man. He's a strong man, and he did the right thing and I really appreciate it, and I will appreciate it in the future." Trump's friend, it should be recalled, is the very Islamist president who has supported both Hamas with supply convoys and brazenly encouraged his "brother's" anti-socialist Maduro government in Venezula to "stand tall" against Trump's sanctions. Turkey's leader also caused widespread condemnation from Republicans and Democrats alike by buying banned S-400 anti-aircraft weapons from Putin in direct violation of NATO treaty agreements and imprisoned a US pastor on trumped up charges for two years. If this were not enough, Erdogan has fanned the flames of anti-Americanism and anti-Semitism in Turkey, arrested and purged tens of thousands of teachers and journalists whom he defined as political foes, and turned a blind eye to the flow of "legions" of jihadists through Turkey to Syria to join ISIS and Al Qaeda's local franchise.
Erdogan is not afraid to act in America either and has issued an Interpol arrest warrant for what he calls a "terrorist" but who is in actuality Enes Kanter, a Turkish-American NBA basketball player for the Raptors. Erdogan and state run media have also described Kanter as a "criminal," and a "gang member" for "insulting the Turkish president (to which Kanter humorously responded on twitter "the only thing I terrorize is the [basketball] rim.") And speaking of terrorizing, black-suited Erdogan bodyguards were filmed rushing and then beating and kicking downed and bloodied American, Kurdish and Armenian protestors in the face and in the head in Washington DC during his recent visit. This was a blatant import of the Turkish president's brutality to a democratic country that, unlike Turkey, grants its citizens the right to hold public rallies against those in power.
The New York Times has also reported that Erdogan has been so emboldened by his outmaneuvering of Trump in Syria and success in driving the once seemingly invincible Americans out of the country that he is now seeking to build a nuclear weapon with the help of rogue Pakistani nuclear scientist A.Q. Khan. Even as Trump has derided and mocked the Kurds (whom the Pentagon by contrast defined as "stalwart allies" and "stalwart partners,") the president seems to harbor an inexplicable affinity to President Erdogan. His gushing over Erdogan resembles his admiration for Russia's autocratic ruler Vladimir Putin (despite Putin's history of attacking American interests around the globe from the Baltics to Syria to Ukraine to Europe to America that I have outlined in Newsweek).
As should be blindingly obvious, Trump's isolationist base-placating, but disastrously counter-strategic order to immediately withdraw all troops from northern Syria and embolden Erdogan is an unprecedented, historic catastrophe for US prestige and influence in a vital region. It is also an unexpected gift for Moscow, Tehran, Ankara and Damascus (and for ISIS which took advantage of the Turkish invasion to carry out a car bomb attack in Kurdish lands). Republican Senator Lindsay Graham, who has been otherwise slavish in his praise of Trump, reacted to the dizzying collapse of decades of US influence and the concomitant Trump-driven rise of Russia as the region's main powerbroker saying "This decision to abandon our Kurdish allies and turn Syria over to Russia, Iran and Turkey will put every radical Islamist on steroids. Shot in the arm to the bad guys. Devastating for the good guys." Republican Senator Majority leader Mitch McConnell concurred and, in a rare rebuke of the president, warned "A precipitous withdrawal of U.S. forces from Syria would only benefit Russia, Iran, and the Assad regime. And it would increase the risk that ISIS and other terrorist groups regroup."
This is a sentiment America's NATO and European Union allies agree with. Charles Grant, director of the Center for European Reform summed up their dismay at Trump's surrendering of their joint positions in Syria to Putin as follows "European governments have a very low regard for Trump anyway. They know that they need to work with the United States, but it confirms to them that Trump is incapable of thinking strategically, handing victory to the Russians in Syria." General David Richards, the former head of the British military, and former commander of international forces in Afghanistan, told The Independent that "On an emotional level, and certainly from a tactical perspective, what is being done to the Kurds is plainly wrong. In fact it's pretty awful after all they have done against Isis on our behalf. But more importantly, the region as a whole continues to suffer from the absence of a clear and coherent western strategy." He added:
"Decisions have been taken by the Trump administration that are very difficult to fathom. At one level, we do not know what's going to happen now to a bunch of very violent Isis prisoners. Are they going to become free again to carry on terrorist attacks? At another level these decisions also mean that Russian and Iranian influence will grow. I really can't see how any of this protects or enhances Western interests. It's quite the opposite."
Strong Trump supporter Israeli Prime Minister Benjamin Netanyahu was also highly critical of the president's withdrawal order as he had not banked on a US retrenchment from Syria just as Iran was building threatening missile bases there. Israel's Haaretz news ran a headline which read "Trump's Syria Withdrawal Is a Strategic Disaster for Netanyah" and reported "If anything is left of the 'defense alliance' between Washington and Israel, it's on paper only."
The sad reality is that, as McConnell correctly states, the president's bi-partisan and internationally condemned cave-in to Turkey's dictatorial Islamist leader and empowering of Putin and Assad represents a stunning and unexpected strategic bonza for a veritable "alliance of evil." The list of US enemies that benefits from Trump's needless retreat decision (that Republican Lindsay Graham described as "the dumbest f***ing idea I've ever heard") includes the genocidal regime of Syrian dictator Basher al Assad the "Butcher of Damascus" which has killed far more Syrians than ISIS. It has done so via Shabab death squads, indiscriminate bombing of hospitals and packed cities with massive barrel bombs and use of deadly sarin nerve gases against civilians. And speaking of the resilient ISIS forever warriors, its followers are no doubt thrilled by Trump's decision to abandon the Pentagon's stalwart, ISIS-hunting Kurdish allies to the Turks (whose proxy jihadi forces include many of the Caliph's militants including forces described by one expert as "gangsters" who are "also racist toward Kurds and other minorities.").
Equally thrilled are the Iranian ayatollahs who have been loudly demanding that the American "Great Satan" withdraw from Syria so they can establish a "land bridge" to their ally Assad and to Hezbollah in order to arm these two allies to fight Israel. Trump's stunning decision is no doubt being cast in the minds of both Sunni and Shiite fanatics from Beirut to the Hamrin Mountains of Iraq where ISIS is regrouping to Tehran as divine intervention. One can also imagine celebratory vodka toasts being made among Russian generals who used Hind attack helicopters to crush CIA-backed Arab Free Syrian Army rebels in western Syria in a Cold War style proxy war in 2015, but found their attacks on US "co-location" bases repulsed by a determined American-Kurdish forces northeast of the Euphrates River "De-Confliction Line" in 2018.
A stunned Russian filmed himself entering just such a formerly defended US base that had been handed over to them without a fight on this occasion and gloated "I am on an American base where they were just yesterday morning, and this morning we're here in a video" on his Facebook page. "Now we'll take a look at how they lived, what they were doing." Another video posted by a pro-Kremlin outlet declared "Manbij is ours!" and gave a triumphant tour of the abandoned US base that had previously been one of America's main intelligence gathering outposts in the volatile region where ISIS is regrouping and Iranian Revolutionary Guards are expanding their influence. Never was the newfound lack of respect for America in the region more on display than when the invading Turks, emboldened by America's chaotic retreat, deliberately "bracketed" US troops in an attack that a former US commander in Syria described as either Turkish "artillery soldiers were incompetent, or this was a purposeful act to send a message to U.S. and SDF/Kurds. Turkey fired on a NATO ally."
So shambolic was the US military's presidentially-forced evacuation from its bases that the Pentagon was forced to call in airstrikes on its own bases as US troops retreated. This was done to prevent American weapons, ammunition, and equipment from falling into the hands of the Turks, Syrians and Russians who rushed in to fill the vacuum Trump created in what could now be called Chaosistan. While US Special Forces have been dubbed "Master of Chaos," Trump has clearly earned this moniker in a different sense. An incensed Republican congressman Adam Kizinger, who represents Illinois, tweeted in response to the chaos Trump unleashed "We bombed our own base on purpose, because of the impulsive decision by @realDonaldTrump didn't leave time to evacuate the right way. Is this the America you grew up believing in?"
The consensus among most Republicans in Congress, other than staunch turn-your-back-on-the-world isolationist Senator Rand Paul, is that there was absolutely zero strategic rationale or tactical logic for Trump to give up Pentagon's position of strength that brought American tremendous strategic dividends at such a low cost in American lives and treasure for nothing in return. The strategic dividends Trump surrendered included assets that were vital to American domestic security, such as bases in the actual region where ISIS cells are operating that could be used for counter-terrorism raids in conjunction with (formerly) allied Kurdish forces. Incidentally, the Pentagon's small footprint presence in the region also gave much comfort and security to millions living in peace under the auspices of the mighty American hegemon and its democratic allies. This earned America widespread goodwill in the region and was a huge bonus in the greatest war in the war on terror, the battle for hearts and minds. Trump's withdrawal decision is an "own goal" in soccer terms and a propaganda gift for Islamists who seek to recruit Kurds after warning them that America was no true friend of their people.
"Ending Endless Wars" as a False Rationale for the Legitimizing the Sudden Collapse of US Power in the Middle East
Trump had tried to defend his indefensible decision and deflect the withering storm of Republican criticism stemming from it by offering his diehard followers a tendentious rationale based on a false dichotomy of either a. an "endless war" (like the "big war" in Iraq that involved 168,000 US troops and a jaw-dropping $1.7 trillion dollar price that dwarfs the price of having a mere 1,000 troops in Syria) or b. a haphazard, chaotic scramble to evacuate our micro force of "accelerants" or "force multipliers" from our bases in Syria without informing our anti-ISIS allies (but informing their enemies the Islamist Turks). Trump's blatant disinformation campaign has been successful in presenting his actions as statesmanlike and presidential for his isolationist base who incorrectly see it as ending Operation Iraqi Freedom-like quagmire (which he correctly has criticized for being a rash and self-defeating war that lead to the death of almost 4,500 US troops and the rise of ISIS).
The fact that Trump, who has pandered to his isolationist base by calling the US retreat part of his "ending forever wars" policy of "bringing our troops" home, actually ordered these very forces to be redeployed from Syria into neighboring Iraq, instead of bringing them home, is telling. The additional fact is that this "shell game" meant to deceive his followers involves his late October order for new US mechanized forces to seize oil fields in Syria following his withdrawal order. This "re-invasion" order comes even as he dispatched 1,800 new troops to Saudi Arabia (where they are not needed) and shows how false his disinformation narrative of ending "pointless" overseas deployments is.
Republican leader Mitch McConnell slammed Trump's rationale for withdrawing troops from Syria in an op ed which offered this rebuke to the president "As neo-isolationism rears its head on both the left and the right, we can expect to hear more talk of 'endless wars.' But rhetoric cannot change the fact that wars do not just end; wars are won or lost." McConnell also called Trump's retreat a "grave strategic mistake" that was like "the Obama administration's reckless withdrawal from Iraq, which facilitated the rise of the Islamic State in the first place." This is not exactly an apt comparison because Obama ordered a phased, three year withdrawal of US troops in careful coordination with local Iraqi allies (who, unlike the Kurds, wanted US troops to depart). This gradual withdrawal to bases and then to Kuwait that made in fulfillment of Status of Forces Treaty willingly signed by President George W. Bush and Iraqi Prime Minister Nouri al Malki was also done with the agreement of the Pentagon (whose generals had real influence on Obama's often overly deliberated decisions, unlike Trump's decisions which are fait accompli unilateral dictates to the military).
Trump's "ending endless wars" rationale for his retreat is, however, red meat for those in his base who believe the president is possessed of what he calls "unmatched wisdom" in regards to Syria. It is also manna for his "Make America Great Again by Abandoning the World" followers who are detached from foreign lands and the threats that ungoverned spaces in them pose, like those that manifested themselves on 9/11 and in the ISIS-driven attacks in San Bernardino, Manhattan, Orlando, Brussels, Paris, Nice, London, Manchester, Strasbourg, Barcelona…and even in Turkey in places like Ankara, Istanbul, Suruc, Adana and elsewhere (although the Turks downplay these ISIS attacks that have killed and maimed hundreds and continue to label the anti-ISIS Kurds of Syria the "real terrorists"). Trump gloated in detachment from the chaos he helped create overseas in seemingly irrelevant lands the and suffering of the irrelevant Kurds who were sacrificed on the alter of his efforts to gin up his isolationist base stating "we are 8,000 miles away." But this assumption of distance-based security overlooks the fact that all the major ISIS attacks in the US, including the largest mass shooting in US history to that date in the 2016 massacre in Orlando, were carried out by lone-wolf jihadists inspired to carry out D.I.Y. mayhem by messaging from ISIS keyboard jihadists in Islamic State Middle Eastern lands.
In an increasingly connected world, where implosions in foreign lands like post-Soviet Afghanistan and post-US Syria leads to chaos, the suffering of peoples like the Afghans and Kurds can impact Americans who have no interest in "stupid wars." Abdicating actions like abandoning the Afghan people after the Soviet withdrawal from the country in 1989 (which led to the rise of the Al Qaeda-hosting Taliban) or the abandonment of the Kurds creates wellsprings of resentment than can lead to mass-casualty terrorism here at home. And while the Kurds, who have a strong tradition of moderation and hatred for jihadism, are hardly likely candidates for anti-American terrorism, Trump's betrayal has certainly hardened the hearts of this people who formerly admired the president and America. The sting of his green lighting for their destruction will burn for generations to come. The Kurds have reason to hate the American president for, as will be shown, his withdrawal was perfidious in that it proactively paved the way for our fighting allies' destruction at the hands of the Islamist Turks.
The Great Betrayal. The President's Senseless Perfidy Towards Our Kurdish Allies
For all the fact that Moscow, not Washington, is now the powerbroker in post-American northern Syria, the greatest beneficiaries from Trump's brazen surrender of all the Kurds' and the Pentagon's hard-earned victories are the invading Turks. The Turks have already brutally cleansed Kurdish lands in the western province of Afrin in 2018 and they are now killing hundreds in the northeast and displacing tens of thousands. Among those who have been killed in recent days was a well-known Kurdish female politician and human rights activist named Khevrin Khalaf. As disturbing as the videos of our Russian adversaries triumphantly mocking the Americans from our abandoned bases are, the video of this women's rights activist, who was filmed being dragged from her car by Turkish jihadist proxies and summarily executed on the roadside via shots to the head after being called a "pig," is unbearable to watch (Turkey's jihadists use the term "atheist pig" or "infidel" to describe Kurds due to their perception that the secular Kurds are not "real" Muslims). A friend of this woman who volunteered to teach refugees wrote of her death:
"On Oct. 12, my friend was brutally murdered by a group of assassins working under the order of the so-called Syrian National Army. They attacked Khalaf's car, tortured her, beat her with blunt objects, broke her legs, dragged her by her hair until it was ripped from her scalp, and then shot her body and face until she was mutilated beyond recognition even to her mother."
An autopsy of this well known Kurdish women's rights activist described her brutal death as follows:
"From the above we conclude that the woman was beaten with a solid body on the head … also beating by sharp objects on the posterior face of the legs … and dragged from her hair causing the hair to [rip out] … then she was hit by gunshot … After falling to the ground, she was hit by four shots from the back … not at close range."
The Secretary General of Amnesty International has reported that such summary executions of civilians by the Turks are widespread in a recent report which states:
"Turkish military forces and a coalition of Turkey-backed Syrian armed groups have displayed a shameful disregard for civilian life, carrying out serious violations and war crimes, including summary killings and unlawful attacks that have killed and injured civilians, during the offensive into northeast Syria…"
The Turkish military offensive into northeast Syria has wreaked havoc on the lives of Syrian civilians who once again have been forced to flee their homes and are living in constant fear of indiscriminate bombardment, abductions and summary killings. Turkish military forces and their allies have displayed an utterly callous disregard for civilian lives, launching unlawful deadly attacks in residential areas that have killed and injured civilians.
Two bound Kurds were also filmed by jubilant jihadists who were chanting an Arabic war cry "Allah u Akbar!" (God is Greatest) and "pig prisoners" writhing on the ground as they were gunned down in cold blood with a powerful battlefield sniper rifle and AK 47s. The butchered Kurdish female politician, bound and executed Kurds, and hundreds of lightly armed Kurdish male and female fighters who were "neutralized" (i.e. killed) by NATO's second largest army, which has massive Leopard tanks, heavy artillery, and US-supplied F-16s, are all automatically labelled "terrorists" by Turkey's state run media and jihadist proxies (ironically in light of Turkey's "terrorist" claims, many of Turkey's proxy fighters are in fact former Al Qaeda or ISIS fighter-terrorists who have been "fig leafed" as members of the so called Syrian National Army or Free Syrian Army). The deaths of these Kurds are the end result of a rash, impulsive decision made by Trump that one of the withdrawing members of the US force, who proudly wore a YPG Women's Protection Unit patch on his uniform, clearly disagreed with.
But even if one does subscribes to Trump's patently false "ending endless wars" rationale for withdrawing the small leveraging force equivalent of just a few platoons (that was not the leading edge in the Kurdish-fought campaign) from Syria just before peace talks are held (and then returning them to illegally seize oil fields a few weeks later), it is impossible to rationalize the senseless way in which it was done. To truly grasp the epic nature of Trump's October 6th betrayal and its devastating impact on a people who had been fighting for us the day before, one need only read this heart rending sentence written by a journalist who witnessed the unfolding tragedy stemming from Trump's shock decision, "As United States troops continued their withdrawal from Syria on Sunday, a line of cars carried their routed former allies, terrified civilians and dead bodies out of a pulverized border town that had been besieged by Turkish forces for more than a week."
And in order to truly understand the truly perfidious nature of Trump's bipartisan and globally-lambasted decision to withdraw US troops from their bases so the Turks could attack our Kurdish allies, consider this. In the weeks before the invasion, the Trump administration convinced the Kurds to systematically demolish their tunnels, berms, ammo caches, and defense networks that were built to protect their lands from a Turkish onslaught. Trusting the Americans, the soon-to-be-betrayed Kurds destroyed these defensive positions and ammunition reserves in good faith, believing in Trump administration assurances that Turkey would not invade their lands.
Had Trump given our Kurdish allies advance warning of his decision to talk to Erdogan and precipitously abandon them to the Turks, they would not have destroyed these vital defensive positions. While Trump has disingenuously tried to wash his hands of any obligations to our battlefield allies by claiming "we never gave a commitment to the Kurds," a Fox News reporter who has met with US military officials tweeted. "Not true. According to a former top senior military adviser to President Trump, 'We told them over and over 'We are your friends. We will never leave you." Members of the military who served alongside the Kurds in the war on ISIS have also said that they "reassured them we would never leave Syria and abandon the Kurds" And Trump himself actually said "We want to protect the Kurds."
Had America stayed true to these promises made by the military, who doubtless believed what they promised when they gave their word that we would not abandon them, the Kurds would also not have allowed joint Turkish-American patrols in the regions between the Kurdish towns of now-besieged Rais al Un and Tel Abyad as ordered by the Trump administration. These Turkish patrols allowed the Kurds' enemies to carry out reconnaissance of these subsequently invaded areas. It should be recalled that Trump knows how to reach out to those whom he considers allies in advance of his unilateral decisions. He did so recently when he warned Vladimir Putin in advance of an airstrike on Syrian air bases to punish Assad for using chemical weapons to kill dozens of civilians. He could have done so in the case of the Kurds as well if he had defined them as friends. The fact that he chose not to forewarn the Kurds comes off as perfidious and designed to deliberately expose them to an invasion by Turks who he claimed he knew meant to "wipe out" their people.
Had the Kurds, who have done far more to advance US interests since the 1970s than America's Russian adversaries, been similarly forewarned by Trump of his intention to abandon them, instead of being blindsided and betrayed, they could have preemptively invited the Russians and Syrian Arab Army into their lands to act as a deterrent to a Turkish invasion. If they had been treated as allies, instead of an expendable commodity, or even as enemies, and warned months or even weeks in advance of Trump's impending decision, they could have negotiated with Assad and Putin from a position of strength. The Kurds could have negotiated a treaty with the Assad regime with American flags still flying behind them over twenty two bases and outposts that were guarded by the might of the US air armada and such unmatched-state-of-the-art weaponry as HIMAR satellite guided munitions, MQ-9 Reaper drones, and terrifying AC-130 Specter gunships (like the ones used to decimate an attacking Syrian-Russian force at the Conoco oil field in 2018). Instead, the Kurds were deliberately kept uninformed by their ostensible ally, the American president who has made so much political hay on their victories, and were forced to beg Assad and Putin for help from a position of abject weakness. That position of weakness was defined by American flags fluttering over retreating US Stryker vehicles and tens of thousands of desperate Kurdish and Christian refugees fleeing burning cities in the face of a Turkish invasion.
As the Turks stormed into their lands on October 9th after receiving Trump's go ahead, the Kurds were forced to belatedly reach out to the brutal Syrian regime of President Assad and Russian not from a position of US-backed strength, but as a discarded ally under assault from a powerful Islamist NATO army. That hardly allowed them to demand desperately sought after recognition for their local grass roots democratic autonomy that their people had painstakingly constructed with the hopes that America, the world's greatest democracy, would protect it. Tragically, the Kurds and their Christian Armenian/Syriac allies have had to surrender to a Syrian Arab Republic regime, one that repressed them for decades and denied many of them citizenship.
The Kurds did so in a heartbreaking decision to abandon their hard-earned freedom and democracy in order to save themselves from Turkish jihadist slaughter and mass ethnic cleansing (much to the chagrin of sidelined Republican traditionalists and hawks who bemoan the sudden and total collapse of years of hard earned American influence in the region and concomitant unexpected rise of Iran, Assad and Putin's power and influence). One US diplomat working on Syria, speaking on condition of anonymity for fear of punishment for speaking out, summed up the shame he felt following the collapse of the Kurdish led dreams for a pro-women's rights, pro-Christian minority rights democracy in Syria "The extent of our betrayal over the last year has been so immoral that it has shaken me to my core. We have turned everyone in Syria against them and now we are dismantling our once-ally, bit by bit, and feeding the pieces to their enemies." Another horrified American diplomat serving in Syria penned a memo that captured the devastating impact of Turkey's green lit policies designed to depopulate ancient Kurdish lands via Islamist militias to punish them for working with the Americans:
Embed from Getty Images
Turkish-backed Syrian rebel fighters gather near the Syrian-Turkish border north of Aleppo on October 7, 2019. – US forces in northern Syria started pulling back from areas along the Turkish border ahead of a feared military invasion by Ankara that Kurdish forces say would spark a jihadist resurgence. The Kurdish-led Syrian Democratic Forces said in a statement that "US forces withdrew from the border areas with Turkey" in northeast Syria. (Photo by Nazeer Al-khatib / AFP) (Photo by NAZEER AL-KHATIB/AFP via Getty Images).
Present at the Catastrophe: Standing By as Turks Cleanse Kurds in Northern Syria and De-Stabilize our D-ISIS [Defeat ISIS] Platform in the Northeast
Summary: Turkey's military operation in northern Syria, spearheaded by armed Islamist groups on its payroll, represents an intentioned-laced effort at ethnic cleansing, relying on widespread military conflict targeting part the Kurdish heartland along the border and benefiting from several widely publicized, fear-inducing atrocities these forces committed. Our military forces and diplomats were on the ground in the northeast at the time. The Turkey operation damaged our regional and international credibility and has significantly destabilized northeastern Syria. It also continues to place Kurdish society in northeastern Syria — as a people on ancestral lands — in serious jeopardy."
We should insist Turkey bear all the diplomatic and reputational costs for this venture and seek to prevent President Erdogan from flooding this de-populated zone with Syrian Arab refugees in Turkey. Our diplomacy will also need to recognize we — with our local partners — have lost significant leverage and inherited a shrunken, less stable platform to support both our CT [Counter Terrorism] efforts and the mission of finding a comprehensive political solution for Syria. End Summary.
The Kurdish commander Mazloum Abadi summed up the stunning collapse of his people's dreams and security based on a callous foreign leader's whim as follows:
"We didn't believe that in the middle of the battle, when we're fighting against ISIS, when we're fighting against all the others, that our partners would abandon us. To be honest, the painful point for us was that America is a great country. How could a great country behave like that and abandon its allies in the middle of the fight? And, from that time on, how are people going to trust in the Americans or partner with them in any fight in the future?"
And no one should be under the illusion that Trump did not reach an agreement with Turkey to allow Erdogan to attack America's anti-ISIS frontline fighting force. CNN was to report "A senior adviser to Erdogan told CNN Wednesday afternoon that it was saying, 'President Trump and President Erdogan have reached an understanding over precisely what this operation is. In a subsequent press conference, Trump did not contradict that claim.'" Shortly after speaking to Turkish president Erdogan, the Trump administration endorsed the Turkish attack on the Pentagon's allies announcing "Turkey will soon be moving forward with its long-planned operation into northern Syria." A notorious White House statement that is now part of the historical record stated in no uncertain terms that America was washing its hands of Syria and its Kurdish peoples "The United States Armed Forces will not support or be involved in the operation, and United States forces, having defeated the ISIS territorial 'Caliphate,' will no longer be in the immediate area." For those who may have still harbored doubts about whether or not the US president supported Erdogan's attack on the Kurds, Trump proudly stated that he "helped" them conquer Kurdish lands:
"Turkey has lost thousands and thousands people [sic it was Kurds who lost thousands] from that safe zone. So they've always wanted that safe zone [in northern Syria], for many years. I'm glad I was able to help them get it. But we don't want to be there; we want to be home. I want our soldiers home or fighting something that's meaningful."
Embed from Getty Images
Supporters of the Homeland Party hold a banner that reads, "The USA is buried in this map!" and Turkish national flags during a protest near the US Embassy in Ankara on October 8, 2019. – Turkey said on October 8, 2019, it was ready for an offensive against Kurdish militants in northern Syria despite mixed signals from US President Donald Trump over whether he had approved the operation. (Photo by Adem ALTAN / AFP) (Photo by ADEM ALTAN/AFP via Getty Images).
To pour salt in the wounds of his betrayal and role in helping the Turks "get it," Trump then used mocking terms to belittle the killing of over 500 Kurds and Christians in the Turkish invasion of ancestral Kurdish, Syriac and Armenian lands. As Trump was cheered at a boisterous rally in Texas he callously tried to paint a picture of the destruction as being somehow inevitable and caused not by his opening the floodgates to a Turkish onslaught, but rather due to some petty squabble between "kids," neither of whom were American allies. A grinning Trump stated "It was unconventional what I did. I said they're going to have to fight a little while… They fought for a few days and it was pretty vicious. Like two kids in a lot [emphasis mine], you have got to let them fight and then you pull them apart." Trump then tried to explain to his fans that America does not have a stake in the fate of the Kurds, who suffered their greatest battlefield losses to date in the Turkish invasion, by disingenuously trying to present the green-lit Turkish assault as an irrelevant border war between Turkey and Syria. Trump acted as if America was uninvolved in the Turkish invasion, that he himself sanctioned, by using isolationist rhetoric that eerily echoed the words spoken by Hitler-appeasing British leader Neville Chamberlain when the prime minister infamously dismissed the unfolding wars in 1930's Europe as "a quarrel in a far away country between people of whom we know nothing." Trump similarly stated:
"They've got a lot of sand over there. So, there's a lot of sand that they can play with. Let them fight their own wars. We have a situation where Turkey is taking land from Syria. Syria's not happy about it. Let them work it out. They have a problem at a border. It's not our border. We shouldn't be losing lives over it."
But there was more than mere "sand" in the Syrian lands Trump callously abandoned to civilian-murdering Turkish jihadists whom Trump glibly described as "kids," there were valued allies whom the majority of Americans favored supporting with airstrikes and military aid in the war on the ISIS according to polls. And no one understood this better than the men and women in the US military who fought alongside the Kurdish led SDF to defeat an enemy that threatened to plant the flag of jihad on the White House and behead the American president.
"Lacking in Honor." A Deep Sense of Shame in the Military
There is something distinctly ignoble and dishonorable in Trump's efforts to belittle, disparage, and trash an indispensable frontline ally in the war on ISIS jihadists even as they were being attacked by a Turkish jihadist force unleashed on them with his blessing. It the president's in-your-face brazen lack of decency and honor that bewilders the Kurds whom I have spoken with on the ground during my fieldwork and via Skype. In my interviews with dozens of Kurdish commanders who fought ISIS alongside the Americans, by contrast they repeatedly focused on their strongly held belief in namus (honor). I found this proud, ancient people to be almost obsessed with this culture-defining almost primordial concept that is certainly an abstract, at best, to Trump.
Honor is a concept I have also encountered in my own research on the Green Berets who leveraged horse riding Uzbek Mongol allies led by General Abdul Rashid Dostum to defeat the Taliban in the Hindu Kush Mountains of Afghanistan in 2001 with just 300 US boots on the ground troops. During the course of my research into a book on this remarkable joint campaign that forged a lifelong friendship between the hard-fighting scions of Genghis Khan's Golden Horde and US special forces titled The Last Warlord, I found a strong ethos of honor among the fearless Northern Alliance horse warriors. General Dostum captured the trans-generational impact that the Green Berets' friendship as de facto ambassadors had on millions of Uzbeks in Afghanistan when he told me "We will always love our American dosts (brothers) the jasurs (brave or strong ones). They fought and bled with us and, if they need us again, we will come to their aid. Anywhere in the world. They are friends of my people and my grandchildren will know of their friendship to our people in our time of need."
The importance of honor to this battle-forged fraternity of Uzbeks and US Special Forces was also epitomized for me at a 2016 event that I was honored to attend held beneath a statue of a horse-mounted Special Forces soldier at the new World Trade Center held to commemorate the remarkable joint US-Uzbek victory. The event ended with the horse-riding Special Forces of Afghanistan's legendary leader General John Mulholland toasting the Green Beret motto of "Strength and Honor!" with (newly elected) Vice President Dostum's son in the audience as an honored guest of his American "dosts." The head of the A Team that rode with General Dostum in the mountains to overthrow the Taliban, Captain Mark Nutsch (played by Avengers' Thor actor Chris Hemsworth in the movie based in part on my book 12 Strong) has been tireless in honoring his Uzbek allies.
Most recently, Nutsch has taken the lead in having a horse statue built to honor their tremendous sacrifices (they lost hundreds of riders to the Taliban in desperate US-backed 2001 mountain charges). He told me in no uncertain terms that "without the vital contribution of Dostum and our allies we could have never achieved our mission objectives. They are true heroes and friends." And Mark Nutsch does not just mouth the words, he lives them as do many in the Green Berets. In a typical example of the honor and loyalty that defines this elite fighting brotherhood, Nutsch reached out to me to help him in his difficult struggle to gain asylum for his trusted Uzbek interpreter whose family has been targeted for death by the vengeful Taliban (sadly, in Trump's increasingly xenophobic, anti-immigrant America such asylum applications for "terps" and other Pentagon local partners are almost impossible to gain).
Men of honor like Mark Nutsch are assets to America precisely because they are men of their word who local allies who greet them when they helicopter into their lands to fight the enemy can trust and befriend. The Green Berets of Syria who fought alongside much respected Kurdish commander Mazloum Abadi "Kobani" respected and admired him for his courage, loyalty, willingness to fight alongside them against the common foe, and sense of honor. The Washington Post was to report on how the US troops serving alongside him reacted to his abandonment by their Commander in Chief:
"Mazloum is too polite and loyal to criticize the American president. "We respect any decision made by the U.S., whether they want to stay or leave," he says in a calm, flat, battle-hardened voice. American officers tell me later that Mazloum has been criticized for being too trusting of the United States, but Mazloum keeps insisting that he has confidence in his allies. I ask one of the U.S. officers what it was like to tell Mazloum in December that the United States would be leaving. The answer isn't printable."
As will be shown, unlike the president, the US troops in the region and the generals in the Pentagon were more than willing to stand up for the Kurdish alliance and threats to it from both ISIS jihadists and Turkish jihadists.
A History of American Troops and Generals Standing up to Turkish Threats That Compares Drastically to Trump's Cravenness.
Captain Nutsch's example of standing up for allies defines the military ethos of the US military which stood up to the Turks for five years before they were ordered to surrender to them. The presidential green lit invasion of Kurdish lands by an antagonistic Turkey, that had been easily kept at bay by the Pentagon for five years, caused widespread dismay among US troops who fought alongside their Kurdish allies in numerous, hard-fought battles. In the past, the Pentagon has deployed Army Rangers on flag flying missions to flashpoint places like Manbij northern Syria in a bold show of force to prevent Turkey from invading the lands of the Kurds and diverting their allies from their joint war on ISIS. On one occasion, when the Turkish president threatened America's joint positions with the Kurds, Major General Jamie Jarrad, the Special Operations commander for the American-led coalition in Iraq and Syria, defiantly responded saying "You hit us, we will respond aggressively. We will defend ourselves. We're very proud of our positions here, and we want to make sure everybody knows it."
Under the Obama administration, US troops in Syria had robust "force protection" R.O.E. (rules of engagement) which meant that any attacks near their positions would be a considered a force threat, and the Turks knew this. That is why there was no Turkish attack in northeastern Syria under the Obama administration. Such bold flying of the flag and determination to defend our remarkable gains and allies contrasts glaringly with the ignominious images of US flags fluttering over departing US convoys on October 22 as they drove out of towns filled with doomed Kurds. It was these very Kurds who had offered perimeter protection for the US troops' anti-ISIS frontline bases, guarded 12,000 ISIS fighters that their forces captured in combat, provided crucial eyes-and-ears-on-the-ground intel on ISIS for hundreds of US air and ground "kinetic" and covert operations (like the one that killed al Baghdadi on October 26th), and proxy forces to wage war on America's behalf so our young men and women did not have to die fighting terrorists who beheaded Americans on video.
Prior to Trump's forced abandonment of the military's bases and allies, it will be recalled that it was these American troops that had earned fear and respect in Syria by decimating an attacking Russian-Syrian Arab Army force in a withering barrage of artillery and air strikes that killed hundreds of Russian Wagner mercenaries in 2018. With US forces determined to hold their strategic positions in the one third of Syria they controlled in the northeast, Turkey could never attack the anti-ISIS Kurds in the region. Attacking our Kurdish allies there would mean attacking the forces of a fellow NATO member and the world's lone remaining American superpower, one that had far more advanced killing technology than the Turks, Syrians, or Russians. As one local Arab, who appreciated the protection the US troops provided the peace and stability the Kurds brought to the flashpoint northern city of Manbij put it over a year ago, "The mere presence of the coalition in the region gives a message to the [Syrian] regime and to the Turks not to interfere: 'This is where you stop.' The withdrawal of the coalition forces, and at their head the American forces, would cause complete chaos in the area."
The CIA also had its close working relationship with the Kurds sundered by Trump's callous decision. The Washington Post was to report in an article titled "Trump's Betrayal of the Kurds is Sickening to US Soldiers" about an event held in Washington DC where members of the military and CIA recognized the Agency that the "sense of anguish was pervasive among those attending the event." This source also reported:
"It's a dagger to the heart to walk away from people who shed blood for us," one former top CIA official who attended the black-tie dinner told me later. A retired four-star general who was there said the same thing: Trump's retreat was an "unsound, morally indefensible act" and a "disgrace" to America and the soldiers who serve this country."
This is something I can comment on based on my own fieldwork in theater with locals I leveraged for intel. I too forged a lifelong friendship with my local Afghan guides, fixers, guards, drivers, intelligence gatherers and friends while working for the CIA's Counter Terrorism Center tracking suicide bombers in Afghanistan. Without a shared sense of trust in our common goals and the deep bonds of friendship we forged together, I could not have succeeded in my difficult mission of deciphering the enemies' targeting patterns. I have had a hard time explaining Trump's betrayal of the Kurds to my valued friends and comrades in Afghanistan who fear that our president may jettison them next and greenlight a Taliban takeover of their lands. For my proudly pro-American Uzbek friends in the north in particular, a sense of honor underpins their interactions with others. If it is no longer there on the part of their American "dosts" the Uzbeks will be unwilling to risk their lives to fight, and potentially die, for a cause that can be jettisoned by their allies from across the globe with a mere tweet.
Members of the US military, with a deep appreciation of their Kurdish comrades earned in over four years of battles fought shoulder-to-shoulder against the very jihadi fanatics unleashed by Turkey, have the same deep sense of allegiance to their local SDF "partner forces." Many of them see Trump's folly as the most shameful act in US foreign policy in recent memory. The troops on the ground fear that his epic betrayal will have ripple effects that impact not only the tens of thousands of people fleeing burning villages and towns in Rojava, but threaten the security of America which depends on the military's battlefield-forged trust and alliances with local proxies. During an October 2019 gathering of Green Berets in Manhattan, I had the chance to hear how this renowned fighting brotherhood views Trump's decision to betray the sort of local forces that this Special Forces unit is specifically trained to leverage to achieve American battlefield objectives in lands as far flung as Somalia, Yemen, Niger, Philippines, Afghanistan, Vietnam, Laos, Nicaragua, Iraq and, until recently, Syria. The fury and disgust was palpable—not surprisingly in light of the deep friendships forged between men and women from other lands who depend on one another in battle. One retired Green Beret, who asked that his name not be used, summed up the worrying effect of Trump's betrayal of the Special Forces' Kurdish battlefield brothers and sisters as follows
How will the new Green Berets finishing specialization be able to land in other war zones to act as force multipliers with local militias if the local fighters we're tasked with mobilizing know we will betray them when it suits our selfish interests? How can the new soldiers leverage local militias after those images of retreating US troops abandoning our allies were beamed around the world? We need the bond of our word to achieve our goals. We no longer have that vital commodity, which is our greatest asset when we are asking others to possibly die for us. After this colossal fuck up we need to rediscover our moral compass and try to earn back the good name we took decades to earn.
A Republican group has created a website (standwithallies.com) featuring a video of a Marine saying "Marines don't leave friends and allies don't leave allies" which has a message below it that reads:
"The House of Representatives voted 354-60 to condemn this shameful betrayal of America's allies. While 129 Republicans voted for the measure, 60 voted against it. Sign our petition to tell those 60 that America still has honor, and Republicans stand with allies."
Such sentiments are not hard to find in the military. One National Guard captain who served alongside the Kurds posted a remarkable video describing Trumps' withdrawal as "un-strategic, un-American and immoral" and stated "The same army that stopped the Nazis is being sent home to clear the way for the ethnic cleansing of the Kurds." He also emphasized "I joined the Army to prevent genocide, not pave the way for it." Another member of the Army interviewed in Syria stated "They trusted us and we broke that trust. It's a stain on the American conscience" while his comrade said he was "ashamed." An American journalist reported similar dismay among disheartened US troops in Syria:
"I just spoke to a distraught US Special Forces soldier who is among the 1000 or so US troops in Syria tonight who is serving alongside the SDF Kurdish forces. It was one of the hardest phone calls I have ever taken. "I am ashamed for the first time in my career." "We met every single security agreement. The Kurds met every single agreement. There was NO threat to the Turks – NONE – from this side of the border." "This is insanity," the concerned US service member told me. "I don't know what they call atrocities, but they are happening [to the people in the lands the Turks invaded]." This American soldier told me the Kurds have not left their positions guarding the ISIS prisoners [as Trump falsely claimed]. In fact "they prevented a prison break last night without us." "They are not abandoning our side (yet)." The Kurds are "pleading for our support." We are doing "nothing.""
Trump's callous, transactional, New York real estate developer-style view of alliances as temporary or disposable "deals," both at home (where he has famously discarded friends and loyal supporters like his personal lawyer and fixer Michael Cohen, campaign manager Paul Manafort, National Security Advisor John Bolton, widely respected Secretary of Defense General James Mattis, Attorney General Jefferey Sessions, legendary National Security Advisor Lieutenant General H.R. McMaster, and so many others) and abroad, is as devoid of Kurds' deeply ingrained, ancient sense of namus-honor as it is of the concept of their deeply cherished concept of "pevgiredayi," loyalty. In the Syrian context, the president, he of the "fire and fury" bluster, has (to misquote President Teddy Roosevelt) "walked loudly, but retreated with his stick." The motto of the erratic, and as yet undefined "Trump Doctrine," could best be defined as "Weakness and Dishonor," the very antithesis of the Green Beret motto so proudly quoted in General Mulholland's toast to the legendary brotherhood of leveragers.
Members of the Kurdish-led Syrian Democratic Forces whom I interviewed about this historic betrayal, including their Christian spokeswoman, repeatedly told me that the American commanders, generals like Joseph Votel and Joseph Dunford, who led the surprisingly successful Syrian surrogate/air campaign, diplomats like the tireless and much-respected Envoy to the Anti-ISIS Coalition Brett McGurk, who painstaking forged the alliance and won the trust of the Kurds, and the US Special Forces who shared the trenches with them, defined the word honor. But they defined Trump as mirovek be rumet (lacking in honor). One Kurdish leader who served with the Americans in Syria in the anti-ISIS campaign summed up his peoples' views of Trump's honorless and strategically unsound betrayal order as follows:
"There are moral values and principles shared among comrades-in-arms who fight in the same trench. It is neither ethical nor logical for one's comrade to abandon you in the midst of the battle and expose your back to the enemy. Rather, this is expected of an enemy – those who would have you slaughtered at the first opportunity. True comrades-in-arms do not leave the trench during the battle. They do not withdraw before ensuring final victory over the enemy and the preservation of all the gains achieved on the ground. It is neither intelligent nor wise to hand over all these gains on a golden platter to countries and entities that practice terrorism, support extremist organizations and seek to destroy or occupy the region as Turkey did in Efrin and other areas."
In light of Trump's Great Betrayal, it is hard to imagine that the pro-American Kurds, who the president surreally asked to help seize the oil fields in eastern Syria late October (in an example of his tone deaf lack of awareness of the true import of his historic back stab), will die for him or any American president again (much less for oil). I have spent time on the frontline among the Kurdish men and women volunteers fighting ISIS, from legendary generals like General Shirwan Barzani "The Black Tiger" to a unit of brave female fighters who asked for selfies with me as someone who hailed from a land they admired, and I was awed by their courage. I also gained a deep abiding respect for their personification of the very values America has exported around the globe as part of its stated foreign policy of supporting democracies abroad based on principal, but also to make the world a safer place at home. These Kurdish qualities I admired included courage, loyalty, open-mindedness, honor, a deep devotion to multi-ethnic, multi-religious democracy, tenacity, and an ingrained tradition of protecting minorities like the local Christians and Yazidis. Their virtues also included fearlessness in battle, a hatred of dictators (like the very ones Trump embraces in Turkey, Saudi Arabia, and Russia and has empowered in Syria with his recent actions), and a deep abhorrence of Islamist dogma of the sort that predominates among the jihadists whom the president's Islamist Turkish "friend" Erdogan has unleashed on them. As an American, I am now ashamed to go on future embeds with these brave men and women citizen-fighters who believed in the bond of friendship they forged alongside equally brave US Special Forces whom the Kurds proudly called their hevals (comrades). On numerous occasions, Kurdish fighters I encountered in my journeys across their welcoming land told me they "wished to be America's 51st state." After Trump's unprecedented stab in the back, wherein he granted the Turks the right to cleanse the Kurds with jihadi militants bent on revenge—to punish them for their alliance with American "kafirs" (infidels) and construction of a "bidhat" (religiously forbidden) pro-women's rights, pro-Christian minority rights democracy that is anathema to their fanatical ideology—I doubt that this positive view of the USA exists among this discarded nation of 35 million, who were formerly the most pro-American in the Middle East, still exists. I fear that the thrice betrayed Kurds' one-sided, honor-bound sense of loyalty to America, stretching back to the time of Nixon's original betrayal, has been forever destroyed by the Trumpian withdrawal order that was as senseless, blundering and adversary-rewarding as it was ignoble. This is same president who, having played the role of arsonist in northeastern Syria and igniting the relatively peaceful region with the tweet equivalent of a flamethrower, recently proclaimed himself fireman and creator of a "great day for civilization." What was Trump's gift to civilization you ask? He forced the Kurdish irregulars, whose lightly armed forces had been crushed by Turkish heavy armor and indiscriminate aerial and artillery bombardments, to accept Turkey's bloody conquests of their most fertile and populated lands in the north. His so-called "ceasefire" (which has been marred by Turkish attacks on ambulances and on hospitals, drone strikes, artillery strikes, and repeated Turkish assaults on Christian and Kurdish villages according to Christian monitoring groups) has frozen and legitimized a bloody Turkish conquest and annexation of multi-ethnic lands that has again led to the mass displacement of tens of thousands of indigenous Kurds of the sort seen in Afrin. If the axe has been buried, as the self-aggrandizing Trump proudly proclaimed due to his so-called "ceasefire," it has been buried squarely in the backs of Kurds who were attacked from behind by the American president. This then is the Kurds' presidential thanks for the real "great day for civilization," their historic, but costly (in terms of fighters' lives lost), March 21st conquest of Baghouz, the last bastion of the ISIS terror state that launched an unprecedented terror campaign that led to slaughter on five continents (a victory that Trump of course took credit for in many news conferences at the time). Kurdish leader Can Polat proudly proclaimed his people's role in defeating a terrorist scourge that many thought could not be beaten when it first stormed across the Middle East in 2014 and liberating local Syriac Christians as follows:
"In our seven-year war against terrorist organizations and militant factions, we have sacrificed more than 8,000 martyrs [that number late rose to 11,000], including Kurds, Arabs, Syriacs, and others. Eight thousand martyrs so that people may again hear the sounds of the church bells and the recitation of prayers in monasteries and mosques fearlessly, so that the Kurds and Syriacs may learn their mother tongues, their culture, and their history that has long been banned and hidden. Eight thousand martyrs to help the cities of Europe and America live in peace, free from fear that terrorists will blow up a bus or drive into revelers in a field or shoot indiscriminately at passengers in the metro, so as not to repeat incidents like that in Nice, the Charlie Hebdo attack, the massacres of Paris, Manchester, Maelbeek Metro, Brussels Airport, the September 11 attacks, and the Boston bombing."
In 2016, a Kurdish fighter named Sherwan Derwish who followed his people's tradition and assumed the name of his brother who was killed fighting ISIS similarly reported "We're very proud. We did something for our people, and for the world. Two years ago, ISIS was feared by the whole world. We gave to our people and to the world something very good. We did it with the Americans."
In comparison to Trump's casual, swipe-of-the-hand sentence of death to hundreds of anti-ISIS Kurdish fighters like Sherwan Derwish who died resisting the Turkish invaders, the Kurds' sense of idealism and pride in ridding the world of the scourge of ISIS alongside the Americans seems almost innocent, naïve…and ultimately doomed to yet another betrayal. In the past, grateful Kurds named restaurants and even their children after Obama and Trump. It is doubtful that any Kurd bearing the name of Trump will wear that name with pride or forgive the perfidious president who went out of his way facilitate the Turkish-Russian-Syrian destruction of the very sort of democracy that the US claimed to be invading the Middle East to promote under George W. Bush. Trump, who has called himself "the chosen one", once gloated in the sense of infallibility he seems to have among his diehard supporters, who have essentially hijacked the Republican Party with a cult of personality, by bragging "I could stand in the middle of 5th Avenue and shoot somebody and I wouldn't lose voters." Trump certainly did not personally pull the trigger of the Turkish jihadist's guns used to shoot the Kurdish female human rights activist Khevrin Khalaf in cold blood. But he typed the tweet that directly led to her death and to the death and maiming of hundreds of allied Kurds (including children horribly burned by Turkish chemical weapons) whose people fought valiantly for the values and policies that the Republican Party of "tear down this wall Mr. Gorbachev" Ronald Reagan used to stand for, both at home and abroad. It remains to be seen whether Trump will lose voters over the shooting of Khervin Khalaf and many others that were not filmed (Turkey ordered its jihadists to stop filming) or whether the prideful lack of compassion many of the president's voters share with him on the fate of America's betrayed allies is rationalized as part and parcel of his false policy of "ending endless wars." Sadly, the collapse of both America's benign hegemon influence and pro-American Kurdish democratic autonomy in Syria is just another day in the Chaosistan that Trump the self-proclaimed "disrupter" has constructed via the random, aimless disruption of our country's traditional foreign policy and its long-held and globally-respected values. These principles that Trump puts last in his bid to "put America first" once included loyalty to overseas allies, standing up to dictatorial aggressors, defense of democracy and endangered minorities, and that all important commodity that the Kurdish fighters and their Pentagon comrades so value, honor. But even if one does not subscribe to such lofty principles and instead subscribes to Trump's selfish America-centric vision of abandoning US prestige, honor, influence, and allies in the world, one can still cherish something that should define all Americans, especially those who are members of the president's Evangelical Christian base, and that is the transcendent, borderless concept of compassion for all humans…even Kurds.
——
Bonus video added by Informed Comment:
CBS This Morning: "Ongoing impact for Kurds after U.S. withdraws from Syria"