Ann Arbor (Informed Comment) – Deutsche Welle reports that the tripling of the price of gasoline by the Iranian government very early Friday morning provoked protests throughout Iran, in at least 20 cities.
In Sirjan, a protester was killed. The government drastically slowed down or even cut off the internet.
The biggest rallies were in Ahvaz, Sirjan and Kerman. Smaller protests broke out in Shiraz, Bandar Abbas, Isfahan, Khorramshahr, Birjand, Shoshtar, Behbahan and even in the clerical shrine city of Qom, a center of power for Iran's ruling ayatollahs.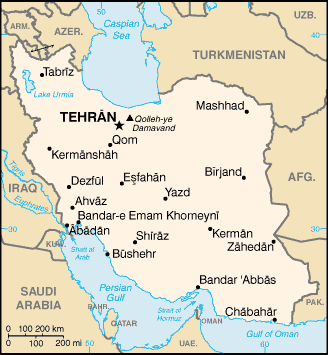 The background of these protests is that ordinarily in Middle Eastern oil states gasoline is heavily subsidized for consumers. This policy is a sort of bribe proffered to the people by authoritarian regimes in return for which the public is expected to suffer along with dictatorship.
In fact, there is a weird belief among publics in the Middle East that somehow they all partially own the petroleum, so even governments such as Morocco or Egypt that have little or no petroleum feel a need to subsidize gasoline.
So, tripling gasoline prices in one day is a very serious violation of the regional moral economy.
On top of all that, Iran's economy is expected to contract by 9% this year and inflation in general is already running at 35%.
The Trump administration's economic blockade of the Iranian economy has cut the country's petroleum exports from 2.5 million barrels a day to less than a million (most of it now goes to China at a steep discount). It is the shortfall in government oil revenues that caused it to reduce fuel subsidies. The alternative would be to print extra money without any increase in productivity, which would cause even greater inflation. Inflation especially hurts the poor, students and others on fixed incomes, and affects goods imported from abroad above all.
This Twitter post purports to show video of Iranian security personnel fleeing protesters in the southwestern city of Shiraz, a provincial capital. Informed Comment cannot verify its accuracy:
#شیراز، فرار نیروی انتظامی از دست معترضین در معالی آباد#تظاهرات_سراسرى#IranProtests#إيران_تنتفض@tparsi@4FreedominIran@AssalRad@brhodes pic.twitter.com/ph0e9eqML5

— اپوزیسیون مردمی ایران ✊? (@OppositionIran) November 17, 2019
The regime is reported to have stationed police and security forces at gasoline stations in the capital of Tehran, after gasoline pumps were set afire in Isfahan, Kerman and Sirjan. In some towns, crowds were said to have chanted, "Reza Shah, may your spirit be glad!" Reza Shah ruled 1926-1941 and founded the short-lived Pahlevi dynasty, the monarchy/ capitalist dictatoship that Ayatollah Ruhollah Khomeini overthrew in 1979. Since then, Iran's Shiite clerics have ruled the country with an iron fist.
Almost nobody in Iran actually wants the monarchy back, however dissatisfied they might be with the current economic situation. If a change came in the government it would likely be to move to a different kind of republic.
Protests at sudden price rises are common in the global South. Sometimes these rises are caused by the government lifting subsidies under pressure from the International Monetary Fund. These are called "IMF Riots" and there is even a scholarly literature on them.
I lived through a major such riot in 1977 in Egypt that shook the country for three days and raised questions about the stability of the Sadat government. In fact, such crowd protests over commodity prices in and of themselves seldom lead to political change. For change, you need a revolutionary movement that has a vision of a different sort of society. The price of gasoline is not a substitute for such a vision. Whether that kind of vision develops on the ground has yet to be seen.
—–
Bonus Video:
Note: Iran does not have a nuclear weapons program, only a civilian nuclear enrichment program.
CBC News: "Protests erupt in Iran — here's why they're different"