Ann Arbor (Informed Comment) – Trump became president in part by playing on fears, resentments and outright hatred among some segments of the American public, especially of a racial and religious sort. He bashed Mexican-Americans as drug dealers and rapists, and recently blamed Chinese-Americans for the coronavirus. But no group came in for so fierce a lashing at his hands as the 3.5 million Muslim-Americans. "I think," he said, "Islam hates us." He called for a moratorium on people of Muslim heritage entering the United States. He actually imposed a thinly-disguised visa ban on Libya, Somalia, Iran, Syria, and Yemen, only throwing in Venezuela and North Korea in a pro forma way to make the case to the courts that the policy isn't a form of religious discrimination (it is).
Although there have been a few tiny terrorist groups among Muslims, it is completely unfair to blame 1.8 billion Muslims in the world for them, much less the 1% of Americans who are Muslim. Europe in the 1930s and 1940s gave us a powerful set of Fascist movements that killed millions, including over 400,000 Americans. We don't typically see a European from one of the old Axis states and say, oh, you must hate America. Muslim governments, including those in Iraq and Egypt, have been the most effective foes of fringe extremism, and the US has designated numerous non-NATO allies among Muslim-majority countries.
Trump cynically threw out all these considerations when he demonized Muslims, contributing to a stark rise in hate crimes against them, including a string of mosque-burnings throughout the United States and hundreds of other attacks on Muslim religious sites, some of them done explicitly by Trump supporters.
So, having bad-mouthed Muslim Americans, having accused them of being too dangerous even to live in their own country, having accused them of hating their own country, who does Trump turn to in his "Operation Warp Speed," his quest to find a vaccine for the novel coronavirus by the end of 2020?
A prominent Muslim American.
Monçef Slaoui (pronounced Munsif Slawi) was born in the city of Agadir on the Atlantic coast of Morocco. I've been to Agadir and liked it a lot. Agadir Beach is Blue Flag quality (something to remember for after Dr. Slaoui's efforts bear fruit and we can travel again).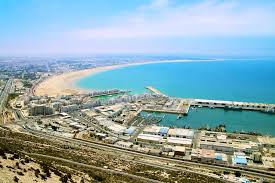 He is, like many people in that area, of Amazigh ("Berber") heritage, so that Arabic is his second language and French his third and English his fourth. He earned a a PhD in Molecular Biology from the Free University of Brussels and did post-doctoral work at Harvard Medical School and the Tufts University School of Medicine. He is listed as an author on over 100 scientific papers. He worked for 30 years at GlaxoSmithKline (GSK), and for a decade he headed up its worldwide Research and Development department. He also served for two years as chair of
GSK Vaccines, notes Yahia Hatim at Morocco World News.
Slaoui has also taught at Hamid Bin Khalifa University in Qatar, a country about which Trump at one point said some pretty harsh things before retracting.
Slaoui helped get the first cervical cancer vaccine to market, so has serious chops in this field.
In short, Slaoui is a foremost figure in his field. You have to wish him well in the, on the face of it, unrealistic task he has been given.
Vaccines for viruses are hit and miss. There still isn't one for HIV Aids or Epstein-Barr. Usually a new vaccine takes at least 4 years to develop, and that is where scientists are successful. But, on the other hand, a pandemic concentrates the mind and the world's governments and Big Pharma are going to put billions into finding a coronavirus vaccine, and clinical trial protocols are likely to be relaxed somewhat, so there is hope. Because life won't return to any semblance of normality until there is a vaccine.
So here's a final irony. One runner-up for Slaoui's new position at the top of the Operation Warp Speed task force was Elias Zerhouni, a Muslim-American originally from Algeria. He is a former director of the National Institutes of Health and was made by the Obama administration a world health envoy for the US before heading up worldwide Research and Development for the French pharmaceutical giant Sanofi.
That is, Trump turned not just to one Muslim-American for potential salvation but two.
A third candidate was former Genentech CEO Arthur Levinson. At a time of an alarming rise in hate crimes against Muslims and Jews, Americans should remember that our country is a team, and we need all the good players to win against the pandemic. Some of the best players in the health field are Muslims and Jews, whom we should embrace with love and gratitude for what they do for their country.
So no, Islam doesn't "hate us," Mr. Trump. Take it back.
——
Bonus Video:
Trump Announces Team To Lead COVID-19 Vaccine Effort | MSNBC