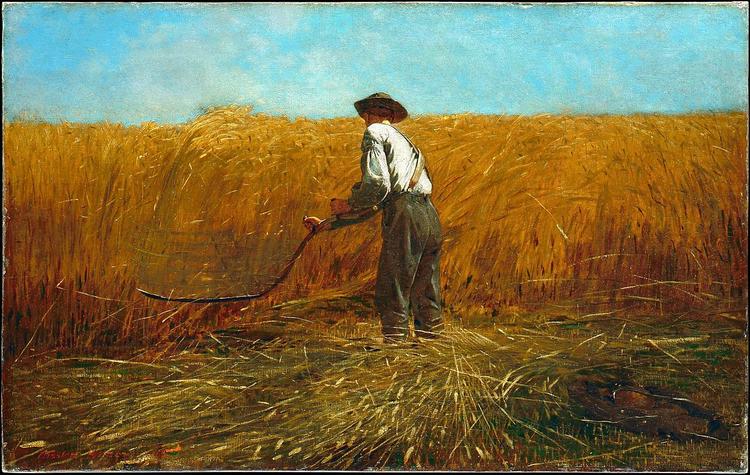 This painting by by Winslow Homer (1836 – 1910) is entitled "The Veteran in a New Field." He painted it in 1865, not long after Confederate General Robert E. Lee surrendered to Union General Ulysses S. Grant. Lee's capitulation marked the end of the American Civil War (1861 – 1865) and the death of the Confederacy.
The painting depicts a Union soldier who has just returned to his home in the North after the cessation of hostilities. His military jacket and canteen can be seen lying in the foreground, partially covered by stalks of freshly-cut wheat. It is a peaceful and solitary scene, free from the killing and horror of those preceding four years. For many, like that soldier, there must have been a desperate hunger for normalcy and quiet.
Onto it one may inscribe a national redemption of past wrongs; the South's horrid slave society was vanquished, and the promise of real democracy has finally emerged. With the war over, life immediately resumes a sane, predictable-as-the-seasons course. Presumably, that should have been true for everyone, white and black alike.
I don't know what the artist's original intentions were or what, exactly, he wanted to convey to viewers. However, I think that if the painting were put in front of many twenty-first century white people, some profoundly flawed and self-flattering views of race and US history would be read into it. Namely, that racism is not really so bad now. The evidence? The Civil War and its perceived legacy, civil rights legislation, eventually summoned forth the "angels of our better nature," as President Abraham Lincoln once put it in a somewhat different vein.
By virtue of the hardships so many suffered in that conflict and the hundreds of years of oppression that finally ended in the wake of that bloodshed, one needed only to reap, like Homer's former soldier, the future's promise. Along with vanishing battle lines, racial divisions were supposed to have disappeared, too. There was enough land, food, and opportunity to sustain everyone. It was and is just a question of getting down to work in that newly configured social geography, to cultivate a new field and wait for the bounty of one's toil. A great leveling force, work and its rewards do not discriminate. After all, that is part of the American Dream. That is our preferred image and interpretation of the country.
Homer completed the painting the same year that the 13th Amendment abolished slavery. Three years after that, in 1868, the 14th Amendment granted citizenship to African-Americans. In 1870, when the US Congress passed the 15th Amendment, black men were granted the right to vote. The following years would briefly witness the election of black lawmakers, something unimaginable just a decade earlier. The Civil War made these possible.
It is true that progress was made, and over the course of succeeding decades some serious inequities were addressed, at least partially (and officially and rhetorically, too).
Much of our contemporary understanding of the country's past as it relates to race goes something like this: Whatever the Civil War did not fix, then the civil rights movement did. And whatever Martin Luther King did not address, later legislation did. They seem firmly linked in a chain of cause and effect, the inevitable march of American progress. There is affirmative action these days, restrictive covenants are illegal now, and discrimination in hiring is old news. Besides, there are hate crime laws on the books. It seems that we have become the angels of our better nature, just as Lincoln hoped we might, and that means things are not really that bad today. Not as bad as they say, right?
These notions are often translated into a twenty-first-century vernacular: "Get over it already. It's time to forget the past. All this racism stuff is mostly over. And what about all these programs, like food stamps and welfare and Head Start and supplemental tuition awards? Sure, it's not perfect, but all this discrimination talk is overblown. People want handouts, special treatment. They just need to get a job. They just need to be responsible. Anyway, things are not really as bad as they say."
It's just a question of getting down to work.
And it's not just ordinary people. Members of the US government tried to obscure unflattering racial antipathies by not admitting them into the public forum. They had long maintained that many racially motivated murders, for example, were not really animated by racism at all. White people lynched nearly 3,500 black men and women between 1882 and 1968. These acts were often seen as aberrations, not symptoms of a deep-seated social pathology. Deemphasizing race, one could construe mob murders of African-Americans as simple, ordinary crimes that needed no special adjudication or classification as a kind of terrorism.
Anti-lynching legislation bills were proposed more than two hundred times in well over a century, unsuccessfully. More than a few lawmakers opposed them. In 1950, Democratic Representative Charles E. Bennet of Florida, for example, opined that "… some lynchings which are called lynchings are truly nothing, completely nothing but ordinary types of murder." Even when two white men killed a black man, one should never just assume, according to Bennet, that racism was the motive. Skin color was simply incidental. Hostility toward African-Americans must be excised as a reason for vicious acts, even when race was most likely a factor.
Many argue that lynchings happened a long time ago, but it's not all so safely obscured in the distant past. In 1998, when three white supremacists in Texas tied James Byrd Jr., an African-American man, to a pickup truck and dragged him for several miles until only his torso remained, people back then still said racism was not really that bad.
Hideous, racially-motivated crimes are not just peculiar to the South, of course. Not long before James Byrd's murder, 13-year-old Lenard Clark of Chicago unwittingly rode his bicycle across an invisible border separating the largely African-American neighborhood of Bronzeville into Bridgeport, an all-white enclave on the city's South Side. Some young white men beat him into a coma for his transgression. People back then still said racism was not really that bad.
In 2015, when white supremacist Dylann Roof stormed a church in South Carolina and shot nine black people to death, people back then still said racism was not really that bad.
Just this year, when some white men followed and shot 25-year-old Ahmaud Arbery for the crime of jogging near them, people said racism was not really that bad.
And they said, they still say, that racism is not really that bad after the murders of Michael Brown, Philando Castile, George Floyd, Eric Garner, Walter Scott, Breonna Taylor, and many, many others.
Most white people would not count themselves among the ranks of racists, and many are horrified by these crimes. But minimizing violent acts as aberrant, rare incidents does not efface the bone-deep antipathies in the culture of this country that inform them. It does not remove structural racism and common, unofficial discrimination, the kind that hovers just below legal radar detectors. How can one be an ally in addressing all these problems without first fully recognizing them? The effects of romanticized blindness, of reading what we want into history, of preferring to see better historical results in a better place than the one in which we actually live mean that abuses continue unchecked; it allows tensions and frustrations to grow unabated.
The past is not quite so neatly in the past; it's still with us, here, now. It's in burnt African-American churches. It's in funeral parlors. It's in telling black people that the rents are high when they really aren't so they won't live near you, or that no more apartments are available in the neighborhood when there are plenty to be had; it's in saying that all the candidates have been hired when they haven't. It's in telling people that the only jobs now available are a little lower down on the ladder, but try again next year; it's in racial profiling and police brutality. It's in the racial gerrymandering of political districts to quieten the voices of those whose complexion is darker than ours.
It's the new "For Whites Only" sign.
Many white Americans do not see such messages because they don't apply to us and we often don't believe they exist even when we are told. What is more, they are not written in our language. This lexicon has to be translated for us by those who are literate in its nuances because they suffer its meaning.
Still, many refuse to listen because that sort of coded language does not square with how we, fellow white person, would like to think of the country, its historical trajectory, the comforting myths we have constructed, the luxury and privilege (yes, privilege) of refashioning the past and fictionalizing the present to our liking.
Graphic or coded racism and its attendant physical or psychological violence did not end when Winslow Homer's soldier-farmer and thousands of others returned to their homes. True, much has changed since their time.
But many have been telling us for years, fellow white person, that much else has not changed, and it is long past time that we started to listen: It really is that bad.