Ann Arbor (Informed Comment) – ( Matthew Daly at the Associated Press reports that President Biden will announce at Thursday's virtual international Climate Summit that the US will commit to reducing its annual carbon dioxide emissions by half of the 2005 peak by 2030. Joe Biden famously used an expletive to describe the passage of the Affordable Care Act under President Obama. It is equally appropriate to Wednesday's leaked news item.
The administration's plan is extremely important because it will allow the U.S. to lead the rest of the world in the right direction. Under the odious Trump, the US was trying to ramp up emissions, and so had no moral authority to tell anyone else to cut it out. If we cut our emissions in half from the 2005 peak, we can dicker with China and Poland about doing the same.
Despite tensions with Washington, China's Xi Jinping is coming to Biden's climate summit today.
America put out 5.789 billion metric tons of carbon dioxide in 2005. That number had declined slightly by 2019 to 5.130 billion metric tons worth of annual emissions. In other words we have not made much progress in significantly reducing our yearly production of C02, a deadly heat-trapping gas. We had certainly not made the sort of progress that would keep global heating to 2.7 degrees F. (1.5 degrees C.) of average heating of the earth's surface. That is the level of extra heating scientists think could allow us to avoid the most dangerous consequences.
So Biden is saying that in 2030, the US hopes "only" to emit 2.894 billion metric tons of carbon dioxide. According to AP, climate scientist Michael Mann believes that if the US does this and gets commitments from other polluting countries to do the same, it could be enough to keep us to a 2.7 degree F. increase. (Remember, that is an average, and some places will be 10 degrees hotter, which is not something you want to hear if you live in Tucson, AZ in the summer).
We can get to Biden's goal if we take certain steps, according to Lauren Sommer at NPR..
1. We'd have to close down all coal plants and use wind and solar to generate half of our electricity within the next decade, This step is eminently feasible, since wind and solar are falling rapidly in cost even as their efficiency is improving.
2. We'd have to get to the point where between half and all new car sales were of electric vehicles.
3. Factories would have to be greened and electrified. This is not as hard as it sounds in some instances. Two-thirds of US steel plants already use electric arc technology for smelting rather than coal. All you have to do is connect them to solar panels or wind turbines to produce the electric arc, and you have green steel.
4. We need green cement and green agriculture, as well.
All these steps are practical even if they are hard. They are more practical if the government gets behind them with incentives and tax breaks.
The Biden plan is also important because we have a sort of deadline with regard to emissions, and these steps would help us meet it. The oceans absorb carbon dioxide, and over time will take in the billions of extra tons of it we have emitted, but they have a limit– they can only absorb so much. If we overrun the limit of the oceanic carbon sink, then it will get very hot and we will face superstorms, wildfires, storm surges, sea level rise, floods and so forth. The more CO2 we put up there, the worse those calamities will be.
The Biden initiative will go a long way toward helping us avoid the worst case scenario.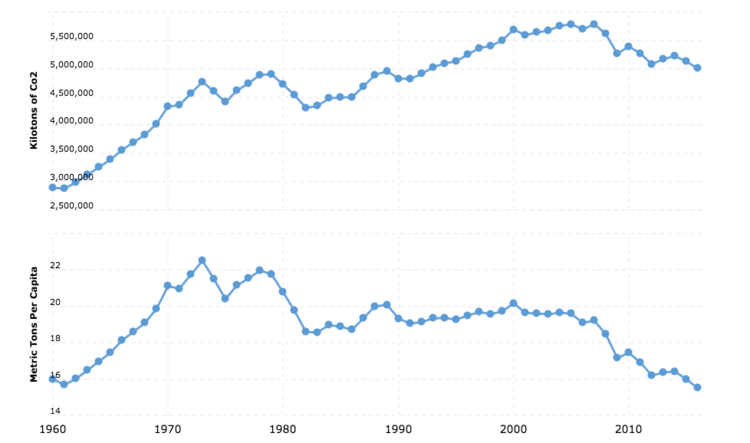 h/t Microtrends
There is substantial public support for Biden's ambitious climate goals. Adele Peters at Fast Company reports that a gaggle of major companies– Apple, Google, Walmart, Nike, Levi Strauss and many others — have urged this goal of halving emissions on the Biden administration. Climate disruptions are bad for business.
To explain why I am not impressed by the decline of 12.4 percent in US C02 emissions since 2005, it is because it isn't nearly as significant as many greenwashing observers make it out to be, because we are talking about annual emissions. Like, every year.
So imagine were are talking pounds of weight a person is putting on, with 2005 being, say, 5.789 pounds and 2019 being 5.130 pounds. You'd be a little happy if you were trying to lose weight if you "only" put on about five pounds this year rather than the nearly 6 pounds a year you used to 16 years ago. But you're still putting on over five pounds a year, which over 16 years means you would have packed on about 88 pounds. I don't know about you, but when I'm trying to lose weight I'm not happy about ballooning up another 5 pounds this year, even if it isn't the 6 pounds I ballooned up in 2005. And packing on 88 pounds, becoming morbidly obese, would be nothing to brag about. In the real world, the United States has put some 85 billion metric tons of deadly CO2 in the the atmosphere since 2005. That is like blowing up large numbers of hydrogen bombs up there. Makes it hot.
With the Biden plan, we'll be putting on significantly less "weight" every year, and the carbon sink of the oceans will then allow us to "lose" a lot of carbon weight.
This news is the most hopeful I've heard in my lifetime.
——
Bonus Video: