Ann Arbor (Informed Comment) – Donald Trump as president dumped the Paris Climate Accord, withdrew from the 2015 Iranian nuclear deal, endorsed the 2017 blockade of Qatar by Saudi Arabia and the United Arab Emirates, and pushed for declaring the Muslim Brotherhood a terrorist organization. The Brotherhood had been part of the 2011 uprisings against Arab dictators, leading Arab monarchies to see them as subversives and dangerous to the status quo.
All of these steps were on a wish list of the United Arab Emirates, the fabulously wealthy Gulf oil state, with its capital at Abu Dhabi. The country is little known in the United States, except for the ritzy Dubai emirate, a playground for American celebrities often featured in Hollywood films from Mission Impossible: Ghost Protocol to Sex and the City 2 (don't ask).
Its de facto ruler is the crown prince of Abu Dhabi, Mohammed bin Zayed al-Nahayan, one of the world's richest and most powerful men.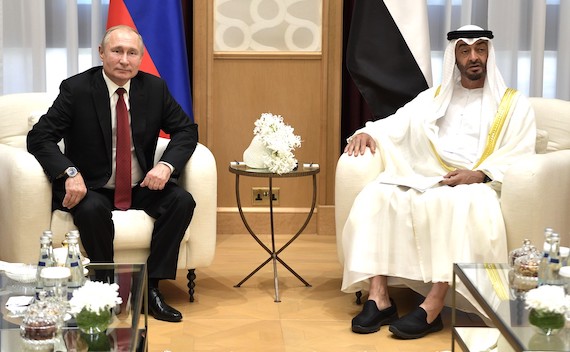 Mohammed bin Zayed al-Nahayan with Vladimir Putin.
Why was Trump so eager to do the bidding of this obscure postage stamp country? Without any doubt, he thought there was something in it for him and his cronies.
It has been alleged that the United Arab Emirates and Saudi Arabia determined in 2016 to help Trump become president. I think their main motivation was that they wanted to scuttle the 2016 Iran nuclear deal signed by the UN Security Council members, including the US under Barack Obama. I don't think they worried so much about whether the stipulations of the deal would really forestall any future Iranian bomb. It was clear that they would. I think they were worried that Obama had shifted from an alliance with the Arab Gulf oil monarchies against Iran to an aspiration to play the Arabs and Iran off against one another. They were furious. I suspect they felt that a Democrat like Hillary Clinton would remain bound by Obama's Iran policy, and they therefore wanted to upset the apple cart and put the malleable and corrupt Trump in.
In late fall, 2016, after Trump had won, Bin Zayed sneaked into the United States without letting Obama know about it for a meeting with Trump and his circle at Trump Towers. There is also a strange relationship between Bin Zayed and Putin in Russia, and it may be that both of them worked behind the scenes for a Trump win.
Crony Number 1 in this case was billionaire Thomas Barrack, 74, an attorney and later real estate tycoon close for decades to Trump, who is now based in Santa Monica. Tom Barrack, like so many of the swamp creatures Trump drained into the White House, has now been indicted. Barrack had once bailed out Trump's business, in the early 1990s, with a $100 million.
A Lebanese-American whose family is from Zahleh, Barrack speaks Arabic and began representing Saudi interests in the 1970s. When the Saudi government murdered Washington Post columnist Jamal Khashoggi in 2018, Barrack made excuses for it, saying that the US government had often done worse.
The Department of Justice announced Monday that federal prosecutors in Brooklyn unveiled a seven-count indictment against Barrack and two associates (Matthew Grimes, 27, of Aspen, Colorado; and Rashid Sultan Rashid Al Malik Alshahhi). Alshahhi has absconded and his whereabouts are unknown.
Barrack stands accused of violating 18 U.S.C. § 951, which goes: "Agents of foreign governments (a) Whoever, other than a diplomatic or consular officer or attache, acts in the United States as an agent of a foreign government without prior notification to the Attorney General if required in subsection (b), shall be fined under this title or imprisoned not more than ten years, or both."
This law is related to but not the same as the Foreign Agents Registration Act. The point is that Barrack acted as an agent of the United Arab Emirates but had not informed the Attorney General that that was what he was doing. In fact, when confronted, he denied it under oath. The denial has been added to the charge sheet.
The DOJ press release quotes Acting U.S. Attorney Jacquelin M. Kasulis for the Eastern District of New York as saying, "the defendants, using their positions of power and influence in a presidential election year, engaged in a conspiracy to illegally advance and promote the interests of the United Arab Emirates in this country, in flagrant violation of their obligation to notify the Attorney General of their activities and in derogation of the American people's right to know when a foreign government seeks to influence the policies of our government and our public opinion."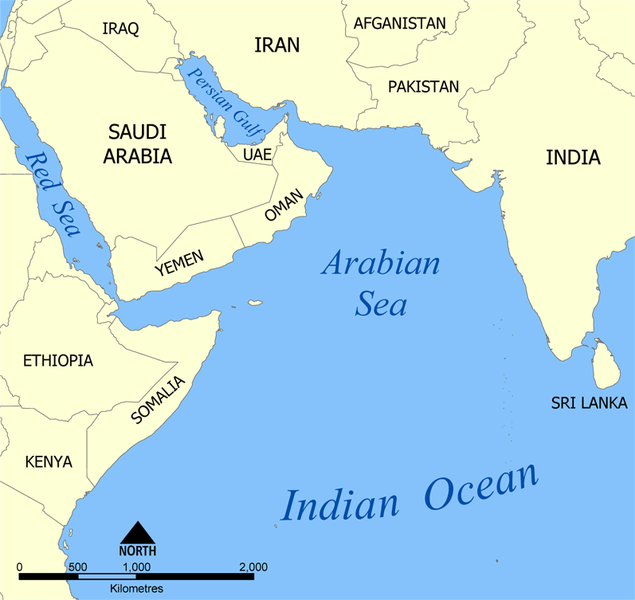 In June, 2017, the UAE and Saudi Arabia attempted to overthrow the government of Qatar, their neighbor and supposed ally, imposing a blockade on the small Gulf peninsula for three and a half years. Trump was initially ecstatic about the blockade, apparently at Barrack's urging. Then Trump cabinet officials told him that Qatar is a key US ally and host of the essential US Air Force base at al-Udeid. By September, Trump was talking about hosting Qatar's Emir Tamim with the UAE's Bin Zayed and Saudi Arabia's Mohammed Bin Salman at Camp David. The DoJ writes,
"In September 2017, Alshahhi communicated with Barrack about the opposition of the UAE to a proposed summit at Camp David to address an ongoing dispute between the State of Qatar, the UAE and other Middle Eastern governments, after which Barrack sought to advise the President of the United States against holding the Camp David summit. The summit never happened."
Barrack used his close relationship with Trump to overrule the secretaries of state and defense, who wanted the summit, torpedoing it.
The DOJ says, "between April and November 2016, Barrack served as an informal advisor to the campaign of [Donald Trump] in the 2016 U.S. presidential election. Between November 2016 and January 2017, Barrack served as Chairman of the Presidential Inaugural Committee. Beginning in January 2017, Barrack informally advised senior U.S. government officials on issues related to U.S. foreign policy in the Middle East."
In May, 2016, Trump gave a campaign speech on U.S. energy policy, and Barrack inserted language into it praising the Emirates. Barrack also sent an advance copy of the speech to Abu Dhabi. Barrack sought talking points from the government from the UAE and direction from Bin Zayed's government throughout 2016 and 2017 (once Trump was in office), to promote the interests of the Emirates.
According to the DOJ, Barrack appears to have thought of himself more as an Emirati than an American, speaking of Abu Dhabi as his "home team."
"After one [television] appearance in which Barrack repeatedly praised the UAE, Barrack emailed Alshahhi, "I nailed it. . . for the home team," referring to the UAE. Barrack and Grimes also solicited direction from senior UAE officials in advance of the publication of an op-ed authored by Barrack and published in a national magazine in October 2016 and removed certain language at the direction of senior UAE officials, as relayed by Alshahhi."
The United Arab Emirates has a citizen population of about 1 million, about the population of Rhode Island. The UAE has a gross domestic product of $421 billion per year, making it richer than Israel, Norway or the Philippines, but with a tiny fraction of their populations. Since the government doesn't have many people to service or care for, but does have this mountain of treasure from oil sales (especially to Japan), its rulers can play Masters of the Universe. With $15 bn. in Foreign Direct Investment around the world, Abu Dhabi alone (one of the seven emirates) is in the top twenty countries for FDI investments abroad.
—-
Bonus Video:
NBC: "Trump Inaugural Committee Chairman Charged With Acting As Agent Of UAE"