Ann Arbor (Informed Comment) – British actress Emma Watson, 31, whom many remember from her childhood role as Hermione Granger in the Harry Potter films, is all grown up. And she made big waves on the internet by posting an image to Instagram that showed Palestinians protesting, waving the Palestinian flag, and demanding a "free Palestine," with a placard that says "Solidarity is a verb."
She also appended a quote from the queer feminist thinker Sara Ahmed that said, "Solidarity does not assume that our struggles are the same struggles, or that our pain is the same pain, or that our hope is for the same future. Solidarity involves commitment, and work, as well as the recognition that even if we do not have the same feelings, or the same lives, or the same bodies, we do live on common ground." The passage appeared in Ahmed's The Cultural Politics of Emotion. Ahmed is a distinguished academic of British and Pakistani heritage who resigned her last position in 2016 to protest the failure of her then institution, she said, to deal with a problem of sexual harassment of women on campus. She is now an independent scholar and maintains the Feminist Killjoys blog.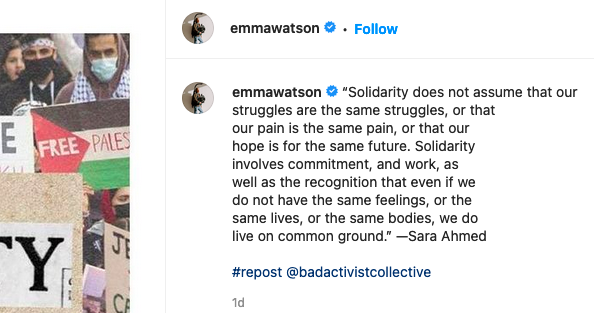 Ms. Watson did an English B.A. at Brown University in between her later films. In 2017 she played the lead, Belle, in Disney's live-action version of Beauty and the Beast, which, at a $1.2 billion box office, is the highest-grossing live musical film in history and the 10th highest-grossing film of all time. She also starred in 2017's The Circle, based on the David Eggers novel.
Lots of creative people feel sympathy for the stateless Palestinians who labor under a brutal Israeli military occupation while watching their land and resources gradually being stolen from them. Some speak out, at the risk of damage to their careers. The Israel lobbies are vicious toward anyone who sympathizes with the Palestinian plight and will blackball you and get you fired and make you homeless if they can.
Predictably, as soon as Emma Watson's Instagram post made a splash (with nearly a million "likes"), she was slimed.
Danny Danon, the head of the far-right, racist World Likud organization and former Israeli ambassador to the United Nations, wrote, "10 points from Gryffindor for being an antisemite." It is a reference to one of the four Houses of the Hogwarts School of Wizardry.
I dunno. Usually anti-Semitism has to do with an irrational hatred of Jewish people. In fact, you might say it always does.
But Ms. Watson's poster didn't mention Jews at all. It simply showed empathy with the desire of Palestinians to be free. Many of the cabinet members in the current Israeli government believe in a two-state solution, and so presumably also would like to see the Palestinians be free and to see the Occupation end. President Biden and Secretary of State Antony Blinken have both committed themselves to a Palestinian state where Palestinians can be free.
So why is Danon smearing Ms. Watson?
Danon is a moral monster, seething with hatred.
He has declared that the Likud Party has no place for anyone who would make peace with the Palestinians. Danon opposes the very existence of a Palestinian state and is willing to resort to purges of Jews to stop it from ever happening.
Here is what David Remnick of the New Yorker wrote:
"Danny Danon, a Likud leader who recently suggested that, for every rocket launched by Hamas, Israel "delete" one neighborhood in Gaza, said to me, "I tell my colleagues on the left in the Knesset, 'You are an endangered species. We'll build a nature reserve for you.' "
Deleting a civilian neighborhood in reprisal for the launching of a small homemade rocket is a disproportionate response in the law of war, and targeting civilians is a war crime. Under the definition of genocide adopted by the UN Convention on Genocide and the Rome Statute, deleting a civilian neighborhood of Palestinians for being Palestinians would be genocide.
As for building a reserve to put leftist Jews in, I have a vague recollection of someone else who wanted to do that. Hmm. Who was it? Wouldn't advocating that make a person an . . . anti-Semite?
Danon has advocated illegally expropriating most of the Palestinian West Bank and assigning the Palestinians to reservations, just as the South African government created Bantustans to keep the African population stateless and allow massive land theft. Danon calls this plan "peace" with "the Palestinians."
So of course Danon was triggered by seeing the Palestinian flag and the words "free Palestine" in Watson's poster. Those are his worst nightmares. Not because he thinks Emma Watson is a racialist bigot (that is his job), but because he believes that his Greater Israel vision can only be accomplished by deleting the Palestinian people. He is looking for an ultimate solution to the Palestinian problem.
By reminding us that there are Palestinians and they are oppressed human beings under military Occupation being deprived of their rights, Ms. Watson was posing an architectonic challenge to Danon's warped psyche.
He affected the role of Dumbledore in attempting to instruct the open, generous and empathetic Ms. Watson.
But he is of course, Draco Malfoy. And we all remember how Hermione Granger dealt with bullies like Malfoy:
Hermione Granger vs. Draco Malfoy | Harry Potter and the Prisoner of Azkaban