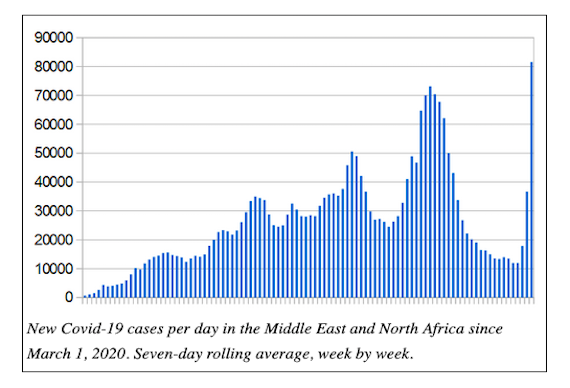 ( Al-Bab.com ) – Record numbers of Covid-19 infections have been reported in the Middle East and North Africa this week. Official figures show more than 570,000 new cases during the last seven days – indicating that the Omicron variant is now spreading rapidly in the region.
Among the 20 countries monitored, nine show week-on-week increases of more than 100%. In Iraq, which reported the biggest percentage rise, new cases more than quadrupled. In Sudan and Israel they more than trebled.
New infections across the region are currently running at more than 81,000 a day, based on a seven-day rolling average. The previous highest point was in August when the daily average briefly topped 73,000. Numbers then fell steadily for 15 consecutive weeks, reaching a low point of just under 12,000 cases a day in mid-December, before starting to rise again towards the end of the month.
The only countries that appear unaffected by this upward trend are Libya, Syria and Yemen, where the official figures have long been considered unreliable.
Via Al-Bab.com