Book Review – Mahmood Monshipouri, In the Shadow of Mistrust: (London: Hurst and Co., 2022).
Bonn (Special to Informed Comment) – Sixteen months have passed since the inauguration of Joseph Biden as the 46th President of the United States. As of now, negotiations to revive the agreement signed in July 2015 between the members of the UN Security Council plus Germany and Iran to limit Tehran's nuclear program — a deal formally known as the Joint Comprehensive Plan of Action (JCPOA) — appear to be in a stalemate.[1] According to informed accounts, the main point of contention is the US designation of the Islamic Revolutionary Guards Corps (IRGC), the Iranian military force officially tasked with guarding the Islamic Revolution, as a Foreign Terrorist Organization (FTO).[2] Whereas Tehran insists that the FTO designation must be removed, Washington does not seem to be prepared to take this step.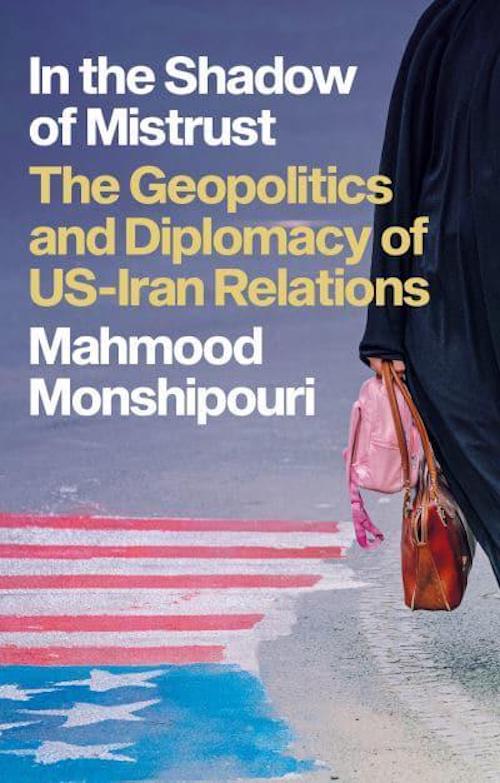 Mahmood Monshipouri, In the Shadow of Mistrust: The Geopolitics and Diplomacy of US-Iran Relations. Click here.
There is nothing exceptional in the climate of tension that currently prevails between the United States and Iran. After all, the adversarial atmosphere between the two countries has been a constant feature of global politics since the 1978-79 Iranian revolution. This notwithstanding, there were expectations that the Biden administration would soon return to the JCPOA or some variation of the initial agreement, thus undoing former US President Donald Trump's decision to withdraw from the nuclear deal in May 2018. Biden had not only occupied the position of vice-president in the Obama administration that signed the JCPOA, but had also strongly criticized Trump's Iran policy on the campaign trail.
In order to understand why diplomacy between the United States and Iran is extremely complex, one needs to move beyond the contemporary news cycle and approach the issue from a historical viewpoint, covering the more than four decades that have passed since the 1978-79 Iranian revolution. This is the conviction behind the book "In the Shadow of Mistrust: The Geopolitics and Diplomacy of US–Iran Relations," the latest work by Mahmood Monshipouri, Professor and Chair of International Relations at San Francisco State University.
Monshipouri's work is very critical of US foreign policy towards Iran. To be sure, "the history of the last forty years demonstrates that the authorities of the Islamic Republic have vigorously restricted human rights."[3] Washington's response, however, has too often been politicized and rooted in geopolitical interests. Even more problematically, draconian sanctions imposed by the US on Iran "have dramatically undercut the voices of globalization and political moderation", as they have contributed to putting the country on the defensive.[4] Ironically enough, US sanctions have benefited the vested interests of the small but extremely powerful group Monshipouri figuratively describes as "the revolutionary gerontocracy."[5] According to the author's assessment, US policy towards Iran should better follow "a holistic approach to security that places human rights on an equal footing with other strategic issues."[6]
Monshipouri explains that the United States has too often failed to understand the key drivers of Iran's international relations, to an important extent because it "frequently assumed that Iran's foreign policy is driven by ideology and ideology alone".[7] In its interactions with the Middle East, the Islamic Republic has capitalized on its Shi'ite identity on multiple occasions, such as in Iraq after the 2003 US invasion. At the same time, when geopolitical interests do not overlap with principles of Islamic ideology and solidarity, ideational components have normally taken a back seat to security and economic considerations. As an example the author refers to Tehran's siding with Armenia over Azerbaijan in the 2020 Nagorno-Karabakh War. Of note, around 65% of Azeris are Shi'ite Muslims and, consequently, a foreign policy only based on religious ideology would have dictated support for Baku. Monshipouri's arguments, although necessary, are not necessarily new. They are in line, for instance, with those of Kayhan Barzegar, Director of the Center for Middle East Strategic Studies in Tehran. As Barzegar notes, although Iran's interactions with the world can oftentimes be deeply imbued with ideology, the logic of Tehran's foreign policy decision-making process always ensures a certain "return to pragmatism."[8]
Monshipouri intelligently puts to task the much-touted notion that Tehran and Riyadh are engaged in an ongoing military buildup. The author describes the situation as "a one sided arms buildup in which Saudi Arabia has out-spent Iran by colossal amounts."[9] Iran has sought to confront the Saudis by resorting to asymmetric warfare and alliances with non-state actors but this does not obscure the fact that Tehran cannot compete with Riyadh when it comes to military spending. This is even more the case when considering the recent findings of Esfandyar Batmanghelidj, founder and CEO of the Bourse & Bazaar Foundation. Batmanghelidj has shown that the Stockholm International Peace Research Institute (SIPRI), which compiles the most authoritative database of national military expenditures, has vastly overestimated Iran's military budget for years due to a mistake in the conversion rate from Iranian rials to US dollars.[10]
"In the Shadow of Mistrust" presents Iran as being politically closer to China than some experts on bilateral relations between both countries would suggest. The author writes that Iran, especially after Trump's withdrawal from the JCPOA, "has the potential to become a Chinese client state of sorts."[11] Surprisingly enough, Monshipouri's take on Iran-China relations does not differ so much from that of US neo-conservative pundits, who warn about the dangers of "a growing alignment between Beijing and Tehran."[12]
This contrasts with the much more convincing assessment of Jacopo Scita, doctoral fellow at the School of Government and International Affairs at Durham University and an expert on China-Iran relations. Scita assesses that "it is unlikely that the relationship [between China and Iran] will move significantly forward from the status quo."[13] He explains that bilateral relations are relatively weak "in terms of policy coordination and financial integration, which are the crucial factors to enhance the quality of the relationship.[14]
Monshipouri has written a book which will likely appear to most readers as moving too often back and forth chronologically as well as thematically. This weakness notwithstanding, "In the Shadow of Mistrust" will be a useful resource for those who seek to better understand the historical roots of current tensions between Iran and the United States as well as the challenges laying ahead on the road to diplomatic re-engagement. As the author explains, the failure to reach a deal "is not an option." At the same time, "it is critically important to realize that Iran's nuclear program is a manageable—not insolvable—problem."[15]
---
[1] Maziar Motamedi, "Iran Confirms EU Envoy Visit to Save Stalled Nuclear Deal Talks," Al-Jazeera, July 5, 2022, https://www.aljazeera.com/news/2022/5/7/iran-confirms-eu-envoy-visit-to-save-stalled-nuclear-deal-talks.
[2] Laura Rozen, "U.S. on Iran Deal Deadlock: 'We Know the Status Quo Can't Endure for Long,'" Diplomatic (Substack Newsletter), June 5, 2022, https://diplomatic.substack.com/p/us-on-iran-deal-deadlock-we-know?s=r.
[3] Mahmood Monshipouri, In the Shadow of Mistrust: The Geopolitics and Diplomacy of US–Iran Relations (London: Hurst and Co., 2022), p. 94.
[4] Ibid., p. 91.
[5] Ibid., p. 129.
[6] Ibid., p. 94.
[7] Ibid., p. 256.
[8] Kayhan Barzegar, "Iran's Foreign Policy Strategy after Saddam," The Washington Quarterly 33, no. 1 (2010): 174. Retrieved from https://doi.org/10.1080/01636600903430665.
[9] Monshipouri, In the Shadow of Mistrust: The Geopolitics and Diplomacy of US–Iran Relations, p. 258.
[10] Esfandyar Batmanghelidj, "SIPRI Has Overstated Iran's Military Spending For Years," Bourse and Bazaar, May 5, 2022, https://www.bourseandbazaar.com/articles/2022/5/3/sipri-has-overstated-irans-military-spending-for-years.
[11] Monshipouri, In the Shadow of Mistrust: The Geopolitics and Diplomacy of US–Iran Relations, p. 267.
[12] Bradley Bowman and Zane Zovak, "Biden Can No Longer Ignore Growing Iran-China Ties," Foreign Policy, January 13, 2022, https://foreignpolicy.com/2022/01/13/iran-china-biden-gulf-security-military/#.
[13] Jacopo Scita, "China-Iran Relations: A Low-Quality Comprehensive Strategic Partnership," in Routledge Handbook On China–Middle East Relations, edited by Jonathan Fulton (London: Routledge, 2021), p. 176. Retireved from https://www.taylorfrancis.com/chapters/edit/10.4324/9781003034520-14/china%E2%80%93iran-relations-jacopo-scita?context=ubx&refId=1640e395-7ac6-4b5b-9f37-f828baed3bf8.
[14] Ibid., p. 172.
[15] Monshipouri, In the Shadow of Mistrust: The Geopolitics and Diplomacy of US–Iran Relations, p. 235.