Ann Arbor (Informed Comment) – California's Air Resources Board has announced a wide-ranging set of plans aimed at taking the state to net carbon zero by 2045. This step will involve radically reducing the use of fossil fuels, to the point where any carbon dioxide they emit is less than or equal to the carbon absorbed, e.g., by the state's forests and other carbon sinks. The unprecedented push for a rapid transition away from carbon emissions is likely the most ambitious in the world. If California were a country, it would have the fourth-highest nominal GDP in the world ahead of Germany, so it is a potential model for other industrialized communities.
Governor Gavin Newson remarked of the plan, "We are making history here in California, and today caps an amazing ten days for world-leading climate action." He went on to say, "California is leading the world's most significant economic transformation since the Industrial Revolution – we're cutting pollution, turning the page on fossil fuels and creating millions of new jobs."
California now consumes 1.8 million barrels of petroleum each day, mainly to fuel transportation. In the new plan, that consumption will be cut to 180,000 barrels of oil a day, one tenth the present total. Actually I'd be shocked if California was using any petroleum at all by 2045, but one tenth as much is also a huge achievement.
California has announced that this year electric cars make up 18% of new car registrations in California, compared to 6% in the US as a whole.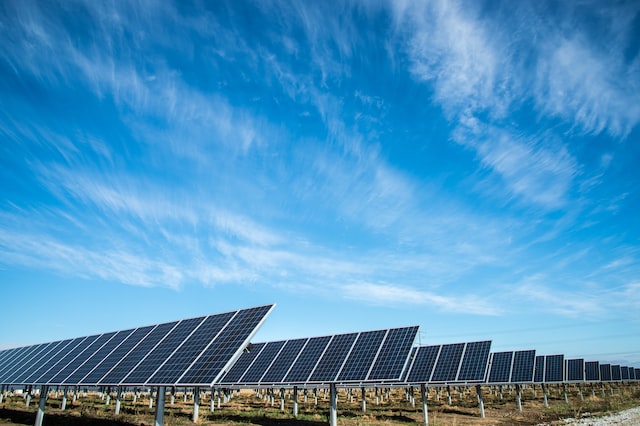 Photo by American Public Power Association on Unsplash
Moving away from petroleum as a transportation fuel will aid in another of the state's goals, of cutting air pollution by 71% by 2045. California has already had some success in reducing smog. When I was at UCLA in the late 1970s and early 1980s, we used to get alerts not to go jogging because the smog was so bad. It is better now, with emissions of most common pollutants having been cut 78% since 1970.
But there is room for improvement, i.e., another 71%. The small particles emitted by automobile tail pipes are deadly to human health. It has long been a mystery why people who don't smoke get lung cancer. For a large percentage of them, it turns out it is from the micro-particles put out in automobile exhaust.
The state estimates that cutting air pollution by 71% from today's levels will save $200 billion in health care costs.
If California can move quickly to electric vehicles and then power them with wind, solar, hydro and battery, the air will get amazingly clean and hundreds of thousands of cases of lung cancer will be avoided.
To increase green energy production, California just let offshore wind farms after the Biden administration permitted federal ocean zones to be used for these purposes. Some 583 square miles of ocean were let for bids of $757 million. The resulting wind farms will generate about 4.5 gigawatts, enough to provide electricity to 1.5 million homes. That is 11% of California's 13 million households.
The sharp turn to green energy will require local factories and generate jobs. With this plan, the state believes that its economy will grow from $3.2 trillion today to $5.1 trillion in 2045. This conclusion is further confirmation that adopting green energy saves money and generates economic growth. It isn't a burden. The state estimates that 4 million new jobs will be generated by this swift march to carbon neutrality.