I'm Frud Bezhan, regional desk editor for Iran, Afghanistan, and Pakistan. Here's what I've been following and what I'm watching out for in the days ahead.
( RFE/RL) – Fewer Iranians have protested on the streets in recent days, more than three months after the nationwide antiestablishment demonstrations erupted.
From the outset, the authorities responded to the rallies with lethal force and mass arrests. But in recent weeks, the government has used increasingly brutal tactics, including the public execution of protesters, in a bid to curb the rallies.
But that has not stopped some Iranians from risking their lives and taking to the streets, especially in the western Kurdistan region, which has been the epicenter of the demonstrations. Three days of protests and strikes were held on December 19-21, following a call for action by protesters.
More Iranians have moved their protests to their rooftops and windows as the risk of arrest and physical harm has increased on the tightly controlled streets.
Videos widely shared on social media appear to show protesters shouting from rooftops and windows late into the night in major Iranian cities in recent weeks. The practice is not new but has become more widespread recently.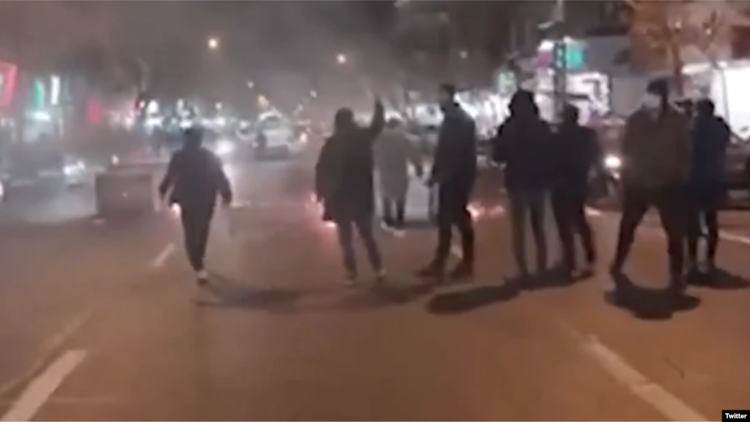 Iran has been wracked by protests since the death of a young woman in police custody in September. Via Twitter.
Why It Matters: During the protests, Iranians have found new and creative ways to continue the demonstrations. Besides resorting to shouting antiestablishment slogans at night from their rooftops and windows, some protesters have turned to protest art and graffiti.
While less dangerous, those protesting from their homes are not completely safe. Security forces have shot at and broken the windows of apartment buildings where residents have chanted antiestablishment slogans. Security personnel have also damaged cars parked outside these residential buildings.
What's Next: These acts of dissent are likely to continue and increase as the government clampdown intensifies. They are difficult for the authorities to stop and allow protesters to sustain the demonstrations with fewer risks.
Via RFE/RL
Copyright (c)2022 RFE/RL, Inc. Used with the permission of Radio Free Europe/Radio Liberty, 1201 Connecticut Ave NW, Ste 400, Washington DC 20036.