Ann Arbor (Informed Comment) – Dan Murphy at CNBC reports that the giant Saudi Aramco oil company posted an unprecedented profit of $161 billion for 2022. The company's CEO, Amin Nasser, commented that this was probably the biggest profit ever made in the course of one year by any private company.
Murphy reports that Nasser was confident that oil demand would remain high, with China opening back up, in the short to medium term. He is probably right about that. Saudi Arabia produces 11 million barrels of petroleum a day, and is working toward a capacity of 13 mn b/d by 2027.
The worry is that Saudi business people and officials don't realize that the hammer is about to drop on them. He told the Arabic Mal.com that the company's record profits were made possible by a policy of investing in oil, and he expressed confidence that oil and gas would remain necessary for the "foreseeable future."
He warned of under-investment in "energy," saying that the dislocations of 2022 showed that such under-investment opened the global economy to instability. He was referring to the Ukraine War, which has roiled petroleum markets.
I don't begrudge the head of Aramco who just made historic windfall profits his illusions, but Nasser's account is just wrong, and wrong in dangerous ways for Saudi Arabia above all.
Industrialized countries the world over are trying to get off the gasoline car with its internal combustion engine (ICE) by 2035, which is only 12 years away. It has been remarked that the future seems much further away than the past. But 12 years ago it was 2011. Barack Obama was president. Adele's "Rolling in the Deep" was the number one song for the year. It wasn't that long ago.
So 2035 is also not that long from now. What Nasser and other oil company executives have difficulty seeing is that the electric car is going to very quickly displace ICE vehicles over the next decade. EVs are rapidly coming down in price, and have the potential to become positively cheap as battery technology improves (the battery is the big ticket item in an EV).
Stanford Business School Pofessor Tony Seba has explained the phenomenon of "technological disruption." When a new technology starts being adopted, the rate of adoption begins slow, but then can take off in ways that astonish onlookers. The first iPhone was only introduced in 2007. There are now 1.6 billion iPhone users in the world. And Statistica gives the annual sales. Take a look at their graph: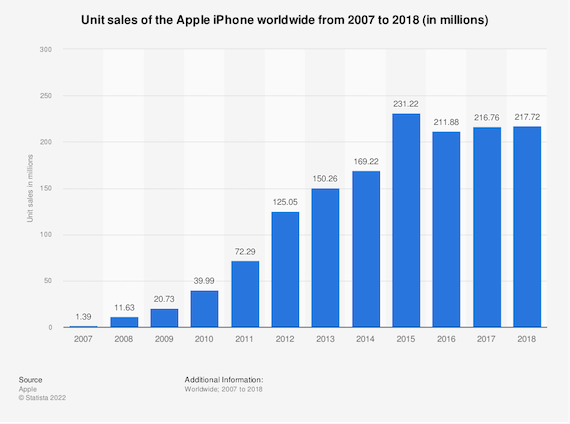 We're at the very beginning of this graph for electric car sales. But as you can see, after a few years they go huge. That will happen with EVs. That's the disruption. For telcos that depended on desk phones or phone booths, this advent of the smart phone was the kiss of death. Likewise, as soon as google maps could navigate, they killed the GPS market for private cars.
So I fear that by 2035 Mr. Nasser or more likely his successor won't know what hit him. Already, last year 18% of new car sales in California were electric. In Germany, EVs made up 31% of new car registrations in 2022. Over 60% of California's electricity comes from renewables, and about 45% of Germany's does, so that over the next decade not only will most people be buying EVs but they will increasingly be fueling them from the sun and the wind and the rivers, not from hydrocarbons.
Moreover, it appears that the climate emergency impacts of burning oil are already creating weird and dangerous climate changes that are spooking the public. The floods in California, the heat waves in Washington State and Vancouver, the devouring of seaside homes on the coast of North Carolina, are creating a highly negative view of hydrocarbons that will be fatal to the industry. There may well be riots in the street against petroleum, with gasoline stations the targets for protest.
So, sure, the need for petroleum refined into gasoline or diesel for transportation won't disappear in this decade. But it will start to dwindle in importance and demand will plummet as EVs get cheaper and cheaper and as batteries get more efficient. Most petroleum is used to fuel transportation.
So if I were Saudi Arabia, I'd take that $160 billion and invest it in something that will still make me money in 2040, which petroleum may well not. Of course petroleum may still be used to make fertilizer and plastic, but no one will pay $80 a barrel for it for those purposes. It is a stranded asset.
So Nasser is wrong. If anything way too much money is being invested in finding and exploiting new hydrocarbons, which are wrecking the earth. All energy investment should go into renewables immediately.