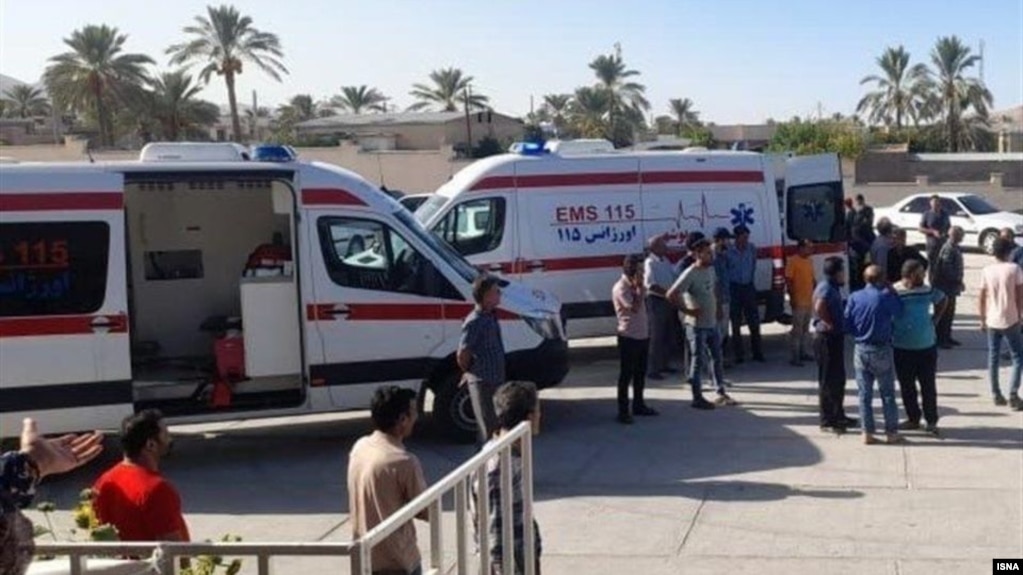 (
RFE/RL
) – Hundreds of schoolgirls have fallen sick and scores have been hospitalized in Iran's holy city of Qom in recent months, with some parents and officials suspecting they were poisoned.
But the authorities, which have launched an investigation into the mysterious wave of illnesses, have not found any evidence of poison. No deaths have been reported.
The incidents have prompted public anger, with some Iranians accusing the government of negligence. Some parents have refused to let their children attend school.
In the latest incident, 15 schoolgirls were transferred to a hospital in Qom on February 22, the Qom News outlet reported, saying the students were in stable condition and under observation.
The first incident is believed to have occurred in November, when 18 schoolgirls in Qom were taken to a hospital after complaining of symptoms that included nausea, headaches, coughing, breathing difficulties, heart palpitations, and numbness and pain in their hands or legs.
Since then, hundreds of students in Qom, mostly girls, have fallen ill with similar symptoms in a number of public schools, which are segregated by gender. Dozens have received treatment, while others have been hospitalized.
Authorities said they have not yet been able to determine the cause of the mysterious wave of sickness, despite conducting toxicology tests.
Medical experts have not found any bacterial or viral infections in blood samples taken from sick students. The authorities have not yet dismissed the possibility that poisonous gas could have caused the illnesses, with some students reporting a strange smell in their classrooms.
Iran's chief prosecutor, Mohammad Javad Montazeri, suggested on February 21 that the incidents could be deliberate. In a letter to the state prosecutor in Qom, Montazeri said the "worrying wave of some kind of poisoning" in schools in the city indicate "the possibility of intentional criminal actions."
Earlier, Mojtaba Zolnour, a lawmaker from Qom, said the illnesses were "abnormal" and security officials were investigating. Another parliamentarian from Qom, Ahmad Amirabadi Farahani, suggested that fear and hysteria could have played a role.
Some have speculated that religious extremists, in a bid to create fear and prevent girls from attending school, could be behind the incidents.
Last week, Nafiseh Moradi, a researcher of Islamic studies at Al Zahra University, an all-female public university in Tehran, said in a commentary that it was suspicious that girls, not boys, were mainly affected by the illnesses. The article on Qom News was later removed.
Many Iranians have accused the authorities of not doing enough to find the cause of the illnesses and prevent new cases. Some angry parents have refused to send their children to school.
"Of the 250 students in our school, only 50 attended classes," a teacher in Qom, who did not want to be named for fear of retribution, told RFE/RL's Radio Farda last week.
A correspondent at the reformist Shargh daily who traveled to Qom reported this week that some schools in the city were "unofficially" closed.
Last week, angry parents protested outside the governor's office and called for a transparent investigation. They also demanded that classes be held online, amid reports that the authorities were pressuring students to attend school.
An unnamed teacher at a girls' school in Qom told Shargh that they have been ordered to teach "even if only one student" was present in class. She also said students have been told not to share notes with classmates in an apparent bid to push more pupils to attend school in person.
Some students who have fallen ill have complained of an "unknown" or "unpleasant" smell.
"My son recalled that for a moment there was the smell of rotten fish in the classroom," an unnamed woman whose son became sick was quoted as saying by the Tejarat News outlet. "Then the school gave students face masks and told them to leave the classroom."
"Some of the children felt more ill than the others. Several of them were transferred to medical centers. My son was among them," the woman said, adding that her son had suffered from stomach pain.
A student who fell ill in early February told Shargh that she spent three days in a hospital.
"I still feel some weakness in my legs after 20 days, and I have problems while moving my legs," the unnamed student said, adding that two of her friends were still in the hospital.
Similar waves of mysterious illnesses affecting schoolgirls have been reported in recent years in neighboring Afghanistan and in Central Asia. In many cases, the authorities were unable to find evidence of poison. Most of the incidents were blamed on mass panic and hysteria.
Via RFE/RL
Copyright (c)2022 RFE/RL, Inc. Used with the permission of Radio Free Europe/Radio Liberty, 1201 Connecticut Ave NW, Ste 400, Washington DC 20036.