Chicago (Feature; Special to Informed Comment) – Adding another humiliating chapter to his despicable life, the twice-impeached former President becomes the first ex-president to face criminal charges. Responding to the indictment, Trump said, "Never before in our nation's history has this been done." He's right, never before in our nation's history have we had a president as corrupt, dishonorable, unethical, and malicious as Donald Trump — a gangster who did inestimable damage to the country.
Impervious to shame, Trump supposedly wanted his arrest to feature images of handcuffs, a mugshot, and a perp walk to use as promotional tools for his presidential campaign — quasi-religious relics of his MAGA martyrdom at the hands of America-hating, baby-eating leftists. His legal team argued against cuffs, video cameras, and a mugshot and the judge agreed, demonstrating an asymmetrical standard of justice for the rich and famous. Still, when he didn't get the mugshot, his presidential campaign put a fake one on a T-shirt to fund-raise off his gullible followers.
Embed from Getty Images
Former US president Donald Trump (C) appears in court at the Manhattan Criminal Court in New York on April 4, 2023. – Former US president Donald Trump arrived for a historic court appearance in New York on Tuesday, facing criminal charges that threaten to upend the 2024 White House race. (Photo by Timothy A. CLARY / POOL / AFP) (Photo by TIMOTHY A. CLARY/POOL/AFP via Getty Images).
But Trump couldn't fake everything. The images — and the details of the case itself — sent a far more sobering message than he expected. Instead of a defiant, raised-fist arrest photo, the indelible image of the day was that of a sad, humbled, seething ex-president looking angry and nervous at the courtroom defense table — a suddenly small man squeezed between his lawyers, as two armed court officers stood guard behind him to make sure he remained seated in his defendant's chair.
The 34 felony charges turned out to be more significant and more sweeping than previously suspected. Alvin Bragg, the Manhattan district attorney, detailed a broad conspiracy, with mob boss Trump at the center, to falsify business records for the purpose of unlawfully orchestrating "a scheme with others to influence the 2016 presidential election by identifying and purchasing negative information about him to suppress its publication and benefit the defendant's electoral prospects." In "Lawfare," editor and legal expert Ben Wittes writes that the case is substantiated with a "powerful array of witnesses and documents to back it up — both more diverse and more substantial than previously understood."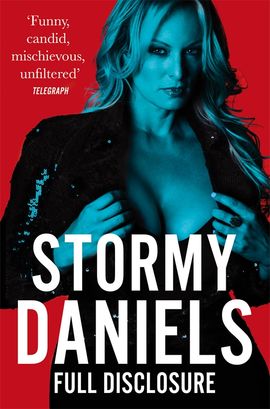 Win or lose in court, Trump is determined to pull us all with him into a fetid dumpster for as long as he can. He revels in rolling around in the garbage of his own life and grunting happily about how the rules don't apply to real elites like him. With resources that other defendants don't have, he will use legal maneuvers to tie up the court system and delay all of this, hoping he might be re-elected president before going to trial. This will be a long process made laughably longer when the judge scheduled the next hearing for December.
The past two weeks of media attention plunged us back into the Trump nightmare as he predictably resumed his serial assault on American sensibilities. He threatened, dehumanized, and demonized Manhattan DA Alvin Bragg, who is black, as a "racist" and called him a "Soros-backed animal," "a degenerate psychopath who hates the USA," and "human scum." Decrying "thugs and radical left monsters," he mused about "death and destruction" if he's indicted and summoned his shock troops to take back their country. So far, they haven't responded.
Trapped under his dark shadow, cable news on Tuesday delivered all-Trump, all-the-time coverage that included OJ-like helicopter footage of his motorcade from LaGuardia to Manhattan and interminable punditry on every aspect of the case and its political and legal ramifications. As an avid news consumer, I found myself tumbling back down the Trumpist rabbit-hole and stumbling once again into a distorted, upside-down, looking-glass world flush with the terrifying potential of Trump re-elected or the unbridled joy of Trump imprisoned as well as the absurd humor and potential violence of the spectacle.
The Trump circus bumped coverage of the day's other significant news. The pivotal race for state Supreme Court in Wisconsin, the election for mayor in Chicago, and Finland joining NATO. But, at the end of the day as Trump gave a racist, grievance-fueled, post-arrest speech in Mar-a-Lago, exciting even cataclysmic news arrived: African-American progressive Brandon Johnson narrowly defeated the conservative, police-endorsed, corporate funded Democrat Paul Vallas for Chicago mayor. With abortion rights and fair elections at stake, liberal judge Janet Protasiewicz decisively won her race for a Supreme Court seat. She flipped the ideological balance of the state's highest court, which has been controlled by a conservative majority for 15 years.
This welcome news emotionally and politically countered my drowning in the depressing ocean of lies delivered by the boring and listless accused felon, now safely cocooned in Mar-a-Lago and surrounded by a rogues gallery of election deniers, by his pathetic family notable for the absence of apparently exhausted wife Melania, and by red-hat wearing MAGA supporters displaying poor judgement in their choice of evening entertainment. This speech, like all his speeches, was the usual torturous mix of non-stop falsehoods, self-inflating hyperbole, and hateful invective.
Masking self-pity as social justice, Trump recited a greatest hits of his witch-hunt resentments interwoven with an apocalyptic take on how the country is "going to hell" without him and that "all-out nuclear World War III" is just around the corner. The rambling address was typically offensive in its attacks on the justice system and the individuals leading the Trump investigations, including their families.
Despite all this, the disgraced, defeated, arrested former president solidified his lead as the preferred candidate of the Republican party. Even his "rivals" clung to him like parasitic worms. His strongest opponent Florida governor Ron DeSantis echoed a Trump talking point, "The weaponization of the legal system is un-American. The Soros-backed Manhattan District Attorney has consistently bent the law." DeSantis ignored the fact that Trump had recently accused him of being maybe a groomer and maybe a pedophile.
DeSantis, who recently signed a bill that made it legal to carry concealed weapons without permit or training and who will sign a 6-week abortion ban, continued his pander to Trump and the MAGA marionettes. Knowing the ex-president had already agreed to surrender to authorities, DeSantis assured MAGA World that — as a great admirer of the constitution — he would defy the constitution and not extradite Trump from Mar-a-Lago, making Florida a Trump sanctuary state. Looking weak and hypocritical, DeSantis demonstrated Trump's strength as the front-runner.
The GOP is stuck in a Trump doom loop. Fox and the GOP engaged in a propaganda campaign that repeated the same messages and slogans, disseminated with small variations. Over time, credulous morons will come to accept the lies as reality. Fox news echoed Trump's calls for violent protest and warnings of Armageddon if the democrats remain in charge.
Tucker Carlson, who bashed Trump in private and said he passionately hates him, rallied for him after the indictment. Carlson warned that this is "probably not the best time to give up your AR-15." The position implied is that the price of social peace is absolute impunity for Trump. The former Fox News host Glenn Beck predicted to Carlson that by 2025 America would be "at war," "we'll have a currency collapse, and we will live in a virtual police state." The Bill of Rights is "gone."
Republicans' reaction also parroted Trump's own rhetoric that the investigation and historic criminal charges against him constitute a "witch hunt," "government weaponization," and "political persecution." From Mike Pence to Kevin McCarthy, they read from a Trump script — regurgitating the exact same language, including "blatant Election Interference" and adding the usual anti-Semitic element "Soros-backed DA."
Like Trump, they made DA Bragg a central target: "The House of Representatives will hold Alvin Bragg and his unprecedented abuse of power to account," declared McCarthy. The insistence that Trump must be held above the law — no matter his wrongdoing — courses through all these GOP responses. Former Republican Charlie Sykes described the GOP embrace of Trump by quoting from the Bible, Proverbs 26:11: "As a dog returns to its vomit, so a fool returns to his folly."
Embed from Getty Images
Former US president Donald Trump arrives to speak during a press conference following his court appearance over an alleged 'hush-money' payment, at his Mar-a-Lago estate in Palm Beach, Florida, on April 4, 2023. (Photo by CHANDAN KHANNA / AFP) (Photo by CHANDAN KHANNA/AFP via Getty Images).
Our third consecutive presidential-election cycle seems destined to feature Trump as the Republican nominee. He will plunge the country into a black hole of grievances and bludgeon the country with hammer blows of dishonesty and defamations delivered via social media, propagandistic "news" outlets, and appalling Nuremberg-style rallies, such as the recent one in Waco, Texas.
Trump celebrated the 30th anniversary of the Waco raid by federal agents on the illegally armed Branch Davidian religious sect and their maniacal leader David Koresh, a polygamist and pedophile. Resulting in 86 deaths, the attack is viewed by right-wing extremists as a seminal moment of government overreach. Trump's rally was an obvious nod to his white-wing supporters. He also defended and promised to pardon the January 6th insurrectionists, saying they will be "vindicated." Bellowing in apocalyptic language, the MAGA cult leader linked himself to cult leader Koresh as a narcissistic conman who exerts control over his members such that they "live in another dimension," according to the current Netflix documentary Waco: American Apocalypse.
Given his election subversion and insurrection incitement, Trump should have been convicted of one of his many crimes and forced into political and social exile, if not jail, years ago. Yet, thanks to the timid Attorney General Merrick Garland, the terrorist is allowed to continue terrorizing. We are still waiting for indictments in several felony cases relating to Trump's effort to overturn the election result in Georgia, his inciting of the Jan. 6 insurrection, and his mishandling of classified documents and efforts to obstruct justice.
Yet none of these cases are likely to prevent Trump from running for president. Even if he were convicted of a felony and jailed, he could still run for president from prison. The radical socialist and union leader Eugene Debs was jailed for opposing World War I, but it didn't stop his presidential campaign. From the Atlanta federal prison, Debs ran for president in 1920 and received over 3 percent of the national vote, with almost a million votes cast for him as Convict No. 9653.
More unhinged than in his final days in the White House, the repulsive wannabe dictator makes frontal attacks on American democracy far more threatening to the constitutional order than even previously. Trump strives to de-legitimize any institution that criticizes him — the press, the justice system, the courts, democracy. Infected with his burn-it-down viciousness and fearing his crazed voters, the Republican Party commits to the authoritarian and brutal future he promises — the presidency as a platform for retribution and vengeance. For them, mundane concerns like "the rule of law" mean nothing. Only one outcome is acceptable — Trump wins. Anything else is proof of the decline and fall of American democracy.
Trump's immediate goal is winning the GOP nomination, probably believing that being a major party candidate will shield him from conviction or jail in any of the cases swirling around him. Once he is the nominee, anything can happen. Thinking Trump can't possibly win in 2024 is engaging in the deepest of wishful thinking. Of course it could happen again.
Though Trump himself will be 78, he will probably run against Joe Biden — an 80-year-old incumbent whose health and every misstep will be intensely scrutinized. More importantly, Trump outperformed expectations in both his fluky 2016 win and his 2020 loss, underscoring the ghastly reality that millions of people voted for this crass, sociopathic gangster twice, and are still hoping that he will return to power. Then there is the disturbing, fascist-elevating threat of a third party, run by the moderate kamikazes called No Labels, pushing to get on the ballot in all 50 states.
On the other hand, multiple indictments — accusing him of "incitement to insurrection" and "election fraud" — will have a corrosive effect among the general electorate that will eventually determine Trump's political fate, assuming he wins the GOP nomination. Multiple court cases in multiple states will gnaw at him and overwhelm his lawyers. Further, the general electorate seems sick of MAGA and hates GOP abortion policy. Moderate Republicans and independent voters have rejected him during the past three election cycles. He may sell a few fake mugshot T-shirts, but can he sell his toxic blend of anti-democratic criminality, whining resentment, and buffoon fascism to swing-state Americans? Once more, the American political imagination reels and the stakes for American democracy could not be higher.