By Farouq Tahar, University of Sheffield | –
(The Conversation) – On March 21 2023, the mayor of London, Sadiq Khan, and Hamza Taouzzale, lord mayor of Westminster, stood on Coventry Street in central London and switched on the capital's first ever Ramadan illuminations.
Every evening throughout the holy month, 30,000 coloured lights have lit up this busy streetscape. "Happy Ramadan" is spelled out in a white florid script against a golden half-disc, supported by crescent moons, five-pointed stars and lanterns.
This marks the first time that Ramadan has been celebrated this way – not just in London's West End or the UK capital at large, but in any major European city. The significance of lighting up Piccadilly Circus during Ramadan for Muslims in Britain and around the world cannot be overstated.
Major news outlets across the Arab and Islamic world, including Al-Jazeera and Al-Arabia, have praised the initiative for the diversity and tolerance it signals within British society.
Muslims worldwide observe the holy month of Ramadan – which this year ends on the evening of Friday, April 21 – as an opportunity to reflect on their relationship with God and strengthen their faith. It is a time for prayer, charity and kindness towards others. Fasting from sunrise to sunset is seen as a spiritual practice that fosters self-discipline, patience and empathy.
In Britain, local open Iftars, where Muslims break the day's fast, have taken place for decades, with invitations to all – Muslims and non-Muslims alike – to join. Ramadan has always been an opportunity for Muslims to share their cultures with others, and for others to learn about Muslims and Islam.
In my research of Muslims' participation in architecture and urban projects across the UK, I have found that empowering these communities to co-design and shape the area they live in, so they can see their cultural and religious practices taken into account, is crucial.
Community involvement
London's Ramadan lights are the result of three years of community campaigning led mainly by the Ramadan Lights UK community group. Founder Aisha Desai set up the project in 2021 with a lit-up structure in north London (Henlys Corner on the North Circular ring road). She cited childhood memories of travelling into central London to see Christmas decorations:
As a proud Muslim, I wanted to bring some of that magic to my community.
A slightly larger structure followed in Trafalgar Square in 2022.
The current installation follows the cancellation, in 2020, of proposals by the Aziz Foundation to turn part of the Trocadero building on Piccadilly Circus into a mosque. Westminster City Council received upwards of 6,000 comments supporting the project, but 2,800 objected with a high volume of these reportedly racist in tone.
Lighting up a city for Ramadan is an invaluable opportunity for local governments nationwide to boost their Muslim communities' sense of ownership over their localities. It affords Muslims greater visibility and a sense of inclusion in public spaces.
This is important. Research shows that Muslims in the UK feel excluded most of the time, yet also negatively over-exposed whenever a public crisis related to them occurs. This is particularly notable in cities and towns such as Bradford, Burnley and Oldham in the north of England that witnessed ethnic unrest around the year 2000.
I have done extensive interviews and field work in Burngreave, Sheffield, where 60% of the population identifies as Muslim. When a public space there, Ellesmere Green, was redesigned in 2013, I found that local Muslims were not being engaged about it. The people I spoke to expressed their frustration at Christmas lights being put up without them being consulted. No similar effort was made by the local authorities to celebrate Ramadan.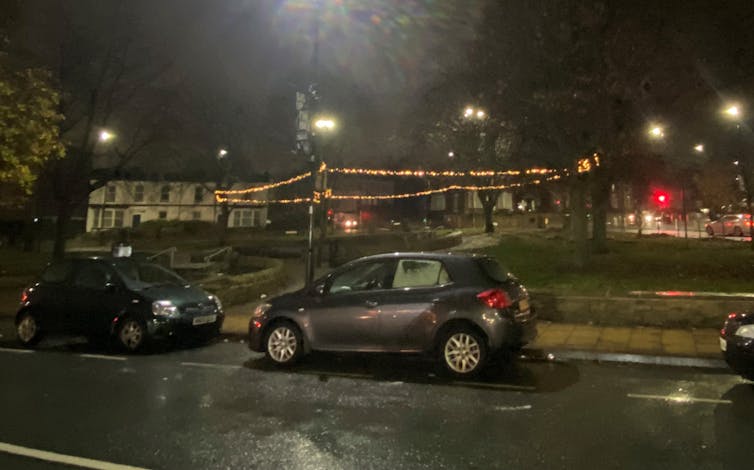 Such lack of engagement not only erodes Muslims' sense of belonging to British society. It also precludes the community from having any sense of ownership over their local public spaces.
By contrast, the open iftars that have been organised during Ramadan by the Muslim community in Sheffield this year, in several public spaces around the city, have created a welcoming atmosphere for both Muslims and non-Muslims to share.
Link FM, a local community radio station, interviewed people who attended an iftar at the Peace Garden. One woman said: "It was open, obviously. I wouldn't be comfortable going into a mosque, or going to something much more enclosed." Another said: "I think it is really bringing people together, it was really lovely."
And a Muslim attendee concurred:
This open iftar brings people of all races together – showing that Sheffield is a very diverse community; showing that our diversity is our strength as a city.
Representatives from the Darnall Education & Sports Academy , where another open iftar was held, commented on a Sheffield Online Facebook post saying:
Witnessing people from diverse backgrounds, both religious and non-religious, come together to share a meal was truly heartening. Such initiatives play an instrumental role in fostering understanding and cooperation, breaking down barriers and dispelling misconceptions. They make social cohesion, often perceived as a platitude, a tangible reality.
Similar benefits have been reaped in other cities across the north, including Nottingham, Leeds, Manchester and Bradford.
Official endorsement
Any impact this kind of initiative can have, however, is minimised when not embraced by a local authority. Official endorsement, such as the mayor of London backing the city's Ramadan lights, is necessary if the goal of bridging different communities and navigating commonalities is to be achieved.
It is highly likely that positive media coverage of London's Ramadan lights encouraged other establishments to show their values of tolerance and inclusion through open iftars. Chelsea has become the first Premier League football club to host an open iftar on the grounds of its stadium. Similar open iftars are being held in other venues around in London. Further afield, Bradford cathedral and Manchester cathedral have followed suit.
Research shows that Islamophobia is on the rise in British society. Data published by the Muslim Census found that 92% of Muslims believe Islamophobia exists within the UK government.
In its heightened focus on Muslim radicalisation, the recent review of Prevent, the UK counter-terrorism strategy, risks further exacerbating such Islamophobic sentiment. And a forthcoming independent report, commissioned by the Ministry of Housing, Communities & Local Government, on how the UK government engages with faith organisations, is reportedly set to call for stricter measures to be implemented on Muslim groups. Pundits and scholars alike say this will deepen the divide between Muslims and the wider community.
In this context, any initiative that signals social inclusion within the public square – the urban environment that all communities share – is crucial.

Farouq Tahar, PhD Researcher in Architecture, University of Sheffield
This article is republished from The Conversation under a Creative Commons license. Read the original article.