Adam Lenhart Music: "Two Scenes from The Rubáiyát of Omar Khayyám – University of Michigan 2023 CoLab Concert Performance"
Two Scenes from The Rubáiyát of Omar Khayyám (2022) ~ Trio for Bb Clarinet, Violin & Piano Performed by Alan Sun, Alex Vershinin and Emma Fu Video and Audio by Nelson Walker
"The Rubaiyat of Omar Khayyam is a Persian poetry collection first put together in 1460 in Shiraz. It consists of quatrains, four-line poems, with a set of unconventional themes. The poetry is irreligious and questions the afterlife and God's providence. It shows keen awareness of the shortness of life and the finality of death. It advises therefore that every fleeting moment of every day should be savored, with wine, lovers and song. The combination of a serious philosophy of life and a carefree attitude has made the poetry popular for centuries. In 1859, Edward FitzGerald brought out a loose English translation that took the world by storm. It became the most beloved and widely known poem in the English language for decades until its popularity finally faded in the late twentieth century. Although they were attributed to the great mathematician and astronomer, Omar Khayyam (d. 1131), the poems were by many anonymous hands, and he was just a frame author, akin to Scheherezade in the Arabian Nights." – Dr. Juan Cole, Richard P. Mitchell Collegiate Professor of History at the University of Michigan
About the Composition of Adam Lenhart: "Two Scenes from The Rubáiyát of Omar Khayyám" explores and embodies two of the main themes that carry throughout the quatrains of the poem collection. In FitzGerald's translation, the quatrains follow a day to night cycle. The two movements reflect this by starting off with an abrupt "wake up" section and ending the piece with a nocturne. The first movement, "Wine", celebrates the camaraderie, joy and chaos that comes through the physical joy of being with friends. The clarinet, violin and piano interact in a conversational way, talking, laughing, and insulting one another in their own independent lines.
The second movement is entitled "Intimacy" and explores the emotional joy of connecting with one another. The movement is set in a waltz style dance and draws influence from Chopin, Liszt and other romantic era composers. This is juxtaposed by youthful and energetic phrases so that the piece embodies all forms of love: young love, years of marriage and even friendship. Each movement has a sense of urgency and density which is present in the rubá'iyát as well, expressing to the reader that our time on Earth is so short and to make the most of each day.
Purchase this score at: https://www.sheetmusicdirect.com/en-U… Watch the score follower video at:
• Two Scenes from T… Movement I, "Wine": 0:00 Movement II, "Intimacy": 3:52
For the Cole translation:
For the earliest collection of verse attributed to Omar Khayyam see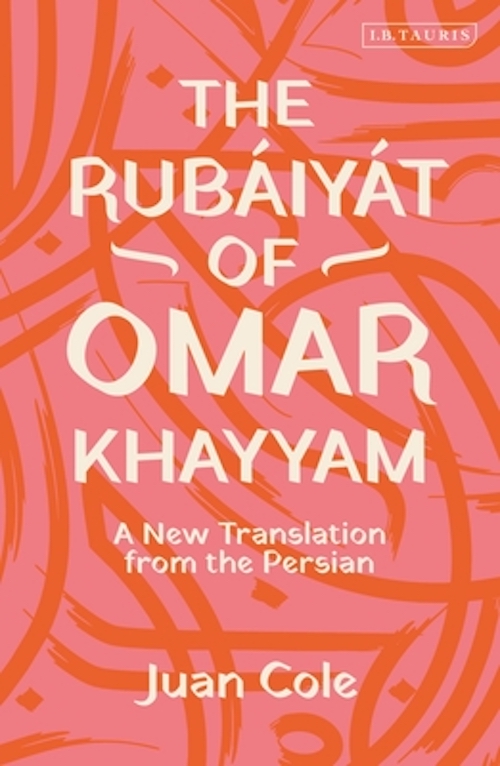 my The Rubaiyat of Omar Khayyam: A New Translation from the Persian
Order from
or Schuler Books in Ann Arbor.
or Literati Bookstore in Ann Arbor.
or Barnes and Noble.
or Amazon
Reviews:
"'To read Juan Cole's deft, plain-spoken translation of the Rubáiyát
is to find companionship, to rejoin a thousand-year human
conversation about how to endure, enjoy, and find a fleeting beauty
in everlastingly dire times. The lucid, cogent and mind-opening
Epilogue is a kind of grace, a gift freely given, from one of our
most astonishing and generous intellects.'"
– Michael Chabon, Pulitzer Prize winner and author of Moonglow (2017)
"'Omar Khayyam is a Persian treasure and Juan Cole's new
translation brings him anew to Western audiences who
for centuries have been both delighted and educated by this
medieval sage! Reading The Rubáiyát is a thrill – you feel the
echoes of the 12th century seamlessly into our 21st, as this is
a holy book of wisdom and magic. In another perilous era for
Iranians, it's wonderful to see this enchanting volume make
its way through the world yet again!'"
– Porochista Khakpour, novelist, essayist and author of Brown Album (2020)