As pandemic restrictions fade, students are finding innovative ways to end higher ed's many ties to the fossil fuel industry.
(
Waging Nonviolence
) – From late November through early March of this year, visitors to the University of Washington Career Center in Seattle would have found students sitting in a circle on the floor, some doing homework on laptops as they participated in one of the longest-running recent climate protests at the school. Their goal: to convince the UW administration to establish a policy banning fossil fuel companies from coming to campus to recruit students to work for them.
"We're trying to dismantle the fossil fuel industry's presence at UW and their hold on the larger American public," said Brett Anton of Institutional Climate Action, or ICA, the Washington state-based student group that organized the sit-in. For weeks, as many as 30 students at a time participated in the protest, which initially took place throughout the Career Center's open hours before transitioning to a shorter window of time every afternoon. For some participants, balancing climate activism with school responsibilities presented real challenges.
"I maybe overdid it a bit," said ICA organizer Lauren Henrie, who joined the sit-in every weekday from 9 a.m. to 5 p.m. during the first few weeks. "But being in this together with a bunch of other students excited about taking action for the climate felt really good. At first it was just members of our organization. Then more people joined as they found out about the sit-in."
The push to end fossil fuel company recruitment at Washington state's largest university represents one way climate activists have begun increasing their efforts to challenge the coal, oil and gas industries wherever their presence is felt at higher education institutions. This focus has given a distinctive new flavor to a student-led climate movement reasserting itself as COVID-related restrictions fade into memory.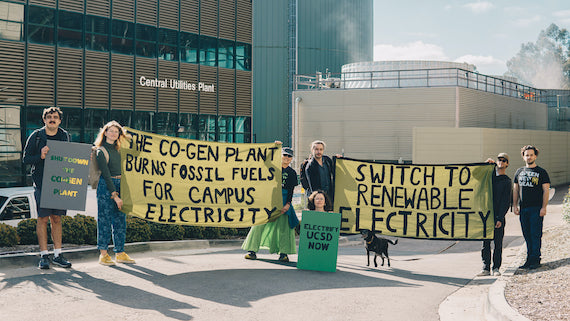 Green New Deal at UC San Diego members protest outside the school's methane gas cogeneration plant. (Facebook/Green New Deal at UC San Diego)
At the height of the pandemic, shuttered campus buildings and online-only classes made many forms of in-person climate activism almost impossible for college students. Even as some aspects of campus life returned to normal last school year, COVID-related restrictions on large public events continued to create challenges. It would have been easy to predict that the climate movement, which has long relied heavily on student organizing, would take years to recover.
However, as we draw toward the end of the first largely pandemic restriction-free school year since 2020, the picture emerging of campus-based climate activism is anything but subdued. In fact, students are finding more ways than ever to target the fossil fuel industry.
Recovering from a pandemic
By at least some measures, climate organizing at many colleges and universities never really went on pause during the pandemic. Student activists continued winning victories, especially when it came to the push to divest higher education institution endowments from fossil fuel companies. A sampling of schools that announced new divestment commitments during the era of COVID restrictions includes Columbia University, Tufts, Rutgers, Amherst, University of Southern California, University of Michigan and Harvard.
Student activists from the generation of Zoom, Instagram and TikTok used online platforms to coordinate their plans, organize events and even set up virtual meetings with decision makers. Still, the limitations of online activism are real, and the difficulty involved in holding in-person events made it harder to pressure campaign targets in highly public ways. At least some of the successes won by the divestment movement during this period came partly thanks to years of in-person organizing before the pandemic.
At Harvard, students fought for divestment for over 10 years, engaging with the administration and organizing direct action protests that set the stage for a September 2021 announcement that the Ivy League school will let its existing investments in the fossil fuel industry expire. Maintaining this kind of momentum required a return to in-person activism after pandemic restrictions ended — and climate activists at Harvard have taken that need seriously. Even as COVID continued dominating headlines, students were hatching a new campaign that is now pushing Harvard and other schools to ban fossil fuel companies from funding research projects, especially those related to climate change.
"Divestment has shown the kind of impact climate activism can have on university administrations," said Divest Harvard organizer Phoebe Barr. "Now it's time to ask more of academia."
Fossil Free Research has become a national movement in its own right with active campaigns on a growing number of college campuses in the U.S. and beyond. Last fall, Princeton became the first U.S. university to announce it would limit research partnerships with the most polluting fossil fuel companies. In April of this year, on the other side of the Atlantic, VU Amsterdam unveiled a more comprehensive policy widely regarded as the strongest fossil free research commitment of any university to date.
These recent wins represent one example of how the new wave of climate organizing sweeping college campuses is successfully targeting the fossil fuel industry not only through the tried-and-true strategy of divestment, but also by seeking to dismantle higher education institution relationships with coal, oil and gas companies wherever they exist.
Divest, decarbonize, dissociate
On this year's Earth Day, students gathered at the University of California-San Diego for a rally and march calling on the school to decarbonize the campus and dissociate itself from the fossil fuel industry. Activists were riding high on a partial victory thanks to an announcement a few days earlier, when UC San Diego Chancellor Pradeep Khosla made a public statement supporting the goal of moving the university to 100 percent clean energy by 2030. This win was a long time in the making, as students had pushed for years to transition away from the methane gas cogeneration plant that meets over 80 percent of the school's energy needs.
"University campuses are very energy dense," said Adam Cooper, a PhD candidate and member of the group Green New Deal at UC San Diego. "Higher education institutions like to operate as their own micro grids, especially here in California. Seven out of the 10 UC campuses produce energy through on-campus methane power plants, which has a significant climate impact."
Reducing the carbon footprint of universities has always been a goal of campus-based climate activism, but such efforts historically tended to focus on energy efficiency or small-scale renewable energy generation. More recently, students at schools like UC San Diego have turned their attention to phasing out on-campus fossil fuel use altogether. This work has taken on added importance in parts of the country where state and local lawmakers are embracing clean energy.
"California and the city of San Diego are leading the way on the transition to renewables," Cooper said. "Meanwhile, 80 percent of our energy on campus comes from a methane cogeneration plant. It's gotten to where UC campuses are among the highest carbon emitters in the progressive cities where they're located."
Continuing to rely on fossil fuels while surrounding communities embark on an energy transition can be a public image liability for colleges, especially schools that have built a reputation as climate innovators. "I came to UC San Diego because we're a powerhouse when it comes to climate science," Cooper said. "Our Scripps Institution of Oceanography manages the Keeling Curve used to track global CO2 concentrations. We have Nobel prize-winning researchers. I thought I was coming to an institution that was both studying climate and taking climate action, but then I realized there's actually a lot of fossil fuel influence here."
On Earth Day, as they celebrated progress toward decarbonizing, students from Green New Deal at UC San Diego announced the group was joining the Fossil Free Research movement by pushing for an end to industry funding of climate research at campus institutions like Scripps. The organization sees this as a natural step for a school that, along with the rest of the University of California, committed to divestment in 2019. "We've won divestment, and now we're in the middle of decarbonization," Cooper said. "The next stage is complete dissociation from the fossil fuel industry."
Of course, while a growing number of colleges and universities have already committed to divest, many others have not, and pushing for divestment remains an important goal at these institutions. "We're trying to end the normalization of the fossil fuel industry," said Mason Manley, a member of the University of Richmond's divestment campaign. "Divesting is a way of saying we don't agree with what these companies are doing, and that universities should not be investing in the destruction of their own students' future."
To say divestment as a strategy has been eclipsed by other approaches to targeting the fossil fuel industry at colleges and universities would be inaccurate. Rather, divesting is as important as ever, but it can now be seen as one plank in a more comprehensive approach climate activists are taking on college campuses.
"As more and more institutions divest, we're removing the moral license of fossil fuel companies to operate," said Zoe Cultrara, another member of University of Richmond's divestment campaign. Decarbonization and dissociation are additional steps that advance the same goal.
By seeking to undermine the social legitimacy of fossil fuel companies wherever they appear on college campuses, today's student climate activists are following a playbook other major social movements have followed with proven success.
Leading by example
In the 1960s and '70s, college peace activists protested the presence on their campuses of recruiters for the U.S. Army and companies like Dow Chemical, maker of the napalm used in Vietnam. By challenging the military and weapons manufacturers' license to operate at higher education institutions, young activists helped position the anti-war movement of that time as a response against not just a single war, but the violence of the larger military-industrial complex. The effects of their activism continue to reverberate in U.S. politics today. Now, climate activists have embarked on a similar mission to damage coal, oil and gas companies' reputation.
"Our goal is to draw attention to how the fossil fuel industry has undercut society's response to the climate crisis," said Henrie of ICA at UW — which, like Harvard and UC Sand Diego, has already committed to divest. And while the sit-in at the UW Career Center ended in March, students like Henrie are continuing their push for an end to fossil fuel recruitment, research and power on campus. They are also making plans to escalate, including with a walk-in protest at the plant scheduled for May 19.
"As a university we claim to be a climate leader, and we do lead on the science," Anton said. "Our professors and students do great work researching climate change. But if a leader in the climate science space continues to delay taking action as an institution, that doesn't say good things about meeting the goals we as a society need to reach."