Review of Jonathan G. Leslie, Fear and Insecurity: Israel and the Iran Threat Narrative (London: Hurst and Co., 2022).
Munich (Special to Informed Comment; Feature) – "Words have consequences," writes Jonathan G. Leslie on the last page of his book "Fear and Insecurity: Israel and the Iran Threat Narrative." He argues that the predominant Israeli narrative on Iran, which originates in official statements and media reports, creates an outsized image of Iran's threat to Israel.[1] Leslie is an adjunct professor and consultant at the Center for Security Studies at Georgetown University, Washington.
There is no denying that Iranian leaders often espouse anti-Semitic tropes. In one of the most disgraceful examples, then Iranian President Mahmoud Ahmadinejad's said in 2009 that the Holocaust was a myth. Moreover, Tehran supports groups such as Hezbollah and Hamas that regularly target Israel. Direct rhetorical threats against Israel are also common in the speeches of Iranian officials. Last month, Iran's President Ebrahim Raisi pronounced a speech stating that the slightest Israeli move against Iran would "bring about the destruction of Haifa and Tel Aviv."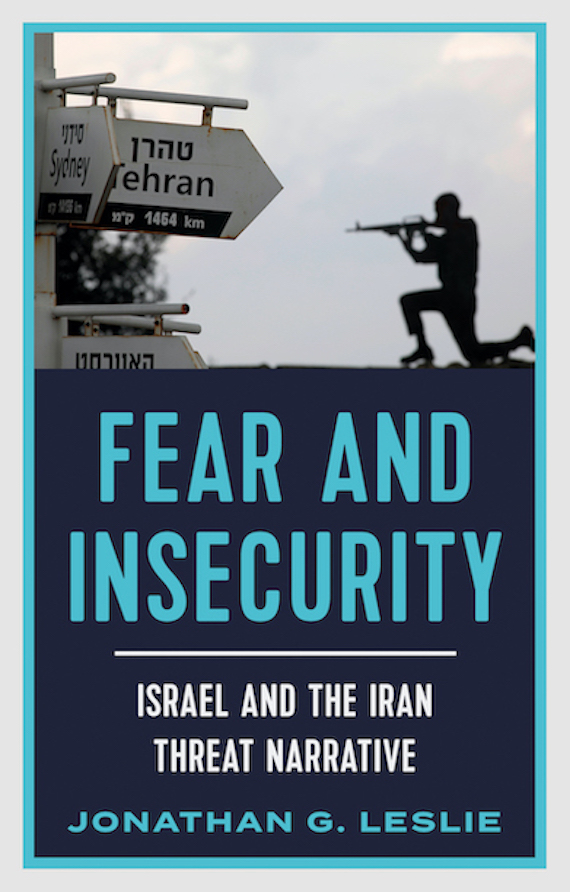 Jonathan G. Leslie, Fear and Insecurity: Israel and the Iran Threat Narrative (London: Hurst, 2022). Click Here
Still, the behavior of Iranian leaders does not validate what Leslie calls the "Iran Threat Narrative." This is a vision that paints Israel as being perpetually on the brink of falling victim to the fanatical Iranian regime. The narrative is largely at odds with the fact that Israel is a richer and militarily stronger state than Iran. Israel does not only possess nuclear weapons but has also long been a close ally of the world's biggest military power, the United States. Iran has progressively accumulated weapons-grade nuclear material after the Trump administration withdrew in May 2018 from the Joint Comprehensive Plan of Action (JCPOA) that constrained Iran's nuclear program. However, Iran remains a non-nuclear state. And, for all of Raisi's efforts to establish partnerships away from the West, neither Russia nor China will offer Iran the level of support Israel receives from Washington.
Leslie convincingly argues that Israeli Prime Minister Benjamin Netanyahu is the key personality to understand the emergence and strength of the Iran Threat Narrative. There were prior indicators of what was to come. The author explains that in 1996 Shimon Peres became the first Israeli prime minister to publicly compare Iran to Nazi Germany. But it was Netanyahu, especially after his return to power in 2009 – he had previously been prime minister from 1996 to 1999 – who "transformed the Iran threat from a technical security challenge into a moral crusade, his tropes echoing the titanic and multigenerational struggle between good and evil," notes Leslie.[2]
In an academic article on Netanyahu's populist foreign policy, Leslie referred to an illustrative speech given by the Israeli prime minister at the American Israel Public Affairs Committee (AIPAC) Policy Conference in 2014. In his address to the US pro-Israel lobby, Netanyahu contrasted the "humane" and "compassionate" State of Israel, which represents a "force for good" in the world, with the "forces of terror" embodied by Iran and its proxies, who are "steeped in blood."[3]
There are several reasons that explain why Netanyahu has been so successful in pushing forward his Iran Threat Narrative. Firstly, it "is far easier to sustain a mobilized constituency against a problem or enemy than it is to implement a policy solution."[4] Secondly, a nuclear threat is an intangible one – different from rockets fired from the Gaza Strip, for instance – making its veracity more difficult to contest by the broader public, which normally has a scant understanding of the topic. And thirdly, and equally importantly, Netanyahu has always had a cavalier attitude toward truth. This could be seen in 2012, when the Israeli prime minister declared Iran was one year away from producing a nuclear bomb. Not only has this warning failed to materialize more than a decade afterwards, but leaked documents later showed that Israel's secret service, the Mossad, was fully aware back in 2012 that the evidence did not support Netanyahu's claims.
It is uncertain to which extent Netanyahu actually believes in the Iran threat. What is clearer, explains Leslie, is that the narrative he has built around an ever-threatening Iran has proven useful. On the international front, although only to a certain extent, it has diverted attention from Israel's occupation of Palestine. Internally, it has provided Netanyahu with a platform "for positioning himself as a strong leader who merited voter support."[5]
The Iran Threat Narrative is built around the idea that Iran is close to having a nuclear bomb and, even more significantly, that the power holders in Tehran are so fanatical that they would use nuclear weapons if they had access to them regardless of the consequences. After all, there are already nine nuclear states in the world. The point, or so the Iran Threat Narrative goes, is that Iran is different. Israeli media reports have long portrayed Iranian leaders as "irrational and lacking in self-restraint."[6] To Netanyahu, it seems obvious that the Islamic Republic will "always be led by a 'madman' or 'villain'," writes Leslie.[7]
Netanyahu's actions have, paradoxically enough, made the Iran threat more real. The conservative leader put considerable effort into lobbying Trump against the JCPOA. As Leslie details, Netanyahu soon recognized that "the best strategy for moving Trump to action would be an appeal to his ego."[8] The JCPOA was Obama's signature international agreement, and the Israeli prime minister fed Trump's conviction that he could either negotiate a better deal or lead the United States in a confrontation with Iran. Netanyahu's tailored approach to Trump included a visit to the TV show Fox & Friends, the former president's favorite TV program, and a Twitter offensive against the deal, knowing perfectly well that Trump was an avid user of the social platform.
In May 2019, exactly one year after Trump abandoned the JCPOA, Tehran re-started some of the nuclear activities that had been put on hold to comply with the deal. The Iranian leaders had grown tired of waiting for a renegotiation of the agreement or a workable European Union mechanism that would guarantee the economic benefits of the deal even without the participation of the United States. During the last few years, the International Atomic Energy Agency (IAEA) has seen its access to Iranian nuclear facilities progressively reduced, in parallel to Iran's growing uranium enrichment. The election of a conservative parliament in 2020 and the hardliner Raisi as president in 2021 further complicated the situation.
One of the most original aspects of Leslie's research is his study of the frequency of mentions to Iran in the speeches of the main Israeli politicians. In 2010, Netanyahu's first full year as prime minister after a decade out of power, the Likud leader mentioned Iran twice as often as his predecessor Ehud Olmert in 2008, his last full year as prime minister. This supports Leslie's thesis that Netanyahu changed the rules of the game regarding the perception of Iran as a threat within Israel.
But more relevant than this is perhaps the fact that Netanyahu doubled the frequency of his mentions to Iran in the 2013-2015 period as compared to the 2010-2012 period. Leslie remarks that "Netanyahu averaged more attacks on Iran in his speeches and public statements during the Rouhani administration than during the Ahmadinejad years."[9] It might appear counter-intuitive that the moderate Iranian President Hassan Rouhani, who engaged the international community to regulate Iran's nuclear program, was perceived as more threatening than his bellicose predecessor. But there are strong reasons to assume that what Netanyahu feared even more than a nuclear Iran was an Iran re-integrated into international society. His efforts to dynamite the JCPOA speak in favor of this thesis.
Leslie aptly identifies some of the recurring themes in Israel's depiction of Iran. In this sense, his study of the increasingly frequent appearance in the Jerusalem Post of the terms "Ayatollahs" and "Mullahs", both simplistic but widespread terms to refer to Iran's ruling class, is particularly illuminating. This notwithstanding, it would have been interesting to find in the book an analysis of how vilifying attributes depicting Iran can be understood within broader Israeli and Western discourses rife with Orientalist beliefs. These discourses gained new strength with the beginning of the so-called "War on Terror" after the 9/11 terrorist attacks and President George W. Bush's "Axis of Evil" speech in 2002, where he presented Iran alongside Iraq and North Korea. In his book "Covering Islam: How the Media and the Experts Determine How We See the Rest of the World," published in 1981, Edward Said already analyzed how the US media resorted to Orientalist tropes in its coverage of the hostage crisis that followed the storming of the US embassy in Tehran by Khomeini followers in 1979.
In "Fear and Insecurity", Leslie convincingly demonstrates that words have consequences and that these can be profound. Considering that most works on Iran-Israel tensions have focused on the material dimensions of the confrontation, the author's focus on the power of discourse, which he skillfully dissects, is a most refreshing perspective. In the brief interregnum between Netanyahu's fifth and sixth governments, from June 2021 to December 2022, prime ministers Naftali Bennet and Yair Lapid closely followed the Likud's leader line when it came to Iran. Thus, everything seems to indicate that the Iran Threat Narrative has come to stay.
[1] Jonathan G. Leslie, Fear and Insecurity: Israel and the Iran Threat Narrative (London: Hurst and Co., 2022), p. 225.
[2] Ibid., p. 31.
[3] Jonathan G. Leslie, "Netanyahu's Populism: An Overlooked Explanation for Israeli Foreign Policy," The SAIS Review of International Affairs 37, no. 1 (2017): 77.
[4] Leslie, Fear and Insecurity, p. 18.
[5] Ibid., p. 152.
[6] Ibid., p. 118.
[7] Ibid., p. 157.
[8] Ibid., p. 187.
[9] Ibid., p. 169.