I'm RFE/RL correspondent Golnaz Esfandiari. Here's what I've been following during the past week and what I'm watching for in the days ahead.
The Big Issue
( RFE/RL ) – A revolutionary court in Iran this week began the trials of two female journalists who helped break the story of Mahsa Amini's death.
Amini's death in September soon after she was arrested by Iran's morality police for allegedly violating the country's hijab law triggered months of nationwide protests against the clerical establishment.
Reporters Nilufar Hamedi and Elahe Mohammadi helped expose the case of Amini to the world by reporting, respectively, from the hospital where she died and her funeral.
The women, who have been held in pretrial detention since September, face a number of charges that include "collaborating with the hostile government of America, conspiracy and collusion to commit crimes against national security, and propaganda against the establishment."
The trials are being held behind closed doors, despite widespread calls inside and outside Iran for them to be open to the public. The women have complained that they were allowed to meet their lawyers only last week.
Hamedi denied all charges against her as her trial began on May 30, her husband said. The 30-year-old said she "had performed her work as a journalist within the framework of the law and did not take any action against Iran's security," her husband, Mohammad Hossein Ajorlu, wrote on Twitter.
Mohammadi's trial began a day earlier. Her lawyer, Shahabeddin Mirlohi, said the Tehran Revolutionary Court was not qualified to rule on the cases. Revolutionary courts mainly deal with prominent political cases and are seen to be less regulated and more hard-line in their judgments than ordinary courts.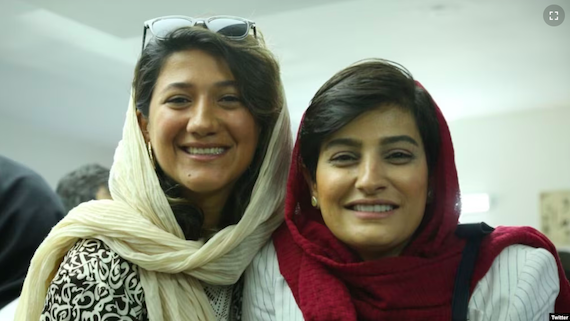 Reporters Nilufar Hamedi (left) and Elahe Mohammadi helped break the story of Mahsa Amini, whose death in police custody sparked outrage in Iran. (file photo)
Why It Matters: Hamedi and Mohammadi are being tried for simply doing their job.
Hamedi of the Shargh daily had reported from the Tehran hospital where Amini died from the injuries she allegedly suffered in custody.
Mohammadi of the Hammihan daily reported from Amini's funeral in her hometown of Saghez, where the first protests erupted.
Their cases have highlighted the Iranian authorities' renewed crackdown on dissent in the wake of the antiestablishment protests.
What's Next: Rights groups and media watchdogs are closely watching the trial of Hamedi and Mohammadi, who have both been hailed for their reporting and honored by the UN Educational, Scientific and Cultural Organization (UNESCO).
Shargh editor-in-chief Mehdi Rahmanian expressed hope that the two will be acquitted and able to return to their jobs.
But the fact that the trials are being presided over by hard-line judge Abolqasem Salavati, who is known for handing out harsh sentences, is potentially bad news for the reporters . . .
That's all from me for now. Don't forget to send me any questions, comments, or tips that you have.

Until next time,
Golnaz Esfandiari
Via RFE/RL
Copyright (c)2022 RFE/RL, Inc. Used with the permission of Radio Free Europe/Radio Liberty, 1201 Connecticut Ave NW, Ste 400, Washington DC 20036.