Ann Arbor (Informed Comment) – The World Meteorological Organization reports the results of a study by the European Union-funded Copernicus Climate Change Service (C3S), which found that the past three months were the hottest 90-day period in recorded history.
UN Secretary-General António Guterres responded to the report by saying, "Our planet has just endured a season of simmering — the hottest summer on record. Climate breakdown has begun. Scientists have long warned what our fossil fuel addiction will unleash. Our climate is imploding faster than we can cope with extreme weather events hitting every corner of the planet. Surging temperatures demand a surge in action. Leaders must turn up the heat now for climate solutions. We can still avoid the worst of climate chaos — and we don't have a moment to lose."
The WMO reports that we just had the hottest August on record, and it wasn't just a little bit hotter than all other Augusts since 1880, it was hotter "by a large margin." And the only month hotter in nearly a century and a half was July 2023. The records fell away mostly because of a baseline of human-caused climate change– we've heated up the planet by 2.16 degrees F. (1.2 degrees Centigrade) over the late nineteenth century average. In addition, this year we have an El Nino phenomenon– the trade winds between Asia and South America are pushing west, bringing unusually warm water to the South American coast, which has a wide-ranging effect on the whole globe, and tends to heat things up. But most of the extra heat we're seeing is human-caused, since we've been burning coal, petroleum and fossil gas and putting billions of tons of heat-trapping carbon dioxide into the atmosphere.
The Antarctic is very distant and very cold, and usually has a great deal of sea ice in the summer (the southern hemisphere's winter). This year there was 12 percent less sea ice at the South Pole than usual. The Climate Crisis is heating up the oceans, and some currents are bringing warm water down to Antarctica. This heating up of Antarctica is not good, because its surface ice is holding back gargantuan glaciers. If these huge ice blocks plop into the ocean, some of them could raise sea levels by several feet all on their own.
This summer we saw a long-lasting heat dome over the US Southwest and Mexico. People who fell down on Phoenix sidewalks got third degree burns. Canada's forests burned. In June some 400 wildfires were eating up the forest, with over half classified as "out of control." At some points the smoke went south and made visibility almost zero for a while in cities like New York. The tropical island of Maui, once wet and humid and lush, suffered dryness this summer and then a cyclone off its coast helped it go up in flames. Neither a hot Canada nor a dry Hawaii was normal before the climate crisis. But climate change is pushing the clouds over Hawaii up higher and bringing less rain as a result.
Americans are often quite insular, since North America is sort of a big island between the Atlantic and the Pacific, and our corporate news companies tend not to cover the rest of the world. Watching cable news on TV in the US, you would never guess that France or Germany or Spain even exist, except occasionally as helpmeets via NATO in President Biden's Ukraine campaign against Russia. The same invisibility afflicts Mexico and Brazil except when there is an election.
In fact, the summer was as alarming in Europe as in North America. This week two large low pressure systems to the east and west of the continent were kept in place by a heat dome over Italy and Central Europe. The result was unusually hot temperatures in Italy and Germany, and heavy flooding in Spain to the west and Greece, Bulgaria and Turkey to the east.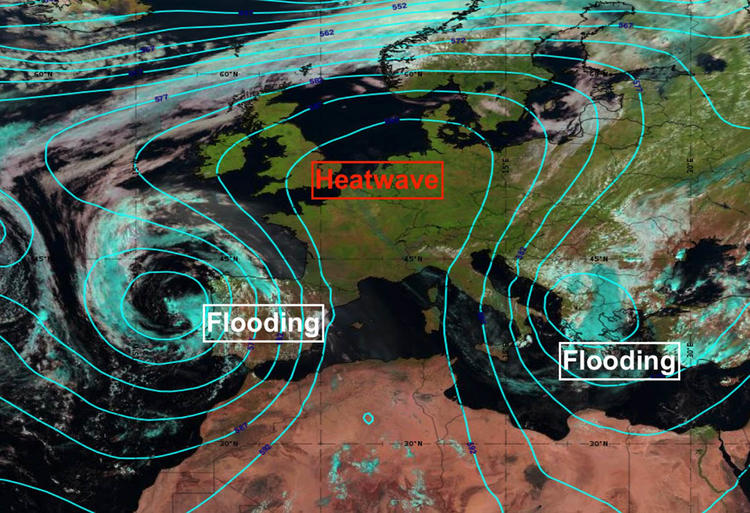 Satellite image h/t severe-weather.eu
This week Greece received all of its annual rainful twice over in the space of half a day. Flash floods submerged entire villages, turning their regions into new lakes. These floods came on the heels of a rash of wildfires. Climate change delivered a one-two punch. There is even a danger that a Medicane or Mediterranean Hurricane will strike Greece this weekend. Hot sea water creates hurricanes and cyclones, and the Mediterranean has heated up to the point where it capable of generating these powerful storms.
I'm not sure I would call it "climate breakdown." But it is a breakdown in normalcy of a dire sort that could threaten human civilization. Imagine if the storms get so fierce and long-lasting that they knock down all the electricity poles. We'd have to redo the entire electrical grid and bury it under the earth in order just to have electricity, which is the basis for civilized life.
None of this is normal. And things will go on getting less and less normal as long as we continue to put billions of tons of heat-trapping gases into the atmosphere every year.