Michigan members of Congress speak out on ongoing violence in Israel
( Michigan Advance) – Israel on Sunday formally declared war on Hamas after the Islamist militant group waged a series of deadly attacks out of Gaza, a Palestinian territory. More than 1,100 people are reportedly dead — at least 700 in Israel and more than 400 in Gaza, the Associated Press reported.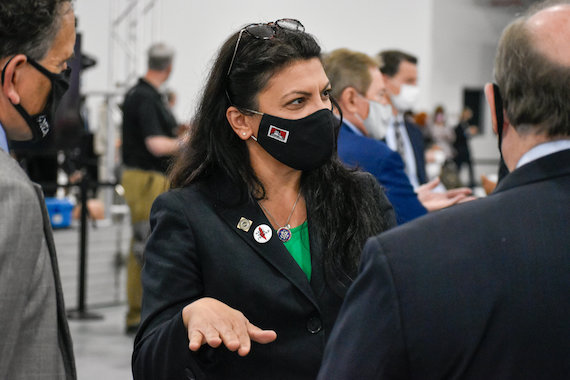 Nine Americans died in the attacks, MSNBC reported Monday morning. On a phone call with Israel Prime Minister Netanyahu, President Joe Biden pledged additional U.S. support in the coming days for the Israeli Defense Forces.
This is the deadliest day in the Jewish State in a half-century since the Yom Kippur War. Members of Michigan's congressional delegation have spoken out about the ongoing violence.
U.S. Rep. Rashida Tlaib (D-Detroit), the daughter of Palestinian immigrants has been one of the most outspoken critics of Israel. In a statement released Sunday, Tlaib said she grieved the loss of "Palestinian and Israeli lives" but did not mention Hamas, while calling for "ending the occupation, and dismantling the apartheid system."
"I grieve the Palestinian and Israeli lives lost yesterday, today, and every day," Tlaib said. "I am determined as ever to fight for a just future where everyone can live in peace, without fear and with true freedom, equal rights, and human dignity. The path to that future must include lifting the blockade, ending the occupation and dismantling the apartheid system that creates the suffocating, dehumanizing conditions that can lead to resistance.
"The failure to recognize the violent reality of living under siege, occupation, and apartheid makes no one safer," she said. "No person, no child anywhere should have to suffer or live in fear of violence. We cannot ignore the humanity in each other. As long as our country provides billions in unconditional funding to support the apartheid government, this heartbreaking cycle of violence will continue."
Some Democratic and Republican lawmakers have criticized Tlaib's statement.
"This statement refuses to acknowledge 10/7 for what it was: a shocking act of terrorism," said state Sen. Jeremy Moss (D-Southfield) on Twitter.
"Hamas violence is not some mere effect of resistance; it is a primary cause of instability in the region that prevents both Israelis and Palestinians from living in peace without fear," he added.
U.S. Rep. Greg Murphy (R-N.C.) said on Twitter: "To not speak out against and condemn the horrific attack on Israel @RepRashida is to be complicit with this savagery."
Tlaib had been slated to hold a press conference Monday morning in Detroit, but her office announced on Sunday that it would be postponed. The three-term congresswoman was set to call on the Biden administration and the U.S. Department of Homeland Security to investigate "the detainment, interrogation, and confiscation of personal property of Americans at ports of entry in Michigan."
Other Michigan members of Congress condemned Hamas and stressed their support for Israel.
U.S. Rep. Bill Huizenga (R-Zeeland) said "these attacks on Israel and the kidnapping of Israeli civilians are a coordinated effort around the 50th Anniversary of the Yom Kippur War."
"We must stand with Israel and help Israel stand strong against Hamas and their backers like Iran," Huizenga said.
U.S. Rep. Haley Stevens (D-Birmingham) called the action "an attack on democracy and the Jewish people that is a grave violation of international law and global peace."
"The United States must ensure Israel has the ability to defend its sovereignty. I will continue to monitor the situation and stand in support with America's friend and ally, Israel, as it navigates this tumultuous time. Our country is united in praying for the safety, security, and wellbeing of the Israeli people."
U.S. Rep. Shri Thanedar (D-Detroit) also expressed concern for the attacks on Israel.
"I condemn these violent acts against Jewish people and the state of Israel. My heart goes out to the families and victims affected," Thanedar said.
U.S. Rep. John James (R-Shelby Twp.) called out Biden.
"Antisemitism is evil," James said. "Israel has every right to defend itself. Funding Iran on 9/11 was an incalculable error. I call on President Joe Biden to call out anti-semites and extremists in his own ranks and use every resource at his disposal, to hold the perpetrators of this attack accountable. There must be no daylight between the United States of America and our friendship with Israel."
U.S. Sen. Gary Peters (D-Bloomfield Twp.), a member of the Armed Services Committee, said that he was "horrified by the vicious, coordinated terrorist attacks by Hamas on innocent Israeli citizens. We must continue to stand with Israel."
Peters' colleague, U.S. Sen. Debbie Stabenow (D-Lansing), agreed.
"I strongly condemn the truly horrific attack on innocent Israeli civilians by Hamas," Stabenow said. "My prayers go out to everyone impacted by this violence. The U.S. will continue to stand with our ally Israel."
Ken Coleman
Ken Coleman writes about Southeast Michigan, history and civil rights. He is a former Michigan Chronicle senior editor and served as the American Black Journal segment host on Detroit Public Television. He has written and published four books on Black life in Detroit.
Published under Creative Commons license CC BY-NC-ND 4.0.