By Juan Cole
Many, many thanks to everyone who followed the serialized sword and sorcery novel I have posted here since last January.
I had written a version of it in the early 1990s. I wasn't satisfied with it and ultimately got drawn into other projects. The book was intended as the first of a trilogy, telling the story of the ancient Persian figures, Jamshid, Zohak and Faridun. These stories were part of ancient Iranian (and to some extent Indo-European and Indo-Iranian) lore. They were retold by Abu'l-Qasim Firdawsi in his epic Persian poem, the Shahnameh. But I went back beyond Firdawsi, to the early Zoroastrian (Parsi) texts, which told what I thought was a much more complex and interesting set of stories about these figures than did the medieval poet.
One thing that attracted me about the material was that it clearly was about conflicts among generals, holy men and workers– i.e. it had resonances with the contemporary Middle East! But it was also a world of wonder with distinctive legends and mythical creatures. Too much of Sword and Sorcery as a genre is just a re-imagining of medieval Europe, and ancient Persia seemed a world worth exploring in this context. Being a historian, I went back and did a lot of reading about the ancient Near East where the novel is set, and had fun exploring. Of course, this is a novel, so I used the material as a basis for imaginings.
Silly me, last winter I thought the Middle East might be settling down, and I could finally get some real leisure back after over a decade of blogging the region intensively. So I got out a printed-off MS of the sword and sorcery novel and retrieved the old Word files and tried my hand at reworking the material.
It quickly became apparent to me that I would never get to it unless I more or less blogged the rewrite. It just had become my habit to write things I thought might be of interest and then to post them. Having some of you follow the serialization was important to me as a motivator to continue putting up the sections of the chapters. Otherwise, the business of life would have just pushed it into the background again.
It worked! You sometimes complained when I fell behind, and asked for more. And I finally completed a draft of the novel (see below). I also think that the serialization process, posting episodes in digestible chunks, helped improve the writing and the structure. I'll let others decide.
I have to say I was a little surprised that I did not get more comment and input– though I am *very* grateful for what I did get. I suppose this blog is self-selected for nonfiction readers and so perhaps it wasn't the best venue for a fantasy novel. Anyway, I had thought there would be some crowdsourcing of critique, and for the most part that didn't happen. A little puzzled. But then there are now whole sites dedicated to mutual critique.
I suppose the important thing is that I wanted to see the novel become available, and now it is. I was inspired in this regard by Cory Doctorow, who put his early novels up on the web. For all of you who followed it so far, or who told me they would only pick it up once it was complete, here is the link, below, to where you can get the pdf file (suitable for many tablet programs, from iBooks to Stanza to Kindle). Many, many thanks for your support. I'm hoping things will work out so that it appears more formally and I'll be encouraged to go on to the second and third volumes.
For The Fall of the New Year Throne, click here)
———–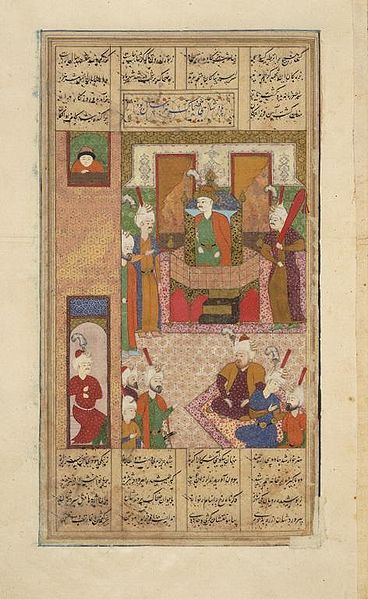 Comments and suggestions on the installments are welcome, but they should please be constructive. Commenters relinquish the rights to any ideas they express in the comments section, which become the property of Juan Cole. Presumably they want them incorporated into the final work, and they might be. The novel is copyright by Juan Cole, 2014, and may not be mirrored or reproduced without express permission from the author.