By Joanna Paraszczuk | ( RFE/RL) ) | – –
Two Russian-speaking militant groups, including a battalion within Al-Qaeda's Syrian affiliate the Al-Nusra Front, claim they are preparing to fight Syrian government forces in the central province of Hama.
The declarations come three weeks after Russia launched air strikes that initially appeared to help Syrian government forces retake some territory, at least temporarily, including in Hama.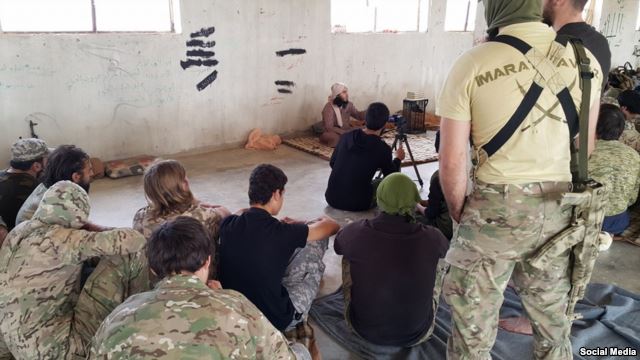 A photo from social media showing Uzbek extremist Abu Ubayda al-Madani (nom de guerre) from the group Liwa al-Muhajireen (Foreign Jihadi Fighters Brigade) lecturing other militants, purportedly before a Hama offensive.

Members of Liwa al-Muhajireen (Foreign Jihadi Fighters Brigade), an Uzbek-led, mostly Russian-speaking foreign-fighter group battalion within the Al-Nusra Front, posted photographs on social media this week purporting to show fighters preparing for the operation in Hama. The photos show the group's leader, a 24-year-old Uzbek militant who goes by the nom de guerre Abu Ubayda al-Madani, giving a lecture to militants.
Liwa al-Muhajireen is the name for a new, expanded group formed from the Al-Nusra Front's pre-existing Katiba Sayfullah faction and a recent influx of about 100 mostly North Caucasus and Central Asian fighters from the Jaish al-Muhajireen wal-Ansar group. (Jaish al-Muhajireen wal-Ansar, a predominantly Arabic-speaking Islamist faction, was absorbed into the Al-Nusra Front in September when its members pledged allegiance to Nusra leader Abu Mohammad al-Julani.)
Another, smaller Russian-speaking group, Ajnad al-Kavkaz, also claimed this week that it is preparing to fight in Hama.
Ajnad al-Kavkaz is a Chechen-led faction based in the mountains in the north of Syria's Latakia province, which hosts a major Russian electronic eavesdropping facility. Ajnad al-Kavkaz's leader is Abdul Hakim Shishani (Khamzat Azhiev), who is thought to come from the Chechen capital, Grozny, and who came to Syria around late 2012 after sustaining a hand injury fighting alongside militants in the North Caucasus.
Ajnad al-Kavkaz has previously fought in battlefield coalitions with the Al-Nusra Front in Idlib province. Its leader, Abdul Hakim, was photographed during that offensive with Abdullah Mohaisany, a pro-Nusra Saudi cleric who has praised North Caucasian militants for their fighting abilities.
It is likely that Ajnad al-Kavkaz will fight in northern Hama alongside the Al-Nusra Front.
Before the Russian air campaign began last month, the Russian media mistakenly identified Ajnad al-Kavkaz as the Islamic State (IS) militant group, although it has no relationship with IS. The group has said that it is supportive of the North Caucasus-based Islamist militant group the Caucasus Emirate, though it does not have formal allegiance to it.
Assad's Hama Offensive
Since Russia entered the conflict on September 30, its warplanes have been supporting ground offensives by Syrian government forces to regain territory from rebels in Latakia, the al-Ghab Plain in Idlib and Hama, and in northern Hama province.
Although — with Russian air cover — Syrian government forces made some gains in Hama earlier this month, rebels have managed to push back and regain some areas.
In the first two weeks of October, Syrian ground troops attempted to advance through northern Hama into Idlib province but were pushed back, thanks partly to rebel use of antitank weapons — among them U.S-made TOW missiles supplied by Saudi Arabia.
South Aleppo
Another Russian-speaking faction, the Caucasus Emirate in Syria group, says it is one of a number of rebel groups battling Syrian government forces in the countryside south of Aleppo.
The group claimed this week to have captured weapons from Syrian forces in the area.
The Caucasus Emirate in Syria is — as its name suggests — the official Syrian affiliate of the North Caucasus-based Caucasus Emirate group. Its leader is an ethnic Chechen from Georgia's Pankisi Gorge, Salakhuddin Shishani (Feyzulla Margoshvili). The group was previously part of the Jaish al-Muhajireen wal-Ansar faction.
The Syrian Army began its ground offensive south of Aleppo city on October 16, under cover from Russian air strikes.
The area is controlled by a number of rebel groups, including the Al-Nusra Front and other Islamist fighters. The Nour al-Din al-Zinki Brigades group, which has received military training from the U.S. Central Intelligence Agency (CIA), is also fighting in the area, and saw one of its commanders killed this week.
Pro-Assad forces have taken control of at least three villages in the area over the past four days, Turkey-based rebel activist Faraj Shahid told The New York Times on September 21.
The offensive south of Aleppo has caused the displacement of around 35,000 people, many of whom are in urgent need of food and other basic items, according to the UN Office for the Coordination of Humanitarian Affairs.
Sources in southern Aleppo told RFE/RL on October 21 that they believed a far greater number of civilians have been displaced.
Via RFE/RL
Copyright (c) 2015. RFE/RL, Inc. Reprinted with the permission of Radio Free Europe/Radio Liberty, 1201 Connecticut Ave NW, Ste 400, Washington DC 20036.