Human Rights Watch | – –
(New York) – Iran's Revolutionary Guards Corps (IRGC) has recruited thousands of undocumented Afghans living there to fight in Syria since at least November 2013, Human Rights Watch said today, and a few have reported that Iranian authorities coerced them. Iran has urged the Afghans to defend Shia sacred sites and offered financial incentives and legal residence in Iran to encourage them to join pro-Syrian government militias.
Human Rights Watch in late 2015 interviewed more than two dozen Afghans who had lived in Iran about recruitment by Iranian officials of Afghans to fight in Syria. Some said they or their relatives had been coerced to fight in Syria and either had later fled and reached Greece, or had been deported to Afghanistan for refusing. One 17-year-old said he had been forced to fight without being given the opportunity to refuse. Others said they had volunteered to fight in Syria in Iranian-organized militias, either out of religious conviction or to regularize their residence status in Iran.
"Iran has not just offered Afghan refugees and migrants incentives to fight in Syria, but several said they were threatened with deportation back to Afghanistan unless they did," said Peter Bouckaert, emergencies director at Human Rights Watch. "Faced with this bleak choice, some of these Afghan men and boys fled Iran for Europe."
Iran hosts an estimated 3 million Afghans, many of whom have fled persecution and repeated bouts of armed conflict in Afghanistan. Only 950,000 have formal legal status in Iran as refugees. The Iranian government has excluded the remainder from accessing asylum procedures, leaving many who may want to seek asylum undocumented or dependent on temporary visas.
Funerals for Afghan fighters killed in Syria are frequently held in Iran, sometimes attended by Iranian officials. While Iran officially claims that thousands of Afghans living in Iran have volunteered to join the militias, their vulnerable legal position in Iran and the fear of deportation may contribute to their decision, making it less than voluntary. Many said that the threat of arrest and forced conscription in Iran was an important contributing factor in their decision to leave Iran.
Among the cases documented by Human Rights Watch are a 17-year-old Afghan boy who was detained in Tehran with his 17-year-old cousin. The first boy was forced to go to military training and then fight in Syria against his will. His cousin, deemed unfit for military service, was deported. Others were two brothers, ages 32 and 20, and a 16-year-old boy, all of whom were detained in Tehran and coerced to fight in Syria or face deportation.
Other Afghans told Human Rights Watch that they had been detained by Iranian authorities and given the choice between deportation and fighting in Syria, and had chosen deportation. Still others said they had volunteered to receive military training or to fight in Syria on Iran's behalf, although they cited the need to regularize their status in Iran as an important factor in their decision.
While Iranian law allows conscription by the Iranian military, it is limited to Iranian nationals. The conscription of anyone else, including Afghan nationals, by the Iranian Revolutionary Guards Corps falls outside the conscription allowed by Iranian law, and is thus arbitrary.
Six of those interviewed said that Iranian forces had trained them or their relatives in military camps near Tehran and Shiraz in 2015, and four had fought in Syria for pro-government militias commanded by Iranian officials. Two of the six had joined voluntarily, while the other four said they or their relatives had been coerced or forced to fight.
They said that based on their own experience fighting in Syria and information from others who had fought in Syria, Afghan fighters organized and commanded by Iranian military officials were fighting in many areas of Syria, including Damascus, Aleppo, Homs, Deir al-Zor, Hama, Lattakia, and in areas near the Syrian border with the Israeli-occupied Golan Heights. They said that their Iranian commanders had forced them to conduct dangerous military operations such as advancing against well-entrenched ISIS military positions with only light automatic weapons and without artillery support. They said that in some instances, Iranian commanders threatened to shoot them if they failed to obey orders to advance under fire.
Read the whole thing at Human Rights Watch
—–
Related video added by Juan Cole: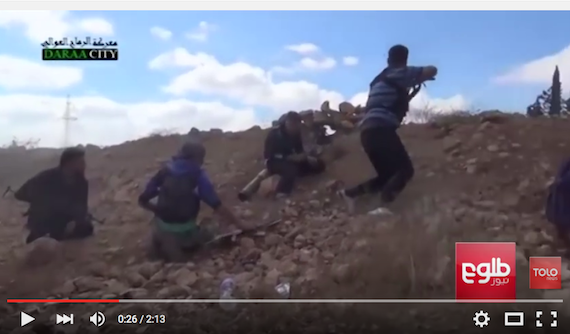 Link to Tolo video news report (Dari Persian only)