By Golnaz Esfandiari | ( RFE/RL ) | – –
To get her first book of poetry past the Iranian censor, Fatemeh Ekhtesari did what other Iranian writers often have to do: She used dots for words and sentences she thought would not get past the authorities. But Ekhtesari wasn't prepared for her voice to be silenced, so after the book was published in 2010, she wrote the words back in herself and sent copies to her friends.
Now, six years later, Ekhtesari, a 29-year-old poet who has been targeted by the country's hard-liners for her explorations of gender discrimination and domestic violence, has fled the Islamic republic, after being sentenced last year to 11 1/2 years in prison and 99 lashes.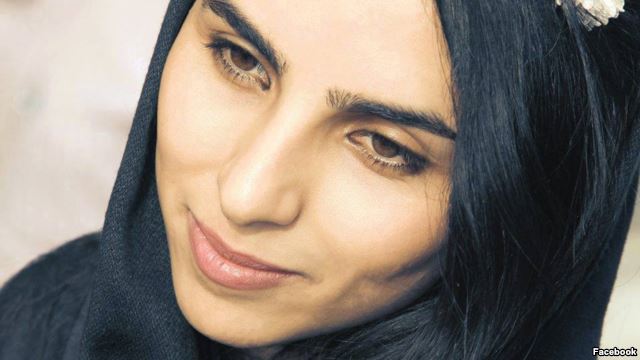 Iranian poet Fatemeh Ekhtesari was sentenced to 11 1/2 years in prison and 99 lashes for "insulting sanctities" in her writing.
"Abandoning one's country is very difficult. It was a tough decision," Ekhtesari tells RFE/RL over the phone from an undisclosed location. But she says she had to leave because of a lack of hope that an appeal process would lead to her acquittal. The sentence was pending as she was waiting for her case to be heard by an appeals court.
Ekhtesari was arrested in December 2013 by the intelligence branch of the Islamic Revolutionary Guards Corp (IRGC) and was held in solitary confinement for 38 days in Tehran's notorious Evin prison. While incarcerated, she says she was subjected to psychological pressure and repeated interrogation about some of her poetry and contacts abroad. The charges against her included "insulting sanctities" and "spreading propaganda against the state" through her poetry.
Ekhtesari says one of her interrogators' main objections was that one of her poems was used by exiled Iranian rapper Shahin Najafi, who has been accused of apostasy by hard-liners in Iran over a song deemed heretical.
In the music video for the song (below), a woman covered in the black chador, which Iranian hard-liners praise as the superior form of hijab, is seen running on a beach with uncovered legs. "You're a wolf and we have to run away to a place farther than the house's garden," sings Najafi.
"It's a love poem, a rebellious one that was published in my book, and [Najafi] turned it into a song," she says. "In the eyes of the IRGC interrogators, anyone who cooperates with an individual accused of 'insulting sanctities' is also 'insulting sanctities.' This was the basis of the charge against me."
She says the lashing sentence was due to her shaking hands with members of the opposite sex who were not relatives and appearing without the compulsory hijab while on a trip to Sweden. She says the IRGC found pictures of her trip on her laptop, which was seized after her arrest.
According to Ekhtesari, she escaped from Iran last month with fellow poet Mehdi Musavi, who was sentenced at the same time in October 2015 to nine years in prison and lashes for some of his poems. The two describe themselves as "postmodern Ghasel" poets, a reference to a traditional form of poetry comprising a series of couplets.
Ekhtesari, who studied as a midwife, declined to discuss details of their "difficult escape." Ekhtesari and Musavi are applying for political asylum at a location that they don't want to make public because of safety concerns.
Ekhtesari says she felt she didn't have any choice but to flee the country she loves so she could continue her work without being harassed, jailed, and forced into self-censorship.
"I used to say I have to be in Iran, I need to be in close contact with my audience. I need to see their problems and feel their pain. But I was forced to [flee]. I was forced to leave behind the people that I love, the people for whom I've been writing poetry," she says.
Since Iran's moderate President Hassan Rohani came to power in 2013, there has been a growing standoff between reformists and powerful hard-liners that are in charge of key institutions, including the IRGC and the judiciary. The struggle has intensified ahead of this year's February 26 elections for parliament and the Assembly of Experts, which is tasked with electing and removing Iran's supreme leader.
Under Rohani, who has promised to give Iranians more rights and freedom, Ekhtesari says there has been slightly more cultural freedom. Two of her books that had been banned for several years were allowed to be published following Rohani's election.
But hard-liners, who oppose liberalizing society and politics, have in recent months hit back by canceling concerts and handing poets, filmmakers, and others stiff prison sentences.
"Several [parallel] bodies are making decisions for Iran," says Ekhtesari, who added that one of her books that was published with permission from the Culture Ministry was later removed from Tehran's Book Fair, reportedly after criticism from hard-liners.
Ekhtesari believes the prison-and-lashing sentences against her and Musavi are part of an attempt by hard-liners to instill fear in Iran's intellectual community.
"They're warning poets and writers to watch out. [The authorities] are telling them this could happen to them as well," Ekhtesari says.
She says such moves result in increased self-censorship among intellectuals.
"Self-censorship was among the reasons I left Iran," she says. "I was becoming afraid of writing. I feared that anything I write would be used by IRGC interrogators against me."
Via RFE/RL )