TeleSur | – –
The right-wing coalition may collapse if the Zionist Union fails to join the government.
A key Israeli minister said Thursday that the government is at risk of collapsing if Prime Minister Benjamin Netanyahu's narrow coalition is not enlarged soon.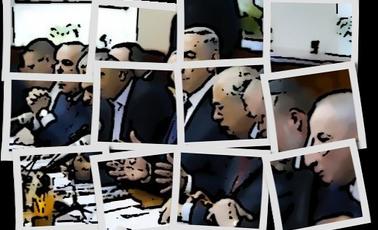 Public Security Minister Gilad Erdan's comments came amid claims that talks have taken place between Netanyahu and the opposition Zionist Union on joining the coalition, which currently holds a one-seat majority in parliament.
Speculation over such a move began shortly after elections in March 2015, but there have been claims in recent days of fresh negotiations.
Netanyahu's government is one of the most rightwing in Israel's history and its razor-thin majority has left it little room for manoeuvre.
Kahlon told local media that the Zionist Union — an opposition coalition led by Labor — was on the verge of joining the government, but discussions were frozen in late March when Labor leader Isaac Herzog was linked to a preliminary investigation into party financing.
A recent poll showed that the current coalition would lose its majority if elections were held today.
But some analysts say that right-wing and religious members of the government would be reluctant to leave the coalition since they currently wield significant power.
via TeleSur