Ma'an News Agency | – –
BETHLEHEM (Ma'an) — Israel's punitive ban on cement imports into the Gaza Strip has prevented hundreds of families from rebuilding their homes devastated by the 2014 war, the UN Office for the Coordination of Humanitarian Affairs (OCHA) said in a press release Thursday.
As a result of the debilitating cement scarcity and price increases, "organizations providing assistance have had to suspend cash assistance for house repairs to over 1,370 families," OCHA reported.
"In addition, payment to 1,550 families scheduled to start reconstruction are being delayed due to the lack of available cement."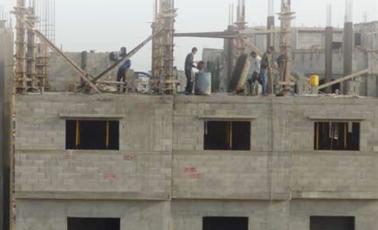 Construction site in Shujaiyeh, Gaza Strip, March 2016. Photo credit: UNOCHA
The current shortage of cement has also suspended jobs for some 40,000 construction workers in the Gaza Strip, according to the Palestinian Contractors Union.
The Israeli authorities implemented the ban on April 3, following the discovery of a tunnel passing from the Gaza Strip into Israel — the first to be found since Israel's devastating military offensive on the coastal enclave in 2014 — and accused Hamas of diverting construction materials from its intended legitimate beneficiaries.
Israeli authorities have previously accused the Gaza Strip's de facto ruling party Hamas of stealing reconstruction material to sell on the black market and use to build tunnels.
However, according to OCHA, "Most of the previously entered shelter repair and reconstruction material has already been sold to beneficiaries."
A spokesperson for Israel's Coordinator of Government Activities in the Territories (COGAT) told Ma'an last week the entry of construction materials into Gaza would be suspended "until the issue is addressed."
COGAT did not immediately respond to a request for comment regarding new developments towards lifting the crippling ban.
Shipments of cement to international organizations has continued despite the private sector ban, with international projects receiving 2,000 tons of cement last week.
However, this shipment pales in comparison to the average of 75,000 tons of cement that entered the Gaza Strip every month since October 2015, toward reconstruction of more than 171,000 units that were damaged or destroyed in the war.
According to the UN, 75,000 Palestinians remain homeless in the blockaded Gaza Strip nearly two years after Israel's last devastating offensive.
The cement restrictions are part of Israel's broader siege on the Gaza Strip
, which has been under a severe economic blockade imposed by Israel since 2006.
The blockade has led to frequent humanitarian crises for Gazans, and the United Nations and various human rights groups have repeatedly called on Israel to lift it.