By Juan Cole | (Informed Comment) | – –
You know those silly anti-sharia laws passed by evangelicals in US state legislatures? They may as well not bother.
(Sharia is Muslim law; but it is much more diverse and fluid than fundamentalists of both stripes think it is).
It turns out a lot of Muslims want a separation of religion and state, according to a new poll by the Konrad Adenauer Foundation and the Arab Observatory. They polled people in Egypt, Libya, Tunisia, Algeria and Morocco.
Although the respondents reported themselves to be, in the main, personally religious and to put a high value on the practice of Islam, majorities in all five states support the separation of religion and state. In Tunisia, the percentage rose to an astonishing 73%.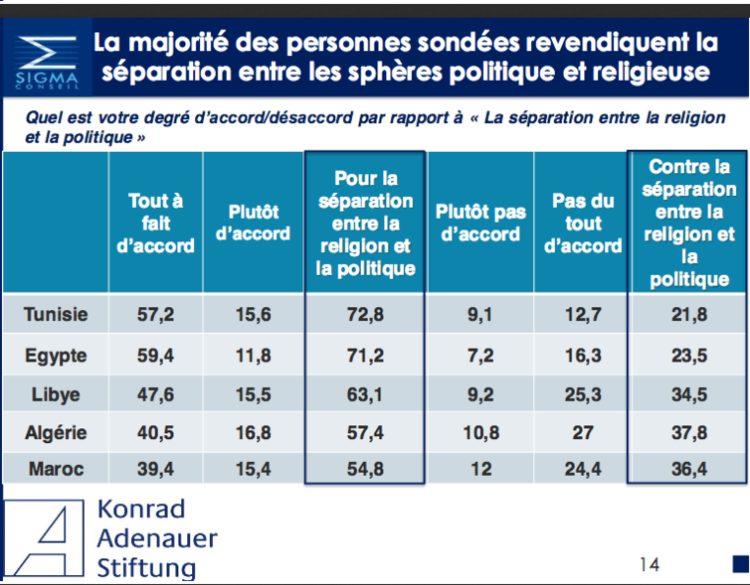 Some polls have found that only 41 percent of Americans support the absolute separation of religion and state, though others have found a majority for it. In any case, likely at most US statistics look like those for the more religious countries polled by KAS, such as Egypt.
Except for Morocco, majorities also thought the interference of religious leaders in politics had a negative impact on the whole. Again, the Tunisians are off the charts on this issue, with 3/4s of them feeling this way. (People think Islamic ideals and values are a positive, they just don't want clerics intervening directly in civil politics).
People in all five countries also have extremely negative views of Daesh (ISIS, ISIL), associating it with terrorism, barbarism and murders and massacres. It is clearly a tiny, very marginal movement, even in Libya, where it has a small toehold.
In fact, I would put forward the hypothesis that groups such as al-Qaeda and Daesh have driven many more people in the Muslim world to support the separation of religion and state than was probably common in, say, the 1980s.
The bad news? Except in Morocco, pluralities or majorities blame US policies in the Middle East for fostering religious extremism there. In other words, perhaps Professor Chomsky is on to something.