IMEMC | – –
Human rights campaigners to intensify pressure against the company…
*G4S announces sale of most of its Israel business, following intense BDS pressure
*G4S remains involved in Israeli police training and settlement construction business
*BDS human rights campaigners celebrate victory, call for continuing pressure
The world's largest security company, G4S, announced today that it is selling most of its Israeli business after an effective campaign against the company, waged by the Palestinian-led, global Boycott, Divestment and Sanctions (BDS) movement for Palestinian rights, caused it "reputational damage."
Reacting to the breaking news and to the fact that G4S will nonetheless maintain some illegal projects in Israel, Rafeef Ziadah, speaking for the Palestinian BDS National Committee (BNC), said:
"We have succeeded to push one of the world's largest corporations into selling its key business in Israel. Our globally coordinated campaign has had a real impact. We will continue campaigning until G4S ends all involvement in violations of Palestinian human rights."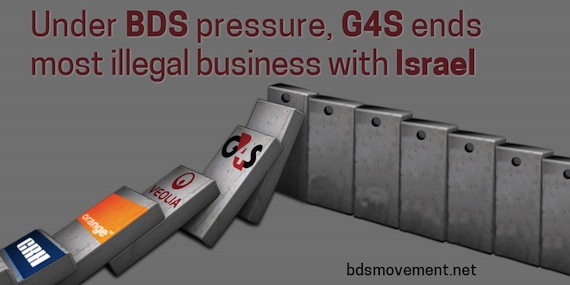 French multinationals, Veolia and Orange, and Ireland's largest building materials company, CRH, have all exited the Israeli market since September 2015, mainly as a result of BDS campaigning.
"A domino effect is at play here," said Ziadah. "Some investment fund managers are recognizing that their fiduciary responsibility obliges them to divest from international and Israeli corporations and banks that are complicit in Israel's persistent violations of international law."
Guman Mussa, Arab World Coordinator in the BNC, added:
"It is not everyday that human rights campaigners can compel a massive multinational like G4S to end its involvement in serious human rights violations through sustained, strategic grassroots pressure. BDS is clearly working, and other complicit multinationals, like HP and Alstom, should take notice."
"We dedicate this victory to all Palestinian political prisoners who in 2012 had called on the BDS movement to intensify our boycott of G4S due to its role in Israel's prisons, where torture is rife."
G4S is a British security company that helps Israel run prisons where Palestinian political prisoners are held without trial and subjected to torture and ill-treatment. It is also involved in providing equipment and services to Israeli military checkpoints, illegal settlements and to military and police facilities.
The international Stop G4S Campaign has cost the company contracts worth millions of dollars in Europe, the Arab world, South Africa and elsewhere.
G4S's list of lost clients includes private businesses, universities, trade unions, and UN bodies.
Despite the sale of its subsidiary, G4S will remain directly complicit in Israel's violations of Palestinian rights through Policity, the flagship national police training centre it co-owns, and the settlement-profiteer Shikun & Binui group.
Israel's police operates in occupied East Jerusalem, instead of the Israeli military in the rest of the occupied Palestinian territory, serving as the guardian of Israel's illegal annexation, protecting the illegal settlements, and oppressing the city's Palestinian population.
BNC Europe Coordinator, Riya Hassan, concluded:
"The BNC is determined to continue its campaign against G4S, in partnership with other justice struggles across the world. From the US to Palestine, from South Africa to the UK, G4S is profiting from the patently racist mass incarceration business."
"As in the struggle against apartheid South Africa, BDS pressure against Israel's regime of occupation, settler-colonialism and apartheid is making some of the world's most powerful multinationals realize that profiting from Israel's violations of Palestinian rights is not just unethical and socially-irresponsible. It is downright bad for business as well."
Notes:
In March 2016, G4S announced it would sell its Israeli subsidiary in the coming "12 to 24 months." In describing the move, The Financial Times reported that G4S was "extracting itself from reputationally damaging work."
More recently, UNICEF in Jordan and a major restaurant chain in Colombiabecame the latest high-profile bodies to end their contracts with G4S following BDS campaigns.
The Norwegian sovereign fund divested from Shikun & Binui in 2012, as did the New Zealand Superannuation Fund, which cited the company's "involvement in the construction of Israeli settlements in the Occupied Palestinian Territories."
In June 2014, the Bill Gates Foundation divested its entire $170m stake in G4S following an international campaign. That same month, the U.S. United Methodist Church divested all G4S shares from its $20bn investment fund. The Public Institution for Social Security (PIFSS) in Kuwait decided to divest from G4S in June 2016 following calls from BDS Kuwait and the Palestinian BDS National Committee (BNC).
~ Palestinian BDS National Committee
Via IMEMC
Subscribe to Informed Comment by email and never miss a posting!