Metropolitan Museum of Art | (Persian Miniature Painting) | – –
"Jonah and the Whale", Folio from a Jami al-Tavarikh (Compendium of Chronicles [A medieval World History])
Inscription: In Persian, on the arms of Jonah:
"The sun's disk went into darkness, Jonah went into the mouth of the fish."
The story of Jonah and the Whale, mentioned in the Qur'an (37:139), was popular in the Muslim world and frequently illustrated in manuscripts of world history. This large-scale painting, however, never formed part of a manuscript. Rather, it may have been used during oral recitation or storytelling. Scholars have also suggested that with its strong palette, monumental figures, and spare composition, this work may reflect a now-lost wall painting tradition. Here, we see Jonah after his release from the belly of the fish. Above him, a gourd vine grows—sent by God to protect him from the elements—and, gliding across the top of the painting, a spirited angel with colorful spreading wings offers Jonah a garment.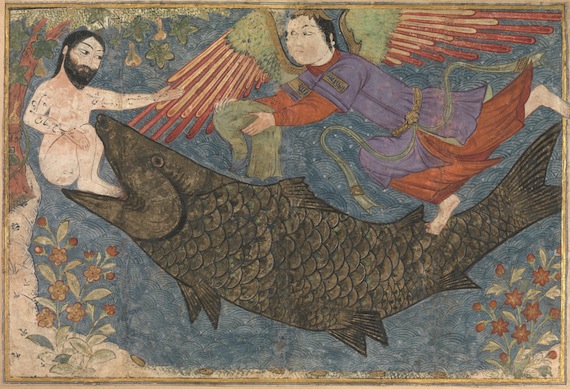 Object Name:
Painting
Date:
ca. 1400
Geography:
Attributed to Iran
Medium:
Ink, opaque watercolor, gold, and silver on paper
Dimensions:
H. 13 1/4 in. (33.7 cm) W. 19 1/2 in. (49.5 cm)
Classification:
Codices
Credit Line:
Purchase, Joseph Pulitzer Bequest, 1933
Accession Number:
33.113
On view at The Met Fifth Avenue in Gallery 455