By Juan Cole | (Informed Comment) | – –
I've argued for some time that US media treats white terrorists differently than others. And, I noted recently that the US press seems to have been astonished when the governor of Minnesota branded the bombing of a mosque "terrorism." We have more evidence today to make my point.
1.
The right wing in the United States has made hay by insisting on calling Muslim extremists "radical Islamic extremists." This phrase is propaganda, since it is strident and redundant. Are there, like, any non-radical extremists? Moreover, "Islamic" refers to the ideals of the Muslim religion, just as Judaic refers to Jewish ethics and high culture. You can have a Jewish criminal. Bugsy Siegel comes to mind. And you can have a Muslim criminal. But you can't have a Judaic criminal and you can't have an Islamic one.
In contrast to this rhetorical overkill regarding the small Muslim fringe, American pundits do not insist that the KKK, white supremacists and alt-Neo-Nazis who descended on Charlottesville, Va. on Saturday be termed "radical white extremists."
In fact, Trump refused to single these creeps out for condemnation at all:
We ALL must be united & condemn all that hate stands for. There is no place for this kind of violence in America. Lets come together as one!

— Donald J. Trump (@realDonaldTrump) August 12, 2017
2.
Whenever a Muslim terrorist commits an attack, right wing television anchors bring on hapless ordinary Muslims and demand to know why they and their leaders have not denounced terrorism.
(Actually Muslim leaders from al-Azhar Seminary in Cairo to Grand Ayatollah Ali Sistani in Iraq have gone blue in the face denouncing al-Qaeda, ISIL, terrorism, etc. But Western pundits are so ignorant they don't even know who the leaders of the Muslim faith are and so can't hear the condemnations. Moreover, ISIL wasn't defeated in the main by Westerners but by Muslim-heritage troops who took high casualties.)
Secular Talk: "'Why Don't Moderate Muslims Condemn Terrorism?' – They Do."
But when white terrorists strike, as with Dylann Roof or those pond scum in Charlottesville, no one demands that the leaders of the white people denounce white terrorism. I guess that would be Frank Church, the president of the Southern Baptist Convention. As far as I can see, the only reason for the Southern Baptist church to exist is to provide a place where white Baptists can meet undisturbed by Black Baptists. So what with being so white and all, it should be asked to denounce the terrorism in Charlottesville. Or maybe Southern Baptists don't speak out on this issue because they secretly harbor sympathies? (Sorry to do that to you, Baptists; I know you're good people. it is just to demonstrate what it feels like to be a mainstream American Muslim.)
3.
When Muslim terrorists commit vehicular homicide in order to terrorize people, as on the London Bridge last spring, that is called terrorism, or sometimes "lone wolf" terrorism.
But when a far right extremist white guy commits vehicular homicide in Charlottesville against normal people protesting Nazism and the Confederate legacy of slavery, I swear to God, CBS/AP called it "Driver in fatal Charlottesville wreck"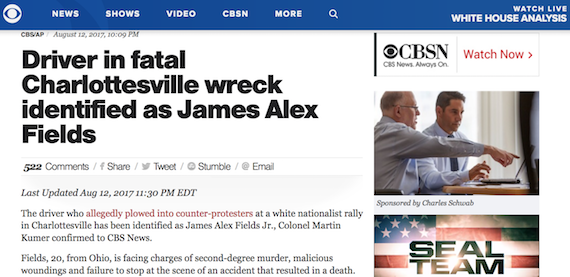 The article notes that not only did that hateful person allegedly kill a woman crossing the street, he badly injured a whole gaggle of people who are not being mentioned in the news:
"Five of the injured were listed in critical condition Saturday night. Four thers were in serious condition, sixwere in fair condition, and four others were in good condition, authorities said Saturday."
I don't know, I guess those ISIL guys from Libya in London could have been characterized as "Drivers in fatal London Bridge wreck." I mean, it is not incorrect or anything. It is just effing pusillanimous.
4.
The US government has a whole program for "combating violent extremism." It initially worked against both Muslim and white supremacist extremism.
Trump last winter ordered that the program stop combating white supremacist extremism and focus only on Muslims. This despite the fact that you're many times more likely to be harmed by a white supremacist than by a Muslim in the US.
5.
Muslim extremists are often depicted as people who cannot adapt to the modern world and are stuck in the eighth century.
White extremists, despite their bizarre attachment to plantation slavery and National Socialist memorabilia from the 1930s, are not similarly branded as stuck in the past. In fact, what with their Alt media like the far, far, far, far Right Breitbart (Volkische Beobachter in the original German), they are often seen as cutting edge modernists.