By Aymen Jamli | – –
Tebourba (Tunisia) (AFP) – Tunisian women "have the chance to act", says Ines Boussetta, as she hits the campaign trail in northern Tebourba, listening attentively to the problems of the rural region's inhabitants.
Boussetta is one of hundreds of Tunisian women heading party lists in May 6 municipal polls — and for the first time, women will be on an equal footing with men, thanks to a new electoral law.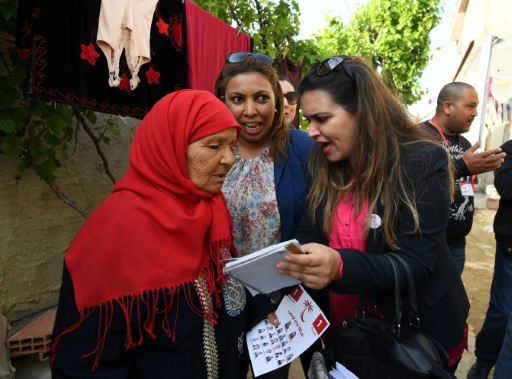 AFP / FETHI BELAID. Ines Boussetta, who heads the list of the Nidaa Tounes party for municipal elections in Tebourba, campaigns in the town some 35 kilometres west of the capital on April 20, 2018.
"I have faced many criticisms and commentaries, like 'you are too young,' 'you don't have political experience,' 'how can a woman lead a council?'" Boussetta, a candidate for the ruling Nida Tounes party, tells AFP.
But "women today have the chance to act, to have an opinion that counts," she added.
Around 100 party lists have been rejected for failing to meet a strict requirement for the candidacy of men and women to alternate in the municipal polls, the first since mass protests forced dictator Zine El Abidine Ben Ali from power in 2011.
Boussetta says she was attracted by Nida Tounes because its founder, Tunisia's 91-year-old President Beji Caid Essebsi, has sought to promote the role of women and young people.
The head of state's 2014 election triumph was "thanks to women", says the former health volunteer.
– 'New political generation' –
The North African country's 2014 constitution has been praised as a key milestone, paving the way for greater equality.
A law on violence against women, passed last year, came into force in January.
"A new political generation is in the process of appearing," says Torkia Chebbi, vice-president of the League of Tunisian voters, a group set up in 2011 to promote female participation in political life.
Fifty-two percent of Tunisia's 5.3 million voters are under the age of 35.
Women now sit at the top of more than a quarter of the 2,074 party lists.
Many of the female candidates first dipped their toes into politics with the fall of Ben Ali through their work in civil society, Chebbi tells AFP.
But "without the law on parity, we would never have achieved such a figure, because attitudes continue to favour men," says Chebbi.
The key parties, Nida Tounes and its junior coalition partner the Islamist Ennahda party, were found to have fulfilled the new gender requirement.
– 'Women don't have experience' –
For Boussetta, who moves onto her next campaign stop in a modest black car, her experience working in the health sector makes improving infrastructure a big priority.
Many have placed their confidence in her "because she is young and sensitive to the needs of the region", she says.
Boussetta's family have a long history in Tebourba, where fresh street protests erupted in January this year against the high cost of living, unemployment and corruption.
And there is a yearning for change at the local level.
With the fall of Ben Ali seven years ago, municipalities collapsed.
While replaced by temporary councils, these are widely perceived as having failed to respond to communities' needs.
There is hope that the upcoming elections could help improve daily life in the country, cleaning up public spaces, attracting new investment, and helping to develop marginalised regions.
"Tunisian women don't have experience," acknowledges Simone Susskind, a Belgian gender politics specialist who recently ran a workshop on female leadership.
"But they have to start somewhere."