by Thomas Watkins | –
Washington (AFP) – US President Donald Trump said Friday he had cancelled a military parade planned for November due to high costs — hours after the Pentagon indefinitely postponed the much-maligned event — and would instead head to Paris for ceremonies marking the end of World War I.
Trump had ordered a show of military prowess after marveling at France's Bastille Day parade last year — but critics said it would be a waste of money and akin to events staged by authoritarian regimes such as North Korea.
Late Thursday, the Pentagon said the controversial event, originally scheduled for November 10 in Washington, was being pushed back to a possible date in 2019.
A US official told AFP on Thursday the planning estimate had gone as high as $92 million, though no final figure had been reached.
Trump said he pulled the plug because local politicians were charging a "ridiculously high" price.
"The local politicians who run Washington, D.C. (poorly) know a windfall when they see it," Trump said Friday.
"When asked to give us a price for holding a great celebratory military parade, they wanted a number so ridiculously high that I cancelled it."
The Republican president vowed to attend a different event at a base near Washington and then "go to the Paris parade, celebrating the end of the War, on November 11th."
"Maybe we will do something next year in D.C. when the cost comes WAY DOWN," Trump said: "Now we can buy some more jet fighters!"
Washington Mayor Muriel Bowser hit back, sarcastically emulating the president's characteristic Twitter tone.
"Yup, I'm Muriel Bowser, mayor of Washington DC, the local politician who finally got thru to the reality star in the White House with the realities ($21.6M) of parades/events/demonstrations in Trump America (sad)," she tweeted.
DC's City Council, which has no Republican members, chimed in on Twitter: "Better late. Then: never. Tanks but no tanks."
– Helping veterans –
Trump reveres all things military, and surrounded himself with former and current generals when he took office.
Even before becoming president, aides reported that Trump had considered a military parade to mark his inauguration — although that idea was eventually scrapped.
Trump went to a military academy, but received multiple deferments, including once reportedly for bone spurs, from having to serve during the Vietnam War.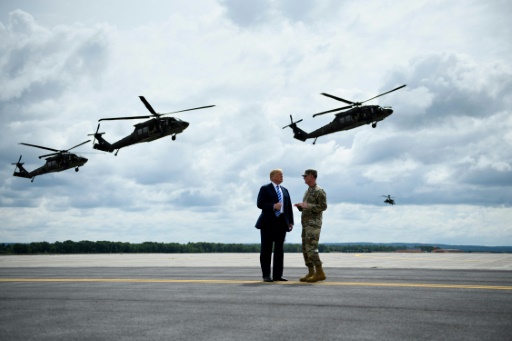 AFP/File / Brendan Smialowski. US President Donald Trump (L) reveres all things military — here, he watches an air assault exercise with Army Major General Walter Piatt at Fort Drum, New York, on August 13, 2018.
Instead of buying new fighter jets, as Trump had suggested in his tweet, critics said the money saved from not having a parade could be better spent improving the lives of veterans.
"Until such time as we can celebrate victory in the War on Terrorism and bring our military home, we think the parade money would be better spent fully funding the Department of Veteran Affairs and giving our troops and their families the best care possible," the American Legion's national commander Denise Rohan said.
Senator Jack Reed, who is the top Democrat on the Senate Armed Services Committee, said halting the parade was the right call.
"It would have diverted resources and manpower from core missions," he said.
Defense Secretary Jim Mattis scoffed at the cost estimate and attacked the media for reporting the number.
"Whoever told you that is probably smoking something that's legal in my state but is not in most states," said Mattis, who hails from Washington state, where pot is legal.
"Whoever wrote it needs to get better sources… I guarantee you there's been no cost estimate to me," he told reporters traveling with him in South America.
Featured Photo: AFP/File / CHRISTOPHE ARCHAMBAULT. US President Donald Trump (2nd L) decided he wanted a large military parade in Washington after taking in the Bastille Day parade in Paris with French President Emmanuel Macron (2nd R) in 2017.