According to Jared Kushner and other hard line Zionists, the Palestinian people don't exist. Ever since they ethnically cleansed the majority of Palestinians, the Israelis have been hoping that they will just go away. They look out on Galilee, the West Bank, Gaza, Jordan, and Lebanon, and ask, "why are you still here?" as though the Palestinians were a houseboy in their mansion that they had fired last week.
According to Foreign Policy, Kushner has bought into a theory that Palestinian identity, and Palestinian desire to return home to what is now Israel, have been artificially kept alive because millions of Palestinians are recognized by the UN as refugees. And the UN Relief and Works Agency provides schooling, vocational training, and sometimes makeshift housing to these families that the Israelis forced into tents in the wilderness.
So if you wanted to wipe Palestine off the map, you'd want to decertify the Palestinians as refugees and destroy UNRWA.
Without that infrastructure, the spoiled rich bigot Kushner thinks, why the Palestinians will fade away and stop asking to go home.
The far, far right Likud Party that rules Israel has finally found a White House that despises the poor and oppressed as much as it does, and which is happy to try to dissolve the body of the displaced Palestinians in the acid bath of malign neglect, for all the world like "cleaners" in a mob movie.
This theory is incorrect, of course. Palestinian identity is passed on by families, cultural practices, songs, books, and memories, not by UNRWA. One anthropologist who worked in the camps in Lebanon to which the Israelis expelled the Palestinians found that the Palestinians had arranged themselves within the camp according to their original village. They made the camp a microcosm of Palestine. UNRWA workers did not tell them to do that.
However, it is true that UNRWA keeps the wolf from the door for many Palestinians, and that infant mortality will certainly go up if it is dismantled.
Yes, I am saying that Jared Kushner and Nikki Haley are trying to kill Palestinian babies.
They are even worse than Jeff Sessions, who just wants to steal the babies.
I once visited the Nahr al-Bared camp in northern Lebanon. An old man told me that in 1948 he and his mother were in their apartment in Haifa when a Zionist gang barged in and took it from them, expelling them over the border to Lebanon. He stayed there a year. Then the UN put him on a train up to northern Lebanon to a camp, far from home, where he had been ever since.
Lebanon is a balancing act between Christians and Muslims, and the Christians refused to offer the Palestinians, mostly Muslim, citizenship. They also did not let them own property or work in most professions. They could not travel because they have no citizenship and nobody trusts them enough to let them in.
"We are in jail," he told me. He took me next door where two old women were lying on mattresses, taking oxygen, having fallen ill. The only medical care was arranged by UNRWA.
He took my forearm. "Is this any way to live?"
Most of the Palestinians in Nahr al-Bared were just living their lives and trying to get buy. But camps are lawless, and disturbances in 2008 had angered the Lebanese army, which destroyed the camp to get at a small criminal gang of 50, that were characterized as terrorists. The man's apartment building was destroyed, along with most of the camp. Most of them had nothing to do with the gang.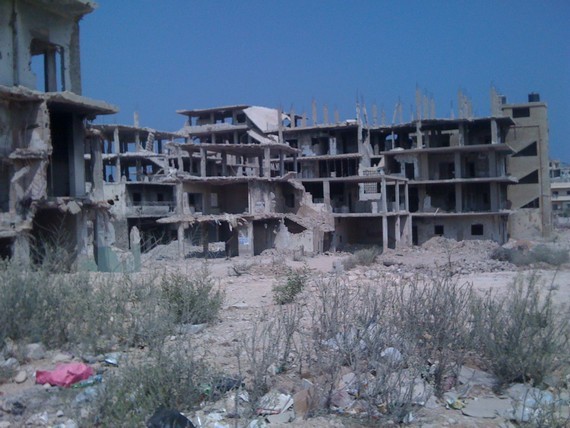 Nahr al-Bared, 2010, photo by Juan Cole.
UNRWA had given them prefab units to live in until Nahr al-Bared could be rebuilt.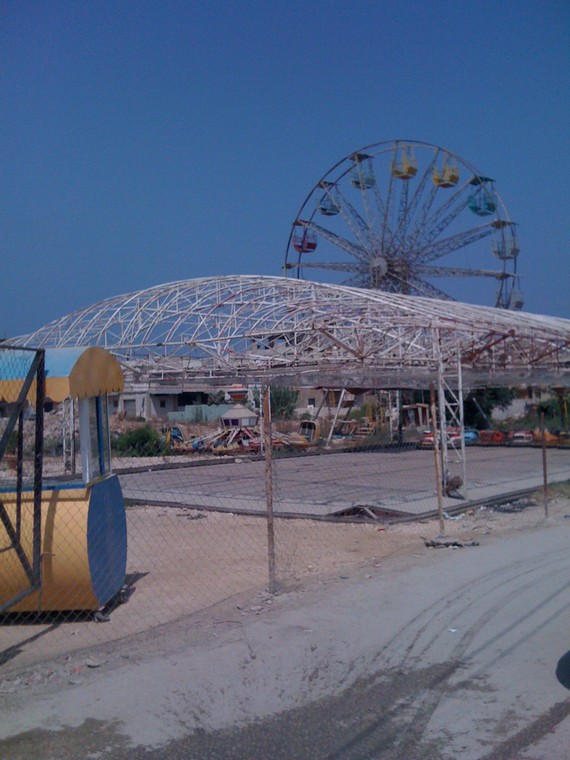 Nahr al-Bared, 2010, photo by Juan Cole.
Getting rid of UNRWA will increase the misery of Palestinians. But that man's children know they are Palestinians, they know they will never be allowed to fit in in Lebanon, nor do they want to. They want to go home to Haifa.
When the British conquered Palestine away from the Ottoman Empire during WW I, it had about 680,000 Palestinians. The British established the Mandate of Palestine over their heads without asking their permission, denied them the sort of nationhood achieved by Iraq and other League of Nations-designated Class A Mandates, and then tried to flood the country with European Jews so as to create a local population favorable to long-term colonial occupation. By 1946, this Palestinian population had grown to 1.3 million.
In 1947-48 the British declared they were going home and that the Palestinians would just have to deal with the half-million European Jews that the British had brought into the colony over Palestinian objections. The Jewish community was highly organized and had wealthy backers, and they launched into action to ethnically cleanse hundreds of thousands of hapless Palestinian villagers. When they declared Israel in 1948, only 165,000 Palestinians remained within it. Most Israelis now think it was a mistake to let that many stay, since they have grown into about 20% of the current Israeli population.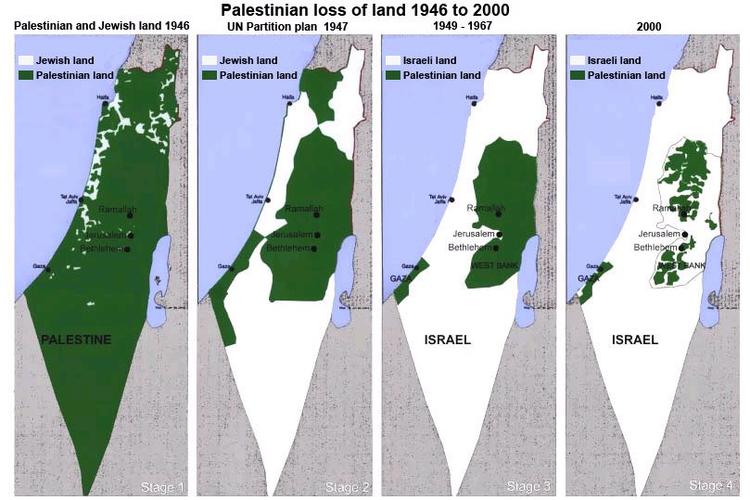 Some 720,000 Palestinians were made into refugees. That is, they were forced out of their homes by concerted Zionist campaigns that in some cases involved massacres of innocents. They were penniless. The immigrants, whom they viewed as illegal, stole their houses, apartments and farms. Some 70% of Gaza's population is refugee families from 1948.
h/t BBC.
Other hundreds of thousands were forced to the West Bank (grabbed by the Jordanian army), to Jordan proper, to Lebanon. A few ended up in Syria and Egypt.
Over time, the population increased. There are now nearly 5 million Palestinians in the West Bank and Gaza, which Israel has occupied since 1967. Many still live in refugee camps. Of the 9.5 million Jordanians, probably some 6 million are of Palestinian heritage, having been chased from their homes in 1948 and 1967 by the Israelis. Although the UN says there are 450k Palestinians in Lebanon, probably it is half that, with many having slipped away to Europe. But over 200,000 people in refugee camps is still too many.
Al-Awda writes,
"There are about 7.2 million Palestinian refugees worldwide. More than 4.3 million Palestinian refugees and their descendents displaced in 1948 are registered for humanitarian assistance with the United Nations. Another 1.7 million Palestinian refugees and their descendents, also displaced in 1948, are not registered with the UN. About 355,000 Palestinians and their descendents are internally displaced i.e. inside present-day "Israel". When the West Bank and Gaza Strip were occupied in 1967, the UN reported that approximately 200,000 Palestinians fled their homes. These 1967 refugees and their descendants today number about 834,000 persons. As a result of house demolition, revocation of residency rights and construction of illegal settlements on confiscated Palestinian owned-land, at least 57,000 Palestinians have become internally displaced in the occupied West Bank. This number includes 15,000 people so far displaced by the construction of Israel's Annexation Wall. Such dispossession of the Palestinian population continues today."
Featured Photo: Jared Kushner in Baghdad, Wikimedia Commons