Washington (AFP) – The murder of Saudi journalist Jamal Khashoggi has sent a chill through exiled dissidents, with many revealing discreet government attempts to lure them to their embassies as an apparent "trap" to return them to the kingdom.
Khashoggi, a critic of powerful Crown Prince Mohammed bin Salman, was killed inside the Saudi consulate in Istanbul, in what sources close to the government have said was likely an authorised rendition that went wrong.
Saudi exiles in three different countries have recounted what appeared to be official attempts to bait them into the kingdom's diplomatic missions, exposing them to potentially the same fate as Khashoggi.
Omar Abdulaziz, a 27-year-old Saudi activist exiled in Canada, said he was approached earlier this year by Saudi officials who urged him to visit their embassy with them to collect a new passport.
"They were saying 'it will only take one hour, just come with us to the embassy'," Abdulaziz, who rankled authorities with a YouTube show that satirized the Saudi leadership, said in a video posted on Twitter.
He refused to go, fearing a trap, and two of his brothers and a handful of his friends were arrested in the kingdom, he said, thus validating his suspicions.
The Washington Post said it received hours-long tapes from Abdulaziz of his conversations with those officials, which he secretly recorded.
Abdullah Alaoudh, a Saudi scholar at Georgetown, said he was subjected to a similar "plot" in Washington.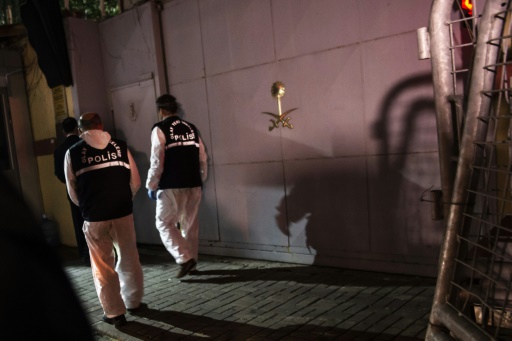 AFP/File / Yasin AKGUL. Turkish forensic police officers arrive at the Saudi Arabian consulate in Istanbul on October 18, 2018.
Last year, when Alaoudh, son of prominent cleric Salman al-Awda who is jailed and faces trial in the kingdom, applied to renew his passport at the Saudi embassy in Washington, he says he was told to return to the kingdom to complete what appeared to be basic formalities.
"They offered me a 'temporary pass' that would allow me to return to Saudi Arabia," Alaoudh told AFP.
"I knew it was a trap and just left with my expired passport."
– 'Cover up' –
The testimonies suggest what appear to be growing Saudi efforts to snare overseas critics of the government or entice them to return since Mohammed bin Salman, widely known as MBS, became crown prince last year.
The Saudi information ministry did not respond to requests for comment, but sources close to the regime have also hinted at a broader program to bring dissidents back to the kingdom.
"MBS probably authorized a rendition (of Khashoggi), which, if so, was ill-advised, but leaders and governments make mistakes, sometimes horrible ones," tweeted Ali Shihabi, head of pro-Saudi think tank Arabia Foundation said to be close to the government.
"The cover-up was ill-advised and incompetent."
Khashoggi, who went into exile in Virginia last year and openly criticised Prince Mohammed's growing crackdown on dissent, disappeared after entering the kingdom's consulate in Istanbul where he sought documents related to his planned wedding to his Turkish fiancee.
After an uproar globally, Saudi Arabia admitted on Saturday what it vigorously denied for two weeks — Khashoggi was killed inside the consulate.
"The strongest and most chilling message here was that no one is safe from Saudi Arabia's brutal reach," Sherif Mansour, from the Committee to Protect Journalists, wrote for the Carnegie Middle East Center.
Before his murder, a Saudi aide to the crown prince had contacted Khashoggi in recent months to offer him a senior job in the government if he returned to Saudi Arabia, a friend of the Washington Post columnist told AFP.
Khashoggi declined, fearing it was a ruse, the friend added.
– 'State of shock' –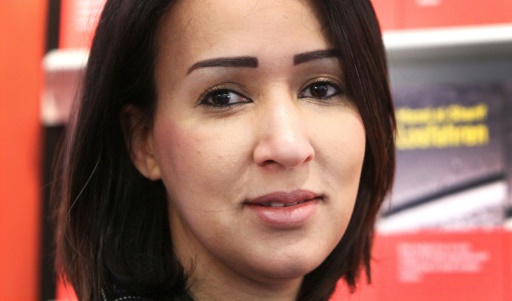 AFP/File / Amelie QUERFURTH. Manal al-Sharif is pictured at the Frankfurt Book Fair in Germany, on October 11, 2017.
Manal al-Sharif, a Saudi woman activist exiled in Australia, said she narrowly escaped the kingdom's dragnet in September last year when Saud al-Qahtani sought to lure her to a Saudi embassy.
"If it weren't for the kindness of God I would have been (another) victim," Sharif tweeted, posting a screenshot of private messages with Qahtani, a media advisor in the royal court who was sacked in the fallout over Khashoggi's killing.
The number of asylum seekers from Saudi Arabia globally has more than doubled since Prince Mohammed's ascendance to power — from 575 cases in 2015 to 1,256 in 2017 — according to the United Nations' refugee agency.
Khashoggi's death has caused such a wave of fear among exiles that some are now cautious of even visiting their country's overseas missions.
"The horrid story of Jamal Khashoggi has sent many activists into a state of shock," said Amani al-Ahmadi, a 27-year-old Saudi exile in Seattle.
"Many activists abroad don't speak up, fearful of bringing harm to their families back home, losing their scholarships or worse abduction and arrest."
Many also fear an online army of trolls loyal to the regime, known to harass critics such as Khashoggi, in a program the New York Times said was crafted by Qahtani.
McKinsey this week said it was "horrified" after the newspaper claimed a report prepared by the consulting firm to measure public perception of Saudi Arabia's policies may have been used to silence dissidents.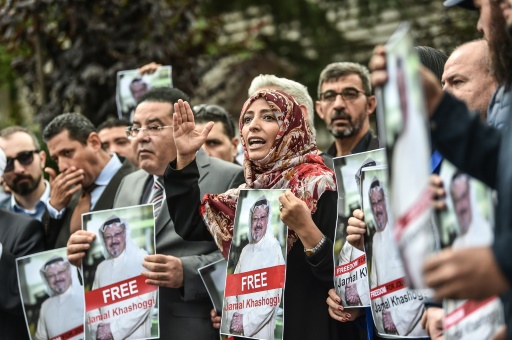 AFP/File / OZAN KOSE. Nobel Peace Prize laureate Yemeni Tawakkol Karman (R), flanked by Egyptian opposition politican Ayman Nour (L), holds pictures of Jamal Khashoggi outside the Saudi Arabian consulate on October 8, 2018 in Istanbul.
But many exiles point out the irony that in silencing Khashoggi, the kingdom has spread his message wider than ever before.
"The perpetrators of the horrific act against Khashoggi were sending a message that anyone who expresses the slightest disagreement with the rulers will be targeted," said Alaoudh.
"Did this reckless action work in silencing dissenting voices? Jamal's voice is louder than ever before."
Feature Photo: AFP/File / MOHAMMED AL-SHAIKH. Jamal Khashoggi was killed on October 2, 2018 in the Saudi Arabian consulate in Istanbul.