By Juan Cole | (Informed Comment) | – –
We need your help! Informed Comment is almost unique in systematically reporting on US foreign policy and Middle East affairs from a Left perspective. We hope readers have enjoyed and benefited from Informed Comment's major redesign this past year. We also carried original reporting, and began publishing syndicated stories and photos from Agence France Presse. None of these steps has come without a substantial cost, and we are hoping that readers will be generous in supporting these initiatives.
Personal checks should be made out to Juan Cole and sent to me at:
Juan Cole
P. O. Box 4218,
Ann Arbor, MI 48104-2548
USA
(Remember, make the checks out to "Juan Cole" or they can't be cashed)
It is more important than ever not only to support the site if you like its news items but to sign up for delivery of the daily postings by email so you don't miss even one.
This year everyone who contributes $100 or more to Informed Comment by Paypal will receive a signed copy of my recent book, Muhammad: Prophet of Peace amid the Clash of Empires. Nicola's Books in Ann Arbor has kindly agreed to send them out for me off the Paypal addresses, which worked like a charm last year. (If you blocked your address at Paypal, you have to provide it to me to get the book). Thank you to all of my supporters for your generosity and your encouragement of an independent press! The site is stronger if all fans participate. I sometimes get messages from readers doubting that a $5 donation would be welcome. Of course it is welcome! We just want 10,000 of them. 🙂 If everyone who appreciates Informed Comment donated even a small amount, we could turn it into a media giant. Moreover, giving in itself helps create community and commitment, and is welcome on those grounds alone.
All those who contribute to Informed Comment at any level will be included in an occasional private newsletter only for contributors with some additional big picture behind-the-scenes analysis which will be newsletter only. Remember that there are contribution buttons floating at the top of all the individual post pages.
In 2018, I spent a semester at the Center for Gulf Studies at Qatar University as a visiting professor. It was a great opportunity to interact with colleagues and to learn more firsthand about Gulf society and politics. With the more assertive Saudi Arabia and United Arab Emirates powerfully shaping the region, and with incidents like the Saudi murder of dissident journalist Jamal Khashoggi roiling Washington, this is a perspective I needed to know more about, and I've been able to share with you the insights I gained.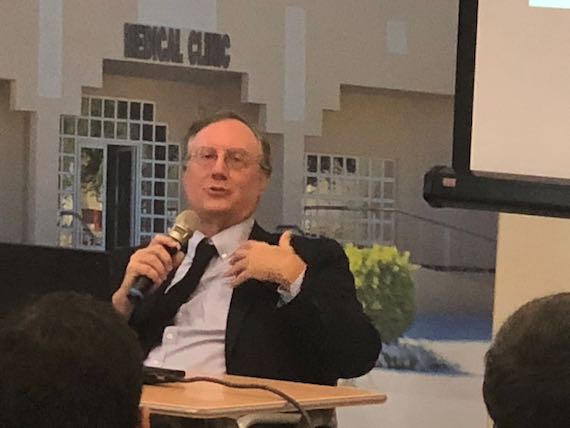 We need independent, reality-based news media more than ever, and Informed Comment has never been more essential. Without your donations, this site could not hope to continue to provide a platform to expert and cogent voices who challenge the rank falsehoods that often now pass as news. There are few informed, left-leaning foreign policy sites. And, of course, IC has essential things to say about domestic issues, and always has.
The ongoing calamity of the Trump administration both domestically and abroad cries out for critical coverage. That is all too rare. Fox, Daily Caller, Breitbart are cheerleaders for his racial supremacist policies and determination to punish workers and the middle class by using tax policy to throw even more money at the billionaire class. Even the supposedly mainstream news organizations have actually hired as commentators people who are still on Trump's payroll, or have routinely brought sleazy climate change denialists on to lie, or have put on apologists for ripping families apart or tear-gassing children. Facebook cooperated in sinister ways with Russian ad buys for the 2016 presidential campaign and is still and hired a conservative firm to smear businessman George Soros for criticizing their business model. Google News' "editor's pick" for me included Daily Caller, which briefly gave the far, far far right Milo Yiannopoulos a perch. Really, Google? How evil is that? I take very little advertising as a result, and what I do take doesn't frankly generate much income.
I need your help to make it up, and allow the site to grow. Since 2002, Informed Comment has stood against lies and propaganda, against bigotry, against injustice, and for reasoned and fact-based public discourse about the pressing public policy issues facing our country. I write a column daily. Don't ask me how. In some large part, it is because I don't want to let you down.
How to Help
Donations can be sent to Informed Comment via the contribution link in this post (which takes Paypal payments or credit cards). Here is the direct link again:
Thank you to all of my supporters for your generosity and your encouragement of an independent press!
Personal checks should be made out to Juan Cole and sent to me at:
Juan Cole
P. O. Box 4218,
Ann Arbor, MI 48104-2548
USA
(Remember, make the checks out to "Juan Cole" or they can't be cashed)
Regular readers know that what they get here is not the corporate media accounts by all-purpose pundits unfamiliar with the world, by retired officers paid under the table by arms corporations to promote conflict, by lobbyists not required to reveal their organizational pasts or on whose payroll they serve. I have argued back against wild allegations about Muslims and the Middle East made by the US political class, at a time when many journalists politely interviewed the Islamophobes without challenging their bigoted and inaccurate assertions. This site has been unafraid to take unpopular or controversial stands– against US involvement in the ruinous Yemen War, against Climate denialism, against hatred of our Muslim brothers and sisters, against the statelessness and victimhood of the Palestinians, against casual warmongering, against racism of any sort.
Unlike those other outlets, it is a little unlikely that this site will be supported by right wing billionaires, and so if you want it to continue, it is up to you.
What we do for our Readers
At Informed Comment, I have tried to provide the historical background and the context to these startling developments, getting beyond the one-damn-thing-after-another rush of news reports. I used your contributions to pay for op-eds by a wide range of contributors, academics and journalists with deep expertise who have first-hand experience with the region. They also, above all, have a heart. I also subscribed to alternative analysis sites and spent hours a week curating content for you.
Middle East issues are often framed by right wing media such as Fox Cable News in Islamophobic and frankly racist ways. Unscrupulous "news" providers play on the comparative lack of good information and analysis to manipulate public opinion on these matters so as to create fear and promote right-wing policies. Informed Comment is one of the few solid counterweights to this propaganda. Corporate news outlets, even relatively liberal ones, can almost never report evenhandedly on controversial issues such as the plight of the stateless Palestinians, because of fear of consumer boycotts. Likewise, much of the corporate news in the US seems determined to obscure the dangers and sources of climate change, perhaps influenced by the vast wealth of Big Carbon or even because their parent companies are invested in that sector. Informed Comment is unconstrained by such considerations.
My aim is to be even more comprehensive, and to provide insights on world developments not found elsewhere that challenge lazy conventional wisdom and inside-the-beltway tunnel blindness. I seek to provide visitors with one-stop access to high quality curated sources for research on the Middle East, including maps and key documents and translations. That endeavor obviously requires resources, and the more we have the more we can do. Your support allowed me to pay guest columnists and syndicators for some of our more popular entries this year. (Those who like the old weblog view and are mainly interested in my essays can still find it here (click on the underlined text).
We still get millions of page views a year at the server. Informed Comment also has a big presence in social media. Twitter impressions for the most recent quarter alone were 3 million. Of course, we can't track email circulation, and likely as many readers or more see posts that way as via Twitter or Facebook. I'm proud to say some 45 percent of our readers are women, and 60 percent of you are 34 and younger. (We've got the key demographic!) But remember, these impressive circulation figures are not generating any income and don't pay the bills.
Philosophy and Mission of Informed Comment
Despite rising costs of maintaining this site, years ago I decided that I did not want to put Informed Comment behind a firewall and charge a subscription fee for it. That just isn't who I am. In my own view, there has been a long crisis between the United States (and perhaps much of the West) and the Muslim world that I felt a duty to attempt to interpret and analyze for both publics, not just for well-heeled elites. Pressing issues have arisen such a climate change and the energy and water crises, which have a great deal to do with the Middle East and South Asia, my areas of expertise. This is a democratic blog, for the people and in dialogue with the people, for the common weal.
Plans for 2019
For 2019, we are continuing to tweak our redesign and planning to have more guest authors of the sort you are clearly pleased by.
Informed Comment will be all over the Trump administration when it misrepresents minorities, when it puts out phony statistics and propaganda ("fake news"), when it tries to enact policies, like reviving coal-burning plants, that harm the American people, and when it rattles sabers in the Middle East.
When events call for first hand reporting, I will continue travel for research and journalism to places where important developments are unfolding affecting US foreign policy, including of course the Middle East. Your contributions also allow me to solicit and pay for experts who can comment insightfully on these events.
To make all these projects a reality, I do need your help. Our budget is a tiny fraction of any other news organization in the world. Given the wide online circulation of IC posts, your contribution here makes an incredible difference in the news ecology.
Smaller contributions are also very much appreciated! Paypal is convenient for small contributions and crowdsourcing is now the name of the game.
Independent Media
Your donation helps me keep Informed Comment independent and prolific. Together we keep independent media alive. I would like to thank all my readers and contributors again for your support in 2017 and look forward to an even more productive 2018 together. Thank you for supporting our independent thinking and dialogue!