Ann Arbor (Informed Comment) – Can Wonder Woman take down Israel's combative, far right wing prime minister over his disturbing racism? Actress Gal Gadot, who played the Amazonian superhero in the blockbuster DC Entertainment film, has weighed in. As her character, Diana, said in the film,
"I am the man who can."
Embed from Getty Images
"PARIS, FRANCE – APRIL 26: A DC Comics universe poster in Paris, France. (Photo by Thierry Chesnot/Getty Images)."
Prime Minister Binyamin Netanyahu is fighting for his political life like a cornered rat, by baring his most racist buck teeth, dripping with vitriol. He is being indicted for taking bribes and for blackmailing Israel's media and newspapers into giving him favorable coverage (i.e. for undermining the foundations of Israeli democracy).
Israeli actress and tv host Rotem Sela provoked him. She complained about one of his cabinet ministers alleging on TV that a vote for the rival center-right Blue and White coalition in the upcoming elections is a vote for the Arabs.
This would be like a Republican saying that a vote for the Democrats is a vote for the N word.
Sela responded on Instagram "Dear God, there are also Arab citizens in this country. When will anyone in this government tell the public that this is a country of all its citizens, and all people are born equal."
Netanyahu, flailing around in the smelly cesspools of racist supremacy and crude ethnic put-downs (which makes Trump sound like the ACLU in comparison) went ballistic and proudly posted on his Instagram account his reply that Israel belongs only to its Jewish citizens and that the some 21% of the citizen population of Palestinian heritage have no share in the country's sovereignty (though he acknowledged them as "citizens.") Here's the first part of his statement via Instagram's translation function (it isn't perfect).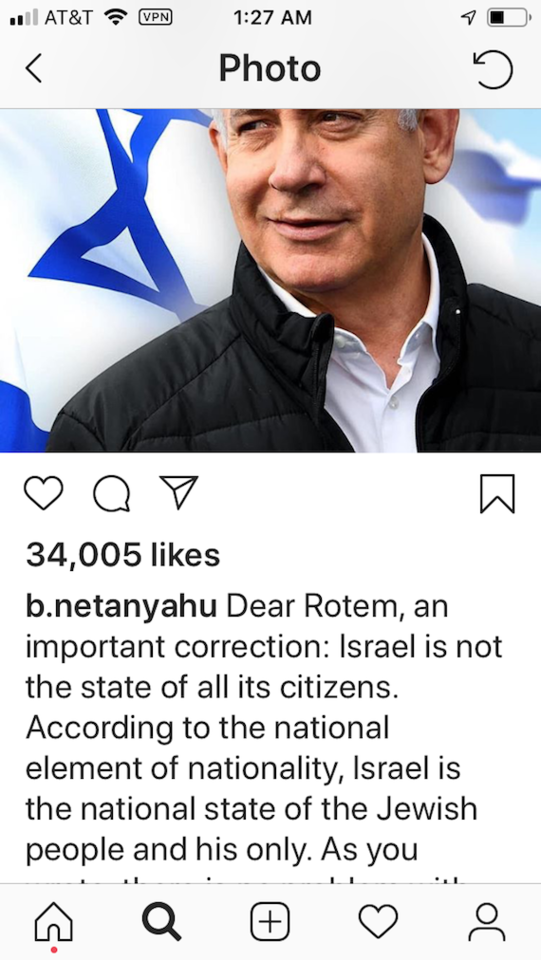 Then, enter Wonder Woman.
"What one does when faced with the truth is more difficult than you'd think." – Diana, Wonder Woman
Embed from Getty Images
"MILAN, ITALY – MAY 19: A woman impersonating 'Wonder Woman' during the Italian Doll Convention on May 19, 2018 in Milan, Italy. (Photo by Emanuele Cremaschi/Getty Images)"
In real life, Gadot, who is a friend of Sela's, posted to her own Instagram account, "Love thy neighbor.It is not a matter of right or left, Arabs or Jews, secular or religious. It is a matter of dialogue, of dialogue for peace, and of our tolerance for each other. It is our responsibility to shine hope and light for a better future for our children."
Or as Wonder Woman would say,
"I'm willing to fight for those who cannot fight for themselves."
Well, Ms. Gadot is against racism, but she stirred controversy in 2014 by posting to Facebook a picture of her praying with her daughter during the war on Gaza with the caption,
"I am sending my love and prayers to my fellow Israeli citizens. Especially to all the boys and girls who are risking their lives protecting my country against the horrific acts conducted by Hamas, who are hiding like cowards behind women and children…We shall overcome!!! Shabbat Shalom! #weareright #freegazafromhamas #stopterror #coexistance #loveidf"
Needless to say, the 2014 fish-in-the-barrel shoot that was the war on Gaza had little to do with Hamas's horrific acts (it has done horrific acts) and everything to do with collectively punishing the Palestinian population of the strip (70% of them refugees chased out of their homes in what is now southern Israel) for continuing to resist Israeli hegemony.
Here's what the annual death toll of Palestinians versus Israelis in recent years looks like; the blue is the Israelis. Note that there is no spike in Israel deaths leading up to 2014. Every life is precious, but this chart in itself violates the international law principle of proportionate response.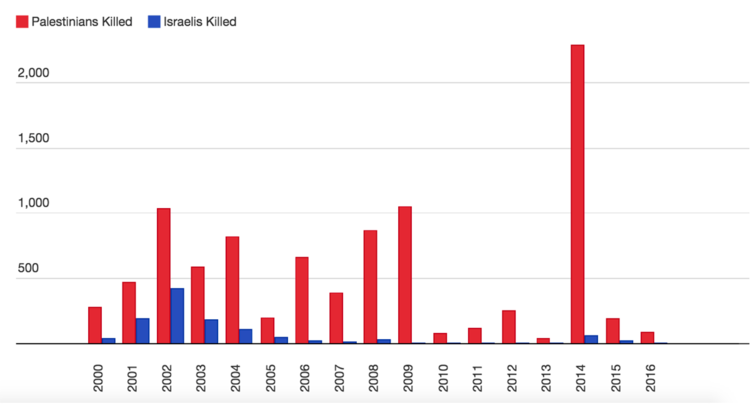 You wonder if relatively liberal Israelis who recoil at Netanyahu's veering toward supremacist racism can really stop their country going off a cliff if they buy into Netanyahu's cynical projects like "mowing the grass" in Gaza.
Netanyahu is going around sparring on Instragram with actresses out of further desperation. One of Israel's perennial but ineffectual center-right coalitions has formed to attempt to unseat Netanyahu's far rightwing coalition of Ashkenazi neo-fasists, Russian Jewish hypernationalists, and ultra-Orthodox theocrats. His coalition needs 61 seats in parliament (the Knesset) to form the next government, and his Likud Party, with its unsavory origins in racialized 1930s central European mass politics, needs to be the largest single party in the coalition for him to remain prime minister. If the center-right pulls ahead, Netanyahu could be consigned to the back benches of parliament, making him all the more vulnerable to a jail sentence if he is tried and found guilty next year.
Netanyahu's first ploy of desperation was to attempt to get a slight margin over the center-right by bringing on board the terrorist Kahane wing of muscular Zionism, fringe elements banned from parliament in 1988 for their violence and their fantasies of assassinating even right wing prime ministers. The Kahanists frankly want to ethnically cleanse the Palestinians living under Israel or Israeli control. Many of their members lionize the terrorist Baruch Goldstein, who shot to death 29 innocent Palestinians and wounded 124 at the Cave of the Patriarchs in 1994. Netanyahu has gleefully welcomed these upstanding citizens into his coalition, looking for that essential 61st seat.
This is a dark world, one in which hatred abounds and injustice is pervasive. In this world there are no superheroes, only flawed human beings consumed by passions in a dog eat dog postcolonial hell. The only moral clarity is that Israel is militarily occupying or besieging 5 million stateless Palestinians, on whom it is preying, and that has to stop. It is easy to condemn an extremist like Netanyahu, but critics have pointed out that his rivals, such as Yair Lapid, are not better on the Palestine issue. And another rival, retired general Benny Gantz, has actually campaigned on his war on the Palestinians of Gaza.
Diana, Wonder Woman, gets the last word:
""I used to want to save the world. To end war and bring peace to mankind. But then, I glimpsed the darkness that lives within their light. And I learned that inside every one of them, there will always be both. A choice each must make for themselves. Something no hero will ever defeat. And now I know, that only love can truly save the world. So I stay, I fight, and I give, for the world I know can be."
Embed from Getty Images
"BIRMINGHAM, ENGLAND – MARCH 19: A cosplayer in character as Wonder Woman during the MCM Birmingham Comic Con at NEC Arena on March 19, 2017 in Birmingham, England. (Photo by Ollie Millington/Getty Images)."
—–
Bonus video:
Haaretz.com: "Gal Gadot backs TV host who was attacked by Netanyahu"