Ann Arbor (Informed Comment) – The sources of the climate emergency are often framed with regard to electricity generation and transportation, while the impact of global heating through burning of fossil fuels is of discussed with regard to extreme weather and sea level rise.
The UN's Intergovernmental Panel on Climate Change has just issued A Report that looks especially at land– as both a generator of greenhouse gases and as the object of climate changes. The news is bad.
It's getting hot in here.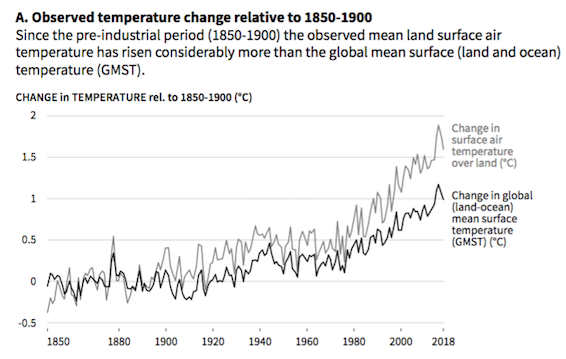 About 25% of greenhouse gases are emitted by human agriculture. That means we could take our grids 100% green and all drive EVs powered from wind and sun, and if we don't fix agriculture we'd still be putting out nearly billions of metric tons of greenhouse gases (carbon dioxide, methane and nitrous oxide) a year and boiling the earth.
Still, obviously, most of our effort has to be devoted to eliminating the burning of fossil fuels such as coal, petroleum and natural gas, since they produce the lion's share of global heating. We can't save the earth by skipping a hamburger if we drive in a gasoline-fueled car to a vegetarian restaurant with the air conditioning blasting (the electricity for which is produced by a coal plant).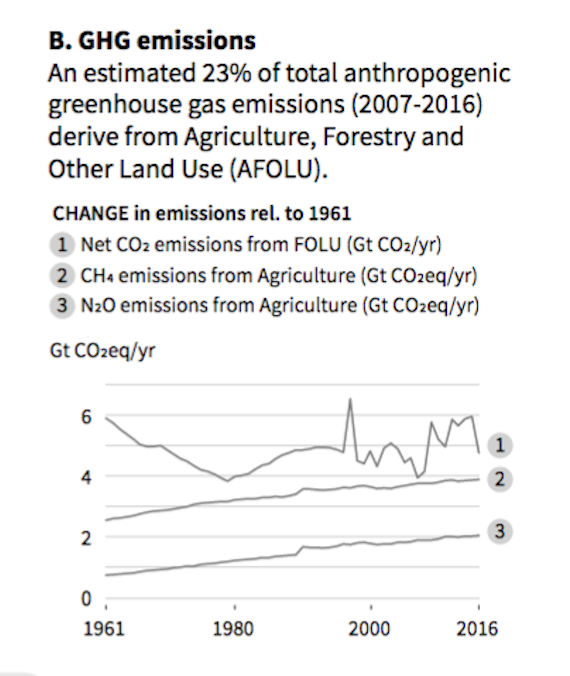 "Agriculture, Forestry and Other Land Use (AFOLU) activities accounted for around 13% of CO2, 44% of methane (CH4), and 82% of nitrous oxide (N2O) emissions from human activities globally during 2007-2016, representing 23% (12.0 +/- 3.0 GtCO2e yr-1) of total net anthropogenic emissions of GHGs21 (medium confidence). The natural response of land to human-induced environmental change caused a net sink of around 11.2 GtCO2 yr-1during 2007-2016 (equivalent to 29% of total CO2 emissions) (medium confidence); the persistence of the sink is uncertain due to climate change (high confidence)."
That is, vegetation and land also reabsorb some (a minority) of carbon dioxide emissions. The balance between greenhouse gas emissions and their absorption going forward is hard to predict. The permafrost could emit a lot of such gases as it thaws. The bottom line is that we need to create more carbon sinks with forestry and best-practice land use, but there is no guarantee that we will, and nature won't take care of the problem alone.
People are affecting 70% of the land on earth that isn't covered with ice. We're wasting a quarter to a third of all the food we produce, and we produce it in high-carbon ways. Since 1960 we've increased the global production of food by 1/3, but at the cost of substantial and unsustainable degradation of the world's ecosystems, with large numbers of habitats and species annihilated.
We're actually destroying the soil that feeds us at alarming rates, with tillage degrading the soil 100 times faster than it can form, and one fourth of all the ice-free land on earth is now being degraded by human beings.
On top of all that, the greenhouse gases we are spewing into the atmosphere at the tune of billions of metric tons per year are causing desertification:
"the annual area of drylands in drought has increased, on average by slightly more than 1% per year, with large inter-annual variability. In 2015, about 500 (380-620) million people lived within areas which experienced desertification between the 1980s and 2000s"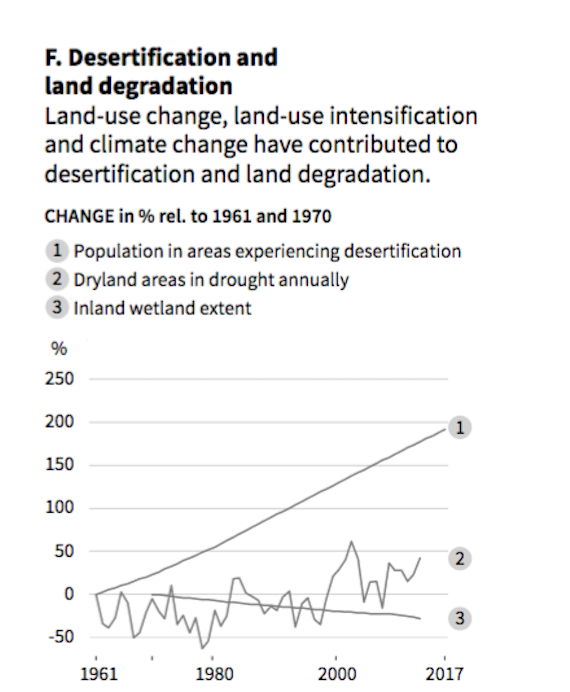 A rate of 1% increase of desertification per year every year is extremely alarming.
That stuff builds up over time.
Desertification doesn't affect everyone equally:
"In some dryland areas, increased land surface air temperature and evapotranspiration and decreased precipitation amount, in interaction with climate variability and human activities, have contributed to desertification. These areas include Sub-Saharan Africa, parts of East and Central Asia, and Australia."
East Asia and sub-Saharan Africa are two of the more populous regions in the world, and Africa's population is expected to quadruple over the next century. All those new human beings in Africa are going to run right up against limits on agricultural production that are being produced in part by the climate emergency, which spells trouble for everyone. Likewise, East Asia has a lot of mouths to feed.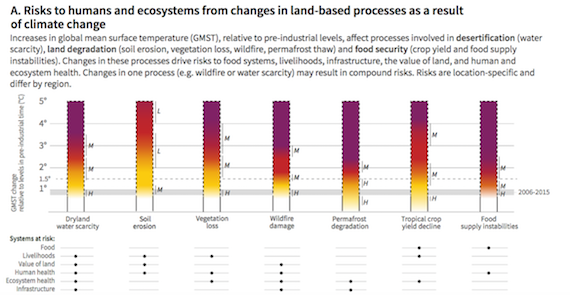 And that problem of 1/4 of the land on earth being degraded by humans is going to get worse as a result of the climate crisis. Hurricanes, extreme precipitation and flooding will rip the topsoil in some areas. Rising sea levels will eat away at arable land along the coast. In other regions, the earth will turn to a dustbowl and fly away:
"Climate change can exacerbate land degradation processes (high confidence) including through increases in rainfall intensity, flooding, drought frequency and severity, heat stress, dry spells, wind, sea-level rise and wave action, permafrost thaw with outcomes being modulated by land management. Ongoing coastal erosion is intensifying and impinging on more regions with sea level rise adding to land use pressure in some regions (medium confidence)."
What can we do? The IPCC says we can do things with immediate impact, and things with long-term impact:
"Examples of response options with immediate impacts include the conservation of high-carbon ecosystems such as peatlands, wetlands, rangelands, mangroves and forests. Examples that provide multiple ecosystem services and functions, but take more time to deliver, include afforestation and reforestation as well as the restoration of high-carbon ecosystems, agroforestry, and the reclamation of degraded soils (high confidence)."
Some news outlets are leading with "eat less meat." That might help a little, and it may even be better for your health, but it isn't the main gist of what the IPCC is saying.
The main takeway from the IPCC reports is that we need a global emergency action plan to stop fossil use. We also need to stop destroying natural carbon sinks (which absorb CO2), and indeed, we should expand them.