Ann Arbor (Informed Comment) – In a nearby place and very recently, Donald J. Trump, Rudy Giuliani, Rick Perry, Mick Mulvaney and Mike Pompeo among others hatched a plot against Joe Biden, whom they fingered as the likely Democratic standard bearer in 2020. The plot was to make sure Biden was smeared as a corrupt swamp creature and dealt defeat.
They knew a few things. One, then vice president Joe Biden's son Hunter Biden served on the board of a Ukrainian natural gas company, Burisma, beginning in 2014. There was nothing illegal about this and there is no evidence that that Hunter Biden did anything wrong, though obviously this was a form of influence peddling and it isn't a good look. The Trump children do this kind of thing all the time.
Also in 2014, Russia initiated a military confrontation with Ukraine, occupying Crimea (which had once belonged to Russia) and engaging in a low intensity conflict in eastern Ukraine where there are 2 million Russian-heritage Ukrainians. Ukraine desperately needed US monetary and military aid.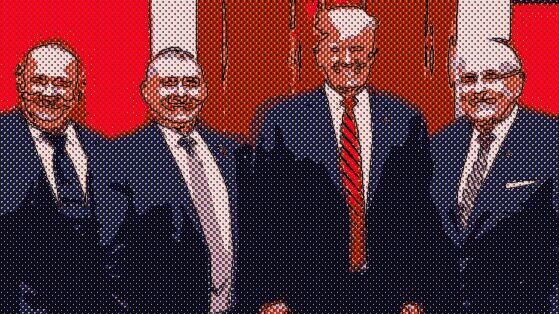 Trump and his cronies knew that Burisma at one point came under scrutiny in a corruption investigation that, however, went nowhere.
They knew that Joe Biden as VP pressured Ukraine to fire the top prosecutor Viktor Shokin, who was notoriously lax in launching investigations, and with whom the European Union and the US were frustrated because of his inaction.
Embed from Getty Images
Ukrainian prosecutor general Viktor Shokin holds a press conference in Kiev on the situation in Dnipropetrovsk on November 2, 2015. (GENYA SAVILOV/AFP via Getty Images).
So they thought they could get up a narrative that Shokin had been on the verge of busting Hunter Biden when daddy swooped in and used his vice presidential office to protect his son by interfering in the Ukrainian justice system.
Personal checks should be made out to Juan Cole and sent to me at:
Juan Cole
P. O. Box 4218,
Ann Arbor, MI 48104-2548
USA
(Remember, make the checks out to "Juan Cole" or they can't be cashed)
Shokin had not been on the verge of busting Hunter Biden or Burisma or apparently anyone at all. Biden had him fired at the behest of the international community. The charge is illogical, anyway, because Joe Biden had Shokin fired for being inactive, and logically speaking the new more vigorouos Prosecutor would be more likely to investigate Burisma.
The smear narrative Trump planned for Biden didn't hold water, but Trump figured if he could convince the American public that a Washington DC pizzeria was used by Hillary Clinton to run a pedophilia ring, convincing them that the Bidens were corrupt in Ukraine would be a piece of cake.
Trump thought that the Ukrainian government could be strong-armed into investigating Burisma/ Hunter Biden and into announcing it publicly, which announcement could then be used to smear Joe Biden as corrupt. Work may have begun on this plot in 2017 or 2018. But it was all for naught.
Because Ukraine went to elections last April and a new guy was elected, Volodomyr Zelensky, a former television comic who played the president of Ukraine satirically. The joke was on Trump.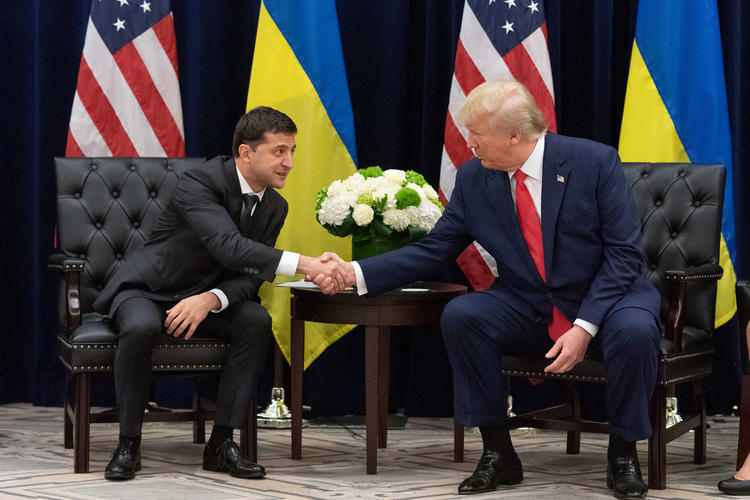 Trump/ Zelensky at UN, h/t Wikimedia.
Trump needed to find a way to coerce Zelensky into following through with the plot. He needed Ukrainian go-betweens to grease relations with Zelensky's cabinet and circle. He may have already been using Lev Parnas and Igor Fruman for this purpose.
He also needed to get rid of the US ambassador to Ukraine, Marie Yovanovich, because she would not play ball in putting the moves on Zelensky. Giuliani was tasked with ruining her reputation and making it easy to pull her.
Embed from Getty Images
WASHINGTON, DC – OCTOBER 11: Former U.S. Ambassador to Ukraine Marie Yovanovitch (Photo by Chip Somodevilla/Getty Images).
Rudy Giuliani sent in Parnas and Fruman, who not only introduced him and other Trump operatives to high officials in the new Ukrainian government but also funneled money from Ukrainian and Russian businessmen into Republican Party political campaigns like that of Trump and of Ron DeSantis in Florida, presumably in return for promises of future business opportunities or money laundering opportunities in the United States. Parnas and Fruman were thus a double-edged sword, fixers in Ukraine and fixers for the corrupt GOP in the US.
Embed from Getty Images
BEDMINSTER TOWNSHIP, NJ – NOVEMBER 20: (Photo by Drew Angerer/Getty Images).
I wrote earlier:
Lev Parnas and Igor Fruman, associates of Rudy Giuliani, were arrested attempting to leave the US with one-way tickets to Austria, after they had been subpoenaed to testify before the House.
Embed from Getty Images
In this file photo, Rudy Giuliani associate Lev Parnas (left), who was indicted for violating campaign finance laws, is seen with Giuliani at a campaign rally for Florida Governor Ron DeSantis (right) on November 4, 2018 in South Daytona, Florida. (Photo by Paul Hennessy/NurPhoto via Getty Images).
One of the charges on which they were arrested was that they set up a dummy corporation, represented as a gas and oil enterprise but which did not actually exist, calling it Global Energy Producers. GEP then made a donation of $325,000 to America First Action, a pro-Trump political action committee, in May of 2018.
They donated big sums to other PACs via their corporate personhood, funneling money from the Ukraine and $1 million from one Russian businessman alone. Citizens United allowed them to operate anonymously and to give as much as they liked (or as their foreign patrons liked).
They also used GEF to influence Republican congressman Pete Sessions to write a letter to secretary of state Mike Pompeo, demanding that he fire the US ambassador to the Ukraine, Marie Yovanovitch.
They also did illegal fundraisers for Florida governor Ron DeSantis, helping him win the governorship."
In summer of 2019, Trump was close enough to Zelensky and his government to spring the Ask. He made it clear to Zelensky that he would not get a meeting with Trump at the White House and would not get nearly $400 million in US military aid unless he publicly announced that he had initiated an investigation of Hunter Biden.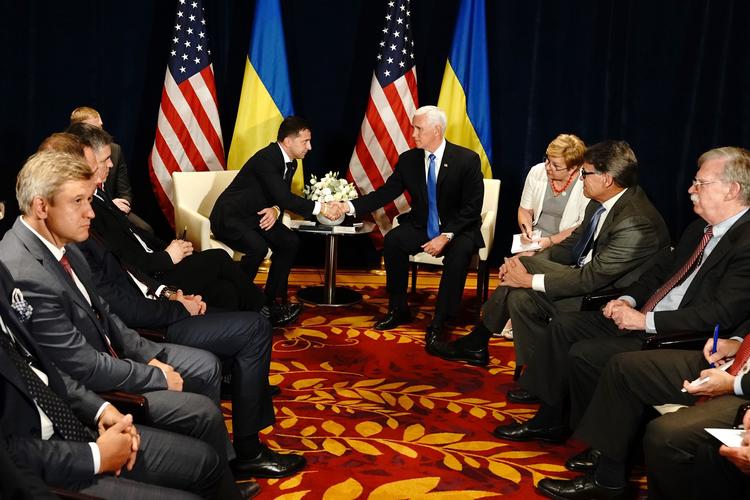 h/t Wikipedia
I wrote earlier:
According to Rachael Bade, Aaron C. Davis and Matt Zapotosky at WaPo, Ambassador Gordon Sondland testified that Trump proffered a thing of value, i.e. a Rose Garden appearance with Ukrainian president Volodomyr Zelensky. Sondland said forthrightly, "I know that members of this committee frequently frame these complicated issues in the form of a simple question: Was there a 'quid pro quo?'. . . With regard to the requested White House call and the White House meeting, the answer is yes."
Embed from Getty Images
WASHINGTON, DC – NOVEMBER 20: Gordon Sondland, the U.S ambassador to the European Union, waits to testify before the House Intelligence Committee in the Longworth House Office Building on Capitol Hill November 20, 2019 in Washington, DC. The committee heard testimony during the fourth day of open hearings in the impeachment inquiry against U.S. President Donald Trump, whom House Democrats say held back U.S. military aid for Ukraine while demanding it investigate his political rivals and the unfounded conspiracy theory that Ukrainians, not Russians, were behind the 2016 computer hacking of the Democratic National Committee. (Photo by Drew Angerer/Getty Images)
That is, Trump nakedly offered Zelensky a bribe in the form of a White House meeting and $400 million in return for opposition research on his political opponent's family. Oppo research is a thing of value, for which political campaigns pay millions of dollars. Therefore, Trump sought a thing of value in exchange for a White House meeting, which is a form of naked bribery.
Zelensky desperately needed the meeting with Trump to demonstrate that US support for Ukraine remained strong, in the face of the Russian incursion into East Ukraine and the Russian occupation of Crimea. In return, Zelensky had to make a public statement that the state prosecutor was investigating Hunter Biden and Burisma, the natural gas company on the board of which he served, for corruption. Apparently Zelensky had planned to do this on Fareed Zakariya GPS on CNN, but dropped the plan when the whistleblower complaint became public and Politico disclosed that Trump had held up aid to the Ukraine.
Sondland also testified that he was directed by Rudy Giuliani, Trump's personal attorney, in a scheme to deny the military aid appropriated for Ukraine until the Biden investigation was announced by Zelensky.
Trump was defended during the Intelligence Committee hearings by ranking minority member Devin Nunes. But it turns out that Nunes spent a lot of time on the phone with Parnas and Giuliani and at one point flew with his staff at taxpayer expense to Vienna in connection with the Plot on Zelensky/ Biden.
Embed from Getty Images
WASHINGTON, DC – MARCH 07: Rep. Devin Nunes (R-CA), chairman of the House Permanent Select Committee on Intelligence, answers questions at the U.S. Capitol during a press conference March 7, 2017 in Washington, DC. Nunes announced that the first public hearing on Russian interference in the U.S. election will begin March 20. (Photo by Win McNamee/Getty Images).
Trump withheld the Rose Garden meeting with Zelensky and $400 million in military aid to twist Zelensky's arm into announcing an investigation in Hunter Biden. He was coercing Zelensky with denial of things Zelensky needed to make the Ukrainian government do opposition research on the Bidens for him. This for that. He bribed Zelensky using US government assets and monies (appropriated for a purpose by Congress). That is the definition of corruption, and certainly impeachable.