Ann Arbor (Informed Comment) – Aidan Lewis at Reuters reports that Egypt has just opened the 1.5 gigawatt Benban solar plant near the Upper Egyptian city of Aswan (pop. 339,000). It is part of a $2.1 billion development project. The plant, one of the largest in the world, was inauguarated on December 12. It may add another 300 megawatts to its capacity down the road.
The plant employed 10,000 workers during construction, and will need 4,000 workers to run. Some of those workers will keep the dust from accumulating on the panels. The solar farm will avoid 2 million tons of carbon dioxide a year.
Numerous countries and companies invested in parts of the complex. Mr. Lewis at Reuters points out that one of the benefits of the plan is just to get outside investors to think about putting money into Egypt for something other than oil and gas.
Egypt has mysteriously dragged its feet on renewables despite having abundant wind and sun. Even now, the Ministry of Electricity and Renewable Energy only hopes to get 20% of Egyptian electricity from renewables by 2030. Egypt could do much better, but for some strange reason is mesmerized by natural gas, which it mostly has to import. In Egypt, it is certainly more expensive to build and run a new gas plant than to build and run a solar or wind farm.
I once tried to push renewable energy in consultations in Japan, and the bureaucrats pushed back that Japan is often cloudy and doesn't have a lot of places to put solar panels. I think they were wrong about all that–they have a lot of rooftops and a lot of sun. But anyway no one could make those arguments about Egypt. I used to be amused by the evening weather reports on Egyptian T.V. when I lived there, since there wasn't to my mind much of what you would ordinarily call "weather" in North America. Tomorrow it would be sunny with some high wispy clouds, or no clouds at all. That was the variation. The meteorologists seemed nevertheless to feel they had to tell you about the weather for the full 5 minutes. I think in the nearly four years all together that I lived in Egypt, I was rained on (briefly) about three times.
Personal checks should be made out to Juan Cole and sent to me at:
Juan Cole
P. O. Box 4218,
Ann Arbor, MI 48104-2548
USA
(Remember, make the checks out to "Juan Cole" or they can't be cashed)
As for places to put the panels, the brown stretches in the map below are pure desert where there just is nothing at all except occasionally lizards and scorpions. No one will be inconvenienced by solar farms in those tens of thousands of square miles. Egypt is 387,050 sq mi., or about 1 million sq. km., and only 3 percent of it is suitable to farming.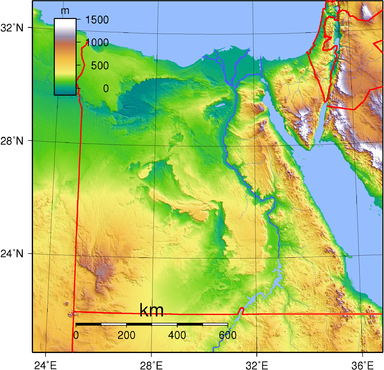 h/t Wikimedia
Most people live along the Nile on a north-south axis, so the electrical wiring is pretty straightforward, though they need new grid connections and some high density wires. This is what the population density looks like: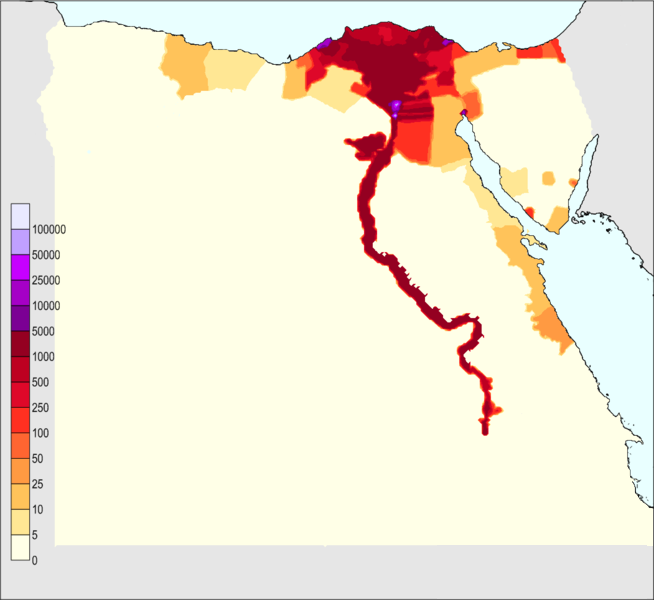 h/t Wikimedia.
The Saudi solar giant ACWA has signed on to build a 200 megawatt solar plant at Kom Ombo (pop. 70,000), another city in Aswan province. It will power 120,000 homes in the region. Together, the two installations will make Aswan governorate one of the largest renewables hubs in the world.