Translated by Juan Cole
From the Rubaiyat of Omar Khayyam
Tonight, who brought you, tipsy, here to me?
From there beneath the veil, whose hand brought you?
–to one on fire because of your absence–
one like a sirocco; who brought you here?
(Whinfield 2)
( revised)

N.B.: In April of 2020, Bloomsbury/ I. B. Tauris is bringing out my own translation of the Rubaiyat of Omar Khayyam (click here to order)<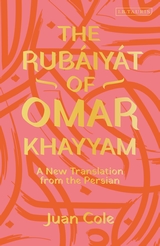 .
Reviews:
"'To read Juan Cole's deft, plain-spoken translation of the Rubáiyát
is to find companionship, to rejoin a thousand-year human
conversation about how to endure, enjoy, and find a fleeting beauty
in everlastingly dire times. The lucid, cogent and mind-opening
Epilogue is a kind of grace, a gift freely given, from one of our
most astonishing and generous intellects.'"
– Michael Chabon, Pulitzer Prize winner and author of Moonglow (2017)
"'Omar Khayyam is a Persian treasure and Juan Cole's new
translation brings him anew to Western audiences who
for centuries have been both delighted and educated by this
medieval sage! Reading The Rubáiyát is a thrill – you feel the
echoes of the 12th century seamlessly into our 21st, as this is
a holy book of wisdom and magic. In another perilous era for
Iranians, it's wonderful to see this enchanting volume make
its way through the world yet again!'"
– Porochista Khakpour, novelist, essayist and author of Brown Album (2020)
For those who want to try their own hand, see "How to write Rubaiyat"