Ann Arbor (Informed Comment) – The French press is reporting that the European Union is opening its borders on July 1, but will keep them closed to countries that seem incompetent in dealing with the coronavirus. The worst offenders in this regard are the United States and Brazil, the citizens of both of which will likely be barred from coming to Europe this year. India and Russia are being viewed as pandemic incompetents, as well.
Ironically, Trump ran for office in 2016 on a platform of denigrating Mexican and Muslim immigrants to the US as criminals and undesirables, and now he has turned Americans into the ones against whom the world is building walls.
I should confess that as a boomer, I have trouble adjusting to the backwardness of Trump's America. At the end of WW II, Europe was devastated economically, and the United States had half the world's gross domestic product. Even as a US Army dependent in France in the 1950s when my father was just an enlisted man and was paid almost nothing, we lived relatively comfortably because of the strength of the dollar (one dollar fetched 600 francs).
Now, France wouldn't have us. We're diseased and dirty, folks, because our president is a fool.
The cut-off for EU visitor guidelines is established by the average situation in the 27 EU countries.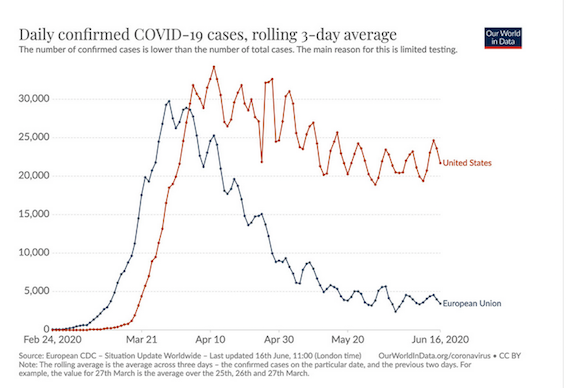 The WaPo reports that on Wednesday, "38,115 new infections were reported by state health departments on Wednesday — surpassing the previous single-day record of 34,203 set on April 25." By the same day, more than 121,000 deaths had been reported in the US, the highest absolute number of any country in the world.
Let me underline that all these months in, we're recording more daily cases than ever before, which tells me that mitigation efforts have failed. Of course, some of the governors of states with spikes in cases such as Texas and Florida never believed in the lockdown or in mitigation, or perhaps even in the existence of the virus, and so it is no surprise that they are becoming hotspots.
Dr. Anthony Fauci is worried that we are seeing a new outbreak and are entirely unprepared for it: "The question is will they have the capability to do the appropriate and effective isolation, and contact tracing, to prevent this increase from becoming a full-blown outbreak? I'm concerned it's happening."
The United States is unique among industrialized democracies in having no central government plan for dealing with the pandemic. Each state is on its own, and Trump has made clear that states that defy him will be disadvantaged. He even sicced white supremacist militias on Michigan's state house to force the hand of governor Gretchen Whitmer. He wanted the country opened back up by Easter, and then by early May, and then by Memorial Day, when many GOP governors gave into him. The spikes we now see come from those early reopenings. States are forced to compete with one another for medical equipment and tests, driving up the costs. States are forbidden by law from running budget deficits, unlike the Federal government, and the prospect of hiring thousands of contact tracers is daunting for them. They are getting no Federal help at all in this regard. The Republican tax-cut agenda since Reagan has left county health departments under-staffed.
A British study found that near-universal wearing of face masks when people are outside their homes has the effect of reducing the transmission rate to below 1, which would prevent second and third waves. But Trump won't even let us have that measure. He has said he feels as though people who wear masks are slamming him personally, and discourages his cult from wearing them. I take no satisfaction in knowing that he is getting his acolytes sick and killing their grandparents. I do throw up a little in my mouth at the thought of what a monster he is.
LeMonde notes a "great freeze" in relations between Trump's America and Europe. Trump is unilaterally yanking US troops out of Germany. Secretary of state Mike Pompeo hold video conferences with his European counterparts in which he just lectures them endlessly and doesn't let them get a word in edgewise. Mnuchin at Treasury casually threatens the Europeans with sanctions over tax policy. And of course Trump banned Europeans from the US in March, implying that they were the ones who were backward and dirty.
Trump has reduced the United States to a third world country comparing more to Brazil than to today's Europe. Per capita GDP in the US is $65,000 a year. In Brazil it is $8,796. But Brazil, which only has 2/3s the population of the US, had had 53,830 deaths, whereas the US has had over 121,000.
Neither of us is vacationing on the French Riviera any time soon.
——-
Bonus Video:
France 24 English: "EU considering blocking US tourists over botched Covid-19 containment: US media"