Ann Arbor (Special to Informed Comment) – The Declaration of Independence lists multiple attacks on American lives by the tyrant king George III, but some items on the list could just as well describe Donald Trump's crimes, including his Covid 19 lies. Maybe it's because both men share the same authoritarian political vision? Let's take a look, working from the 1884 edition by order of Congress:
· "He has refused his assent to laws the most wholesome and necessary for the public good."
Trump's obstruction of any national program for controlling the pandemic and, together with Mitch McConnell, his obstruction of a responsible second Cares Act, fits the bill.
· "He has forbidden his governors to pass laws of immediate and pressing importance."
Trump pressured Republican governors to open their economies before it was safe to do so, and to actively suppress the implementation of sensible safety measures such as wearing masks. Many dutifully obeyed, some going so far as to overrule mayors who were acting responsibly. The results were both tragic, and preventable.
· "He has erected a multitude of new offices, [by a self-assumed power] and sent hither swarms of new officers to harass our people and eat out their substance."
The president does not have the power to create and fund new offices at the level of the Secretary of State. Even if he did, those offices would need to have a specific charge and requirements for eligibility. "Special Advisor" to the president has neither, not to mention that nepotism, in modern times, is the acme of corruption.
Conspiring to appoint men loyal to himself—not the nation—he has assigned incompetent temporary officers to key positions so as to get around Congressional checks. Because these officers are unqualified, partisan, and corrupt, they harass the people when necessary to benefit their master.
· "He has kept among us in times of peace standing armies without the consent of our legislatures."
In both Washington D.C. and in Portland, not only was the legislature not informed, but even the military had not been consulted.
· "He has affected to render the military independent of, and superior to, the civil power."
Trump refuses to seek permission from civil officers before sending military personnel into a region, and when civil officers object, he pays no attention.
· ". . . cutting off our trade with all parts of the world."
His petulant trade wars against China, Canada, and Europe have cost tens of thousands of American jobs, with losses in market value for American companies over a trillion dollars.
· "He has incited treasonable insurrections of our fellow citizens."
When, what Jefferson called the "chief magistrate" incites an armed body of ordinary citizens to occupy government buildings by force, that pretty much fits the description.
After completing a list, the Declaration went on to connect the dots. It declared that George III's actions "all have in direct object the establishment of an absolute tyranny over these states." A little background on Georgian English terms will help us appreciate the despotic vision of authority uniting Trump's actions with those of George III.
1. "Chief magistrate." 18th century progressives used this term to refer to the top administrative officer, whether a king, prime minister, or president. This was useful because Jefferson understood that both kings and presidents could aspire to tyrannical powers. He referred to the latter situation as "masked monarchy," a system that outwardly resembled government by rules and procedures, but where authority flowed from the top, as in a monarchy.
2. "Tyranny." In the 18th century "tyranny" meant the arbitrary use of power. "Arbitrary" referred to unilateral, self-interested actions, in defiance of procedures or rules. Violations of procedure in George III's actions were highlighted in several items from the list.
Example: Jefferson took it for granted that the powers of government resided in offices. Offices come with demands for eligibility meant to ensure that their powers will be used for the public good. Power doesn't flow from the top, because every qualified officer has the degree of authority needed to fulfill her charge. When expertise is ignored, the checks inherent in the nature of office evaporate.
If expertise isn't required, the power of office reverts to the "chief magistrate." Now he can appoint unqualified officers dependent on him alone, so the power flows to whomever he pleases: cronies, donors, relatives, whatever.
Under that configuration, offices no longer serve the people because now they are merely extensions of the chief magistrate's will. The people forfeit all rights that the political system previously provided. They cease to be citizens and become subjects instead.
That more draconian understanding of peoplehood goes back to Thomas Hobbes (1588-1679), whose notion of "the people" was decidedly pre-modern:
"For even in monarchies the people commands; for the people wills by the will of ONE man (emphasis added); but the multitude are citizens, that is to say, subjects."
In other words, "people" refers to the king. "Citizens" are merely subjects subsumed into the monarch and therefore belonging to him.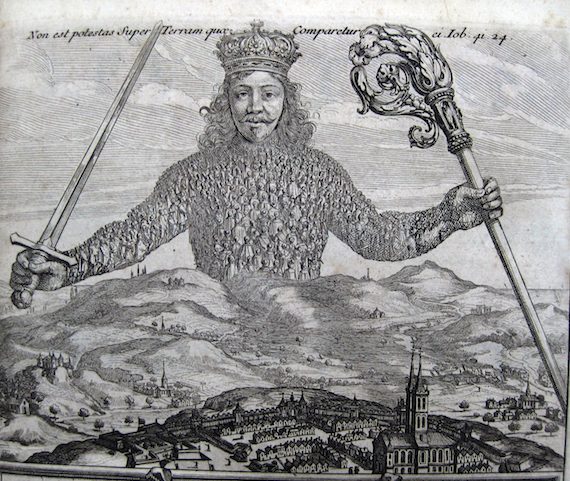 Frontispiece to Leviathan, 1651, detail. Photo by author, permission courtesy of the Institute for Advanced Study, Princeton
That authoritarian ideal was nicely visualized in the frontispiece to Hobbes' Leviathan, where the people are shown as a mass without individual identity. If the King moves, they have to move; if he doesn't, they can't. Sounds just like Donald's vision for America.
If you think that comparison is stretched, just review the Washington Post summary of his lawyer's arguments:
"[The position taken by] his and his administration's lawyers, is that law enforcement at all levels of government may not investigate or prosecute him and that the president gets to decide when impeachment proceedings against him are constitutional. In other words, there are no checks on presidential behavior between elections every four years."
Hobbes put it only a little differently:
"He [the monarch] cannot be Accused by any of his Subjects, of Injury: He cannot be Punished by them: He is Judge of what is necessary for Peace; and Judge of Doctrines: He is Sole Legislator; and Supreme Judge of Controversies; and of the Times . . ."
The Hobbsian understanding of authority explains many of Trump's otherwise nonsensical policies, like why he apparently believes that the lives of citizens belong to him. Though the Constitution forbids it, he thinks he can withhold vital aid from Blue States, knowing full well it will lead to thousands of otherwise preventable deaths.
He is Supreme Judge of controversies, and that explains why he can declare the International Criminal Court, criminal.
He is sole legislator, and so he can take funding Congress appropriated for one program, and use it for his own program.
Nowadays he even legislates what private individuals and companies can do with their own money. Apple, Starbucks and Walmart all rely on the WeChat app to process payments from clients in China, but they will no longer enjoy that advantage because Trump says all things Chinese suck, including those that profit U.S. companies. If you're an American executive in a Chinese company, you might even have to find another job because Trump's zero-sum logic says whatever is good for China must bad for us.
Your purchasing preferences, your favorite services, your business, your career, your very life—they all hang on the deranged whims of ONE man.
Unless we connect the dots and do something about it.