Ann Arbor (Informed Comment) – Even before some whistleblowers among the generals went to the Atlantic magazine with their complaints that Trump disrespected US war dead, the president was in trouble with the military.
I suspect that yesterday's news will have caused Trump's standing with the military to plummet further.
A new opinion poll from the Military Times earlier this week reported that Trump's favorability rating among US military personnel had fallen to only 38 percent. It had been 42 percent last year this time, and stood at 46 when he was first inaugurated. I made a little chart (read right to left) to show the shrinking blue approval and the ever heightening orange disapproval.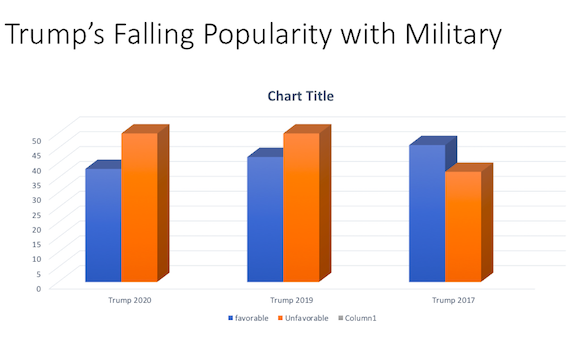 I don't show it here, but the new poll actually found that 42 percent strongly disapprove of Trump, so the fifty percent disapproval is mostly hard disapproval.
Biden wins the military vote 41 to 37 if the election were held today, according to the projections in this poll.
Trump won the military vote 2 to 1 against Hillary Clinton in 2016.
The bias of the military toward Republicans is not an eternal fact of life. I wrote way back in 2004,
"…let us take the officers in our military services, who have grown increasingly rightwing in the past thirty years. Polling data show that in 1976 only one third of military officers said they were Republicans. By 1996 two-thirds of officers identified with the GOP, and only ten percent were Democrats. This development is truly worrisome. Would President Bush have been so successful in pushing his joint chiefs of staff to put away their objections to an Iraq campaign last summer if he knew two thirds of his officers had voted against him? Did not the open contempt many in the armed services expressed for Bill Clinton weaken our democracy?"
Back in 1994, the execrable Sen. Jesse Helms of North Carolina warned President Bill Clinton that he "better watch out" for his safety if he were to visit one of the then six military bases in that state.
It is kind of cute that many Republicans a quarter a century ago were embarrassed by Helms' outburst and were afraid this sort of talk would make them look like extremists. That was before the GOP became the bastard child of Frankenstein's monster and Medusa.
I call Helms execrable for many reasons. One is that Camel brand cigarettes put advertisements at the back of Thai school notebooks, trying to hook K-12 students on cancer-causing tobacco. When the Thai government intervened to stop the ads, Helms threatened Bangkok with US sanctions.
But I digress.
That Trump may be reversing the long-term trend toward a Republican military is heartening, and the revulsion in the officer corps is even greater than among enlisted men.
Some 59 percent of officers have a poor opinion of Trump, and 50 percent have a very, very, very poor opinion of him. That statistic tracks with his unfavorability rating among the general public.
Why the military dislikes Trump so much is not hard to guess. Many in the military really hated his decision in October of last year to pull US troops from the Kurdish regions of Syria and then to feed to Turkey's megalomaniacal Tayyip Erdogan the Syrian Kurds that had been US allies against ISIL and fought side by side with US special forces to Turkey's Tayyip Erdogan.
Likewise, when Trump erratically just blew away the Iranian Gen. Qasem Soleimani at Baghdad International Airport on Jan. 3, the Iranians struck back at Iraqi bases hosting US troops with missiles, something CIA director Gina Haspel had predicted to Trump.
The missile strikes caused concussions for about 100 US service personnel. Concussions can be severe and can have severe health consequences. Trump dismissed these injuries as "light," clearly because he was afraid people would blame him for provoking the Iranian strikes.
The US military is well trained in geopolitics, strategy and logistics, and considers China and Russia much, much greater challenges than they do dinky Iran. Trump does not share their priorities.
As for his increases in the military budget, that is mostly corporate welfare for the arms firms. US military personnel are still poorly paid under Trump, just as they have been all along. But, as Trump obviously does not understand, a lot of people in the military aren't all about money.