Senator David Perdue, at a rally in Macon, Ga., for Donald Trump, made fun of Kamala Harris's name. He pretended not to know which syllable the stress was on, saying "Kamala, or Kamala, Kamala-mala-mala, I don't know."
Perdue has a history of bigotry. His campaign ran an ad on Facebook against rival Jon Ossof, who is Jewish, showing him with an exaggeratedly large nose. The campaign was forced to pull the ad.
Perdue is also a hypocrite. Kamala is the Sanskrit word for a sacred lotus, deriving from India. But Perdue isn't actually chary about India. In 2007-2009, he served as senior consultant at Gujarat Heavy Chemicals Ltd. (GHCL), an old Indian corporation. When he was taking money from them, was he mocking their names? Perdue has a long history of sending American jobs abroad, and says he is proud of finding cheaper labor for corporations.
So since Perdue is implicitly playing the American card by othering Kamala Harris, let us look at some very American Kamalas who are much more admirable people than David Perdue and who have achieved much more of lasting value for Americans than he has. And I'm leaving out the thousands of Kamalas in America who are physicians, saving lives every day, and teachers, inspiring the next generation of Americans, and whose shoes the money-grubbing and generally useless Perdue isn't good enough to shine.
Award-winning director and actor Kamala Lopez of New York City, studied theater and psychology at Yale. She has had roles in many films and thirty television shows. She directed "A Single Woman," treating the life and career of the first woman in Congress, Jeannette Rankin. That film won the 2009 Exceptional Merit in Media Award from the National Women's Political Caucus. She formed a production company, Heroica, to promote women in film. Her 2016 documentary, "Equal Means Equal," promoting women's equality and ratification at long last of the Equal Rights Amendment, won the audience award for Best U.S. Documentary at Michael Moore's Traverse City Film Festival
Kamala Lakhdir, born and raised in Westport, Ct., is a veteran foreign service officer and former United States ambassador to Malaysia. Her mother, Ann, had wanted to join the State Department but was told that if she did, she couldn't have a family. By 1991 things had changed, and the State Department actively recruited Ms. Lakhdir, with her Harvard degree and her experience in the New York City budget office, with graduate work at NYU in public finance.
Dr. Kamala Sankaram of Orange County, California, is an award-winning composer and opera singer with a 2013 Ph.D. in Cognitive Psychology from the New School of Social Research. She not only composes her own work and performs in prestigious venues but she also now teaches musical composition at State University of New York-Purchase. Her commissions include the Washington National Opera, Houston Grand Opera, Opera Memphis, and Brooklyn Youth Chorus.
American Theater Wing: "Music From Kamala Sankaram (2013 Jonathan Larson Grant Recipient)"
Kamala Mohawk Caesar , a musician and dancer, was born in New York to a Mohawk mother and a Filipino father. She studied classical Indian dance. Her site says, "Since 2002, she has produced Drums Along the Hudson: A Native American Festival and Multicultural Celebration, Manhattan's only open-air Pow Wow celebrating Native American heritage along with world cultures and their traditional dance and drumming."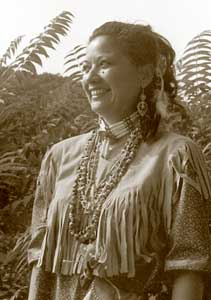 Kamala Mohawk Caesar, h/t Amerinda Talk..
Ms. Caesar's family on her mother's side has been here thousands of years, but Perdue wants to position her first name as unfamiliar and foreign to America.
Perhaps only comics afficionados now know about our fifth American Kamala, Marvel Comics' Ms. Marvel or Kamala Khan of New Jersey. The initial comics were written by G. Willow Wilson, and then Saladin Ahmad took over. Kamala Khan is a Muslim-American teenager with superpowers and Pakistani-American parents, and all the anxieties and achievements that come with that mix.
She is already a figure in the Avengers video game. She is about to be really famous, since Disney Plus and Marvel Studios are creating a streaming television show for her that has all the makings of a blockbuster. It is true that she is only a cartoon character, but then there is something cartoonish about Perdue's current affectation of good ol' boy racism in between gigs as an international businessman advising an Indian textiles conglomerate. A word to the wise, Mr. Perdue. Don't mess with the Avengers. You saw what happened to Thanos.
Marvel Entertainment: "Marvel's Avengers | Kamala Khan | Behind the Scenes"