Ann Arbor (Informed Comment) – Alarabiya reports that the government of Israeli prime minister Binyamin Netanyahu has let bids for 1257 new segregated Israeli-only housing units on stolen West Bank Palestinian land, with the bidding to end on January 18, two days before Joe Biden is sworn in. Netanyahu is clearly milking the last two months of Trump's presidency for everything it is worth, aware that Biden would pressure him not to take this step, which is the nail in the coffin of any two state solution.
You won't, by the way, see anything about all this on cable tv news, in accordance with a general blackout of Palestine news in the US, and it isn't on the front page of the New York Times or the Washington Post, though they will report on it somewhere.
The new squatter settlements in Giv'at Hamatos will completely cut Palestinian East Jerusalem off from the little Arab town of Bethlehem and from the rest of the Palestinian West Bank. It is one more step taken deliberately by Mr. Netanyahu to ensure that there never can be a Palestinian state, and that 5 million occupied Palestinians will forever be kept stateless and without basic human rights.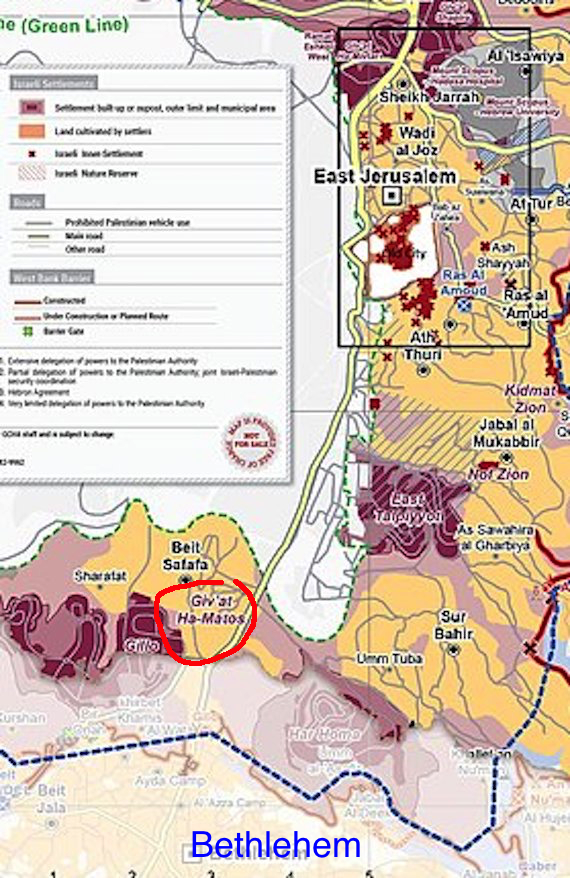 h/t Wikiwand.
It is illegal according to the anti-Nazi Fourth Geneva Convention for an occupying power to settle its own citizens on land occupied from a rival during warfare.
The Fourth Geneva Convention on the treatment of occupied populations was crafted to prevent any future repetition of the steps taken by Nazi Germany in Poland after the 1939 invasion. Nazi officials resettled in occupied Poland some one million ethnic Germans, expelling for each of them a native Pole, with the hopes of eventually completely displacing the Poles and replacing them with ethnic Germans all over the territory to the east of Germany.
The Israeli occupation authorities likewise have already settled some 450,000 Jewish Israelis on usurped Palestinian property from the families that own it in the West Bank, in units where no Palestinian is allowed. Israel also outright annexed part of the West Bank to its province of Jerusalem and has settled some 250,000 Israelis on that land. It is all illegal.
While there can be no analogy between the occupied West Bank and occupied Poland in general (6 million Poles were killed during WW II), the specific policy of reshaping the human geography is similar, and similarly unlawful in international law as of 1949. The Israeli government does make life difficult for the Occupied Palestinians, apparently in hopes that they will move to Jordan and disappear as a people.
President-elect Joe Biden is of an older generation that uses the fig leaf of a hoped-for "two-state solution" to kick the can down the road while Israel establishes its 'facts on the ground.' It is already too late for a two state solution. The only alternatives now are for Israel to accept the Palestinians it militarily occupies as citizens, or for it to pursue a formal policy of decades-long Apartheid. The latter is a war crime.