Ann Arbor (Informed Comment) – America now has its own Green Zone in downtown Washington, D.C., where the Mall is closed, the city is locked down, and protective fencing has gone up around the Capitol. You only need a Green Zone, a safe small space completely under the control of the government, if the rest of the country is a Red Zone.
Donald Trump worked his white supremacist and conspiracy nut networks throughout the United States to turn it into a Red Zone, i.e. a lawless realm of improvised explosive devices and violent vigilantes and traitorous self-styled 'patriots.' Joe Biden won't be able to have a normal inauguration not only because of the pandemic but because he will have to be carefully kept in the Green Zone.
A Red Zone is a sign of profound failure, perhaps even a failed state. In Iraq, it announced the failure of the Bush invasion and occupation. The US military never controlled anything but the ground its soldiers actually stood on.
I warned about this kind of thing in November, 2016, after Trump was elected, at a talk at the Carnegie Council for Ethics in International Affairs in New York:
Carnegie Council for Ethics in International Affairs: "American Muslims and the Trump Administration with Juan Cole"
As I blogged the Iraq War in the zeroes, many of my headlines read like this:
Car Bomber Penetrates Green Zone . (The Bush administration tried to deny that this story was true, but an American in Baghdad sent me a local US government memo acknowledging that it happened.)
20 Rockets Mortar Shells Hit Green Zone
Plot To Bomb Iraqi Govt In Green Zone . (The subtitle is "Plan to declare Emirate in Diyala," an early manifestation of the ISIL phony caliphate.)
In September, 2004, I asked, If America were Iraq, What would it be Like? . It went viral and was widely reprinted by newspapers. Dude, it was a rhetorical question. I wasn't expecting Trump actually to answer it.
In 2013, I visited Iraq's Green Zone. I wrote in the aftermath, "When George W. Bush invaded Iraq in 2003 he established blast walls around central government offices, establishing a four square mile Green Zone (i.e. one that was safe and which the US controlled, with the rest of the country being a Red Zone; more or less, that situation never changed). The parliament building and Western embassies were in the Green Zone. I visited it in 2013. You enter through a narrow entranceway and can only really go in by foot (this measure stops car bombs from getting in). The security people who checked us in were international– Ghana and Peru or something. I doubt they would die for the cause. There were Iraqi troops on the outside of the blast walls."
Once inside, you took mini-buses to reach your destination in the 4 square mile zone. I and some other visiting academics went to see the cultural attache at the US Embassy. That building has attracted rocket fire for the past nearly 17 years, and had been put behind the blast walls of the Green Zone in a bid to protect it from being car-bombed. I don't know how much cultural exchange could have been done at that time.
Our conference hotel there in 2013 was not in the Green Zone, because the conference (on "Translation") was hosted by the Ministry of Culture and aimed at advertising that Baghdad was again open for business. We did have a big tank sitting outside on the grounds. I met one young man who said he thought he was the only American living regularly in an apartment in ordinary Baghdad (i.e. the Red Zone) as opposed to staying behind the blast walls of the Green Zone.
Mark LeVine, Nabil Al-Takriti a few other visiting academics and I did some excursions. We talked to the History Department at Baghdad University. Our Iraqi colleagues asked me to explain, in Arabic, the influence of postmodernism and the notion of multiple narratives in history as opposed to a grand master narrative. When I finished, one said, this is something we need in Iraq. We also visited a film center where young Iraqis were taught how to make films.It was near the Tigris and a couple of the young film makers showed us around.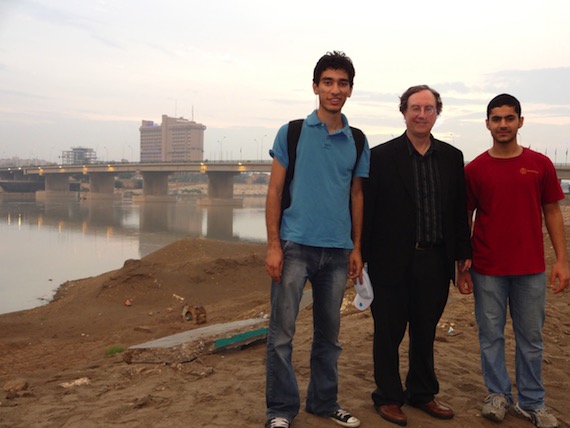 Juan and friends in the Red Zone, 2013.
Our Iraqi government handlers were not happy with their guests wandering about the Red Zone unescorted, but we got away with it.
Actually by 2019, Iraq authorities had removed 16 miles of blast walls from downtown Baghdad, so there really isn't a Green Zone any more.
It has moved to Washington, D.C.
Featured Photo: Supreme Court, Jan. 6, 2020 Elvert Barnes from Silver Spring MD, USA, CC BY-SA 2.0, via Wikimedia Commons.