Ann Arbor (Informed Comment) – A huge chunk of the Nanda Devi glacier in the Himalayas broke off Sunday morning, melting and crashing down on villages around Joshimath in India's Uttarakhand state, leaving nine dead and 140 unaccounted for. The turbulent grey deluge of water, ice and rocks slammed into two hydro-electric plants, destroying one and damaging another under construction. The flood caused the Alaknanda and Dhauli Ganga rivers to swell dangerously and forced the evacuation of villagers living along their banks. The glaciers are melting as a result of human beings burning gasoline, coal and natural gas and putting the heat-trapping gas carbon dioxide into the atmosphere. Some 2,000 military and police are searching for survivors.
Some 30 workers are trapped in a tunnel at the ruined Dhauliganga hydroelectric plant, according to PBS's Rishabh Jain and AP.
The Guardian: "Scores feared dead after glacier causes dam burst in India"
In telephone interview with AP, Dinesh Nagi, who lives in the village of Raini that overlooked the flooding, said, "It all started sometime around 10 in the morning. We heard a bang, which shook our village. We knew something wrong had happened. We could see the fury of the river."
Embed from Getty Images
A girl poses in front of a camera in a village, Uttarakhand, India, on 12 May 2019. (Photo by Indranil Aditya/NurPhoto via Getty Images).
Uttarakhand is known as devabhumi, the birthplace of the gods, because of its many Hindu temples. The Nanda Devi, one of India's highest mountains, means the "bliss-giving goddess" and it is sacred to her. Uttarakhand state is home to 10 million people, who have an annual per person income of roughly $2,800. GDP has being growing at a fast clip. Although its main industry is agriculture, it has a big tourism sector and services, has hydroelectricity, and there has been some investment education and technology parks. Obviously, disastrous glacier melts are a threat to this state, which is as populous as Sweden.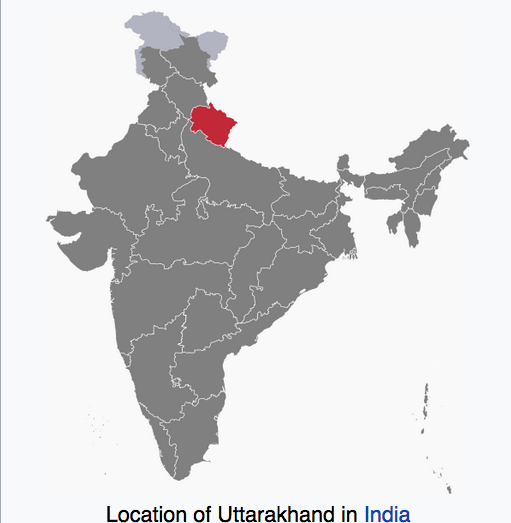 h/t Wikipedia
The Hindu reports that the flood "caused large-scale devastation in the upper reaches of the ecologically fragile Himalayas."
Its report noted that a 2019 study in Science Advances of 40 years of satellite data from the Himalayan range in India, China, Nepal and Bhutan demonstrated that glaciers have been getting a foot and a half shorter each year since 2000 as they shed ice. That is double the rate of ice loss typical of the last quarter of the twentieth century. The study surveyed 650 glaciers over 2,000 miles of the Himalayan range.
Embed from Getty Images
In this photograph taken on June 16, 2017, Indian labourers work on a construction site with a view of the Himalayas in an area that was hit during the deadly 2013 North India floods in Rudraprayag District in northern Uttarakhand state. Hindu devotees are visiting the restored Kedarnath Temple during the fourth anniversary of the devastating 2013 multi-day cloudburst which caused devastating floods and landslides, leaving more than 5,700 dead. / AFP PHOTO / SHAMMI MEHRA (Photo credit should read SHAMMI MEHRA/AFP via Getty Images).
The newspaper says that the lead author of the study, Joshua Maurer of Columbia University, suggests that the glaciers may have lost 25% of their mass since 1980.
Maurer et al. wrote, "Our results indicate that glaciers across the Himalayas experienced significant ice loss over the past 40 years, with the average rate of ice loss twice as rapid in the 21st century compared to the end of the 20th century."
The human-caused climate emergency from dumping 36 billion metric tons of carbon dioxide into the atmosphere annually is the cause, with temperatures 1.8 degrees F. higher (1 degree C.) in the past 20 years than they were in the last quarter of the 20th century. CO2 does not let as much of the heat of the sun's rays that strike the earth radiate back into space.
Embed from Getty Images
A view of Himalayan range including Trishul , Nanda Devi,Chaukhamba from Chopta Valley during the Winter Season at Rudrapragya District of Uttarakhand, India. March 08,2019.Chopta is possibly the only valley town in Uttarakhand, that has minor human alteration, and a good place for intermediate trekkers to brush up their skills while exploring locally renowned tourist spots, like the Tungnath Temple and the Deoria Tal, which are both accessible after a well guided trek. (Photo By Vishal Bhatnagar/NurPhoto via Getty Images) (Photo by Vishal Bhatnagar/NurPhoto via Getty Images).
Before humans began heating up the earth, there was a natural cycle whereby glaciers melted a bit in summer and recovered their mass in the winter. Some 800 million people, almost three Americas, depend on the summer melt water for drinking, for irrigation of their farms, and for hydroelectricity. As the glaciers melt, the summer runoff will dwindle to a trickle. Water shortages for about 10 percent of humanity thus loom.
Gargantuan floods killed thousands in Uttarakhand in 2013.